Ham and beans is a Southern staple. It's simple, soul-satisfying comfort food at its very best. You'll find this dish being made in almost every Southern household whenever a ham bone is available. It's the best way I know of to use up leftover ham from Easter, Thanksgiving or Christmas. (Or even as an excuse to make a ham!) Ham and beans is invariably served with freshly baked cornbread to sop up all the wonderful juices.
This is traditionally a stove top dish, but the longer it cooks, the better it gets, so it's perfectly for a slow cooker and that's the way I prefer to make it. No need to soak the beans, no need to stir the pot, though you'll be tempted once it gets going. Just drop everything in the crock pot, set it on low for the day and enjoy a hearty meal when you're ready in the evening. It's slow cooked bliss.
The true secret to this dish is something that some of you are going to think twice about, but bear with me. If you want perfect Southern beans, the ones with a truly deep rich flavor, you're going to need fat. Pork fat. A lot of it. Like all the fat that you trimmed off the ham while you were getting to that ham bone.
Yeah, I thought you might shiver at that thought.
It's OK. The world keeps telling us to cut the fat. I'm not saying we shouldn't, at least most of the time. But not here. Not with this dish. Never with ham and beans. This isn't health food. It's soul food.
I don't want a lighter, healthier alternative to the old school Southern recipe. I want the ham and beans my Mom and my Nan and my Granny made. I want comfort and satisfied sighs at the end of dinner. I want to know that there's no cornbread left over for the morning because it's all been used to mop up the bowls people used to sneak another nibble. And because of those things, I plop all that fat right into the crock pot with everything else.
…And I smile an evil little smile, because it's a guilty pleasure.
If you're thinking that this is going to make for a greasy dish, it isn't. The beans will absorb most of the fat as they're cooking, and that's where the richness of the finished product comes from. Without it, you'd have to add a ton of spices and other flavors to the beans to make them as wonderful as they would be otherwise. That is not OK. this is a simple dish. It doesn't need extra ingredients.
And seriously, you don't have to eat it. It's there for flavor. (Though why you wouldn't is beyond me. It's amazing.) Ham and beans isn't an every-day dish. It's eaten a few times a year at most, so make the most of it. If you have to, wrap the fat in cheesecloth and just fish it out at the end. You'll still get the flavor, and you want that flavor!
At the end of the day, just whip up a batch of cornbread and enjoy. This is Southern food at its humblest and finest. It's a dish my family looks forward to all year and one I'll continue to make forever. it's just that good.
There is a bit of a dispute on how to serve ham and beans though. Purists say that it is always served as pictured at the top, with the cornbread on the side. Others will serve the beans with the cornbread as pictured below. I don't care how you eat yours, but I'll take mine with the cornbread on the side.
Still looks good though, doesn't it? Enough talk though. Let's get to the recipe. You're going to love it. I guarantee it.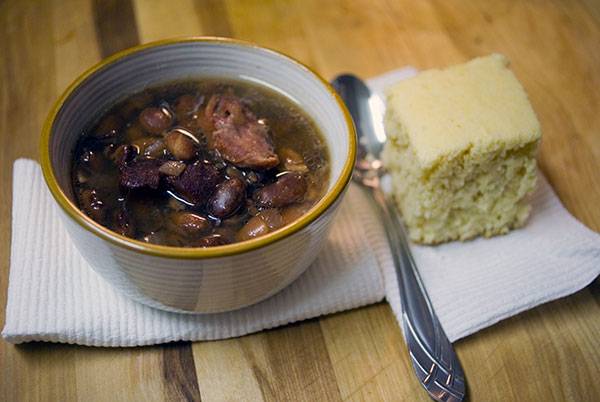 Yield: 12 servings
Crockpot Ham and Beans - A Southern comfort food staple
Prep Time: 10 minutes

Cook Time: 8 hours

Total Time: 8 hours 10 minutes

Don't waste that leftover ham bone! Use it to make a comforting batch of crock-pot ham and beans, a Southern comfort food staple.
Ingredients
1 ham bone + any trimmings and leftovers.
4 cups dry pinto beans
1 onion, chopped roughly
Enough water to cover beans by about an inch
Salt and pepper to taste
Instructions
Sort through your beans, making sure so remove any stones, grit or broken beans, Rinse well in cold water and drain.
Add all ingredients except salt to the crockpot. (Never salt beans at the beginning, it toughens the skin.) Cook on low for 8 to 10 hours or on high for 4 to 5 hours.
Fish out bones and fat (if desired) and serve piping hot with cornbread.
Share and enjoy!
Nutrition Information:
Yield:
12
Serving Size:
1
Amount Per Serving: Calories: 262Total Fat: 1gSaturated Fat: 0gTrans Fat: 0gUnsaturated Fat: 1gCholesterol: 7mgSodium: 215mgCarbohydrates: 46gFiber: 11gSugar: 4gProtein: 17g


What I would have done differently had I thought of it at the time:
Nothing. Ever.
Check out these other great Southern recipes: