There really isn't anything much more comforting than slow cooked beef tips covered in rich, brown beef gravy. This is Southern diner fare at it's best. Filling, full of hearty, bold flavor. And it' just waiting for you to make it.
Beef tips and gravy originated as a way to use leftover bits of tough meat or the caps of a roast beef. It embodies the frugal nature of the South, where we never waste anything we can use. And just like our Southern white gravy, it tastes amazing.
Since this recipe is now purpose-made from scratch, we usually use stew meat or chuck. For this recipe I went with the latter. Just look at the marbling on this gorgeous 2.8 pound chuck roast.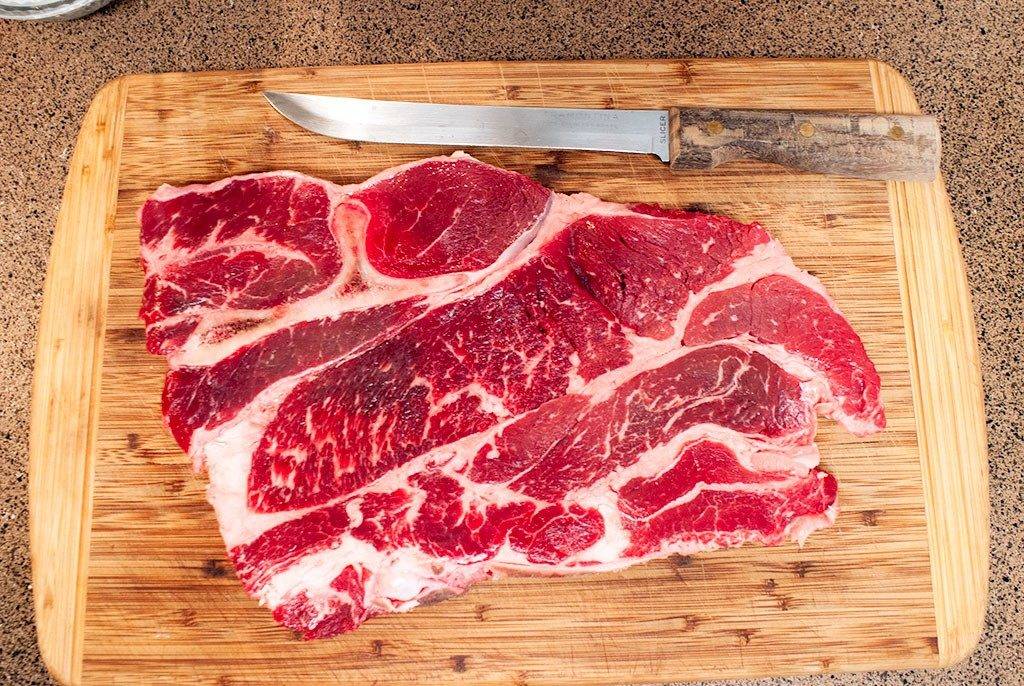 First, we have to get rid of the bones. there are at least 2 on a chuck roast, but some have 3 like this one did.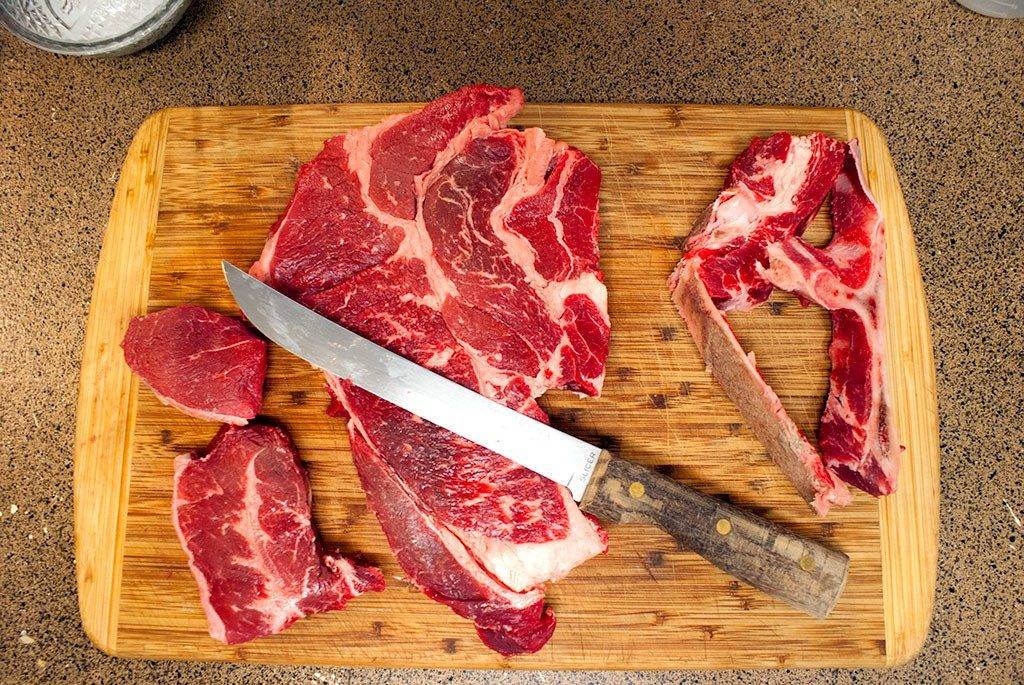 Next we cut the thing into 1-inch strips.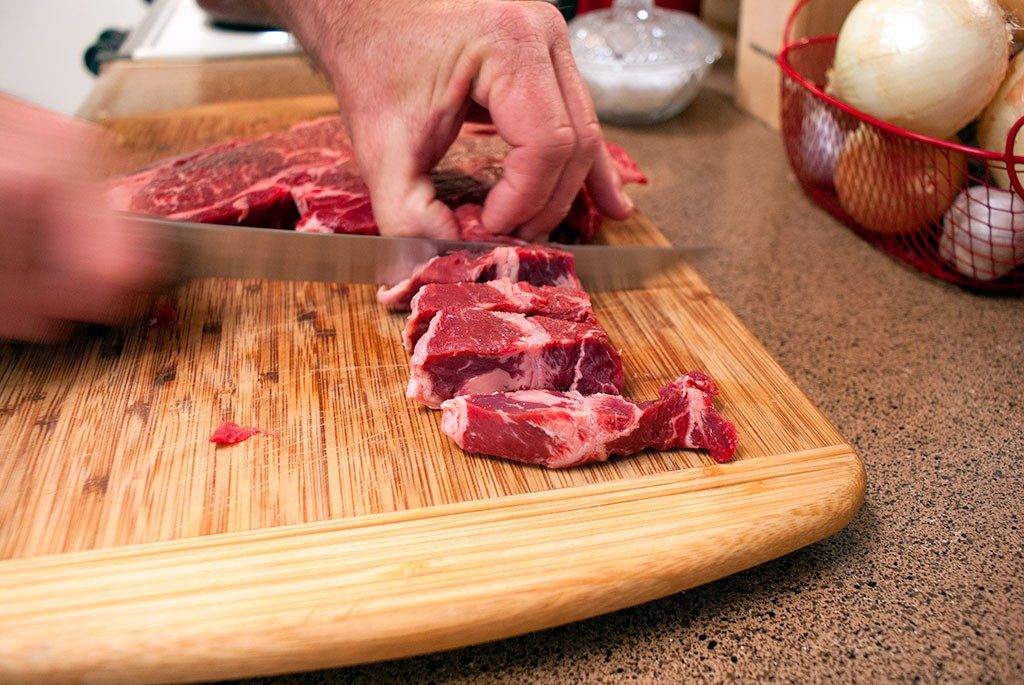 Then those strips get cut into 1-inch cubes. (No. Do NOT trim off the fat. You need that!)
This chuck is so gorgeous that I just had to get a beauty shot.
Next, season the heck out of the beef and toss it in batches into a hot pan that has a little oil in it. we want to get each piece nice and brown on all sides. It really helps the flavor.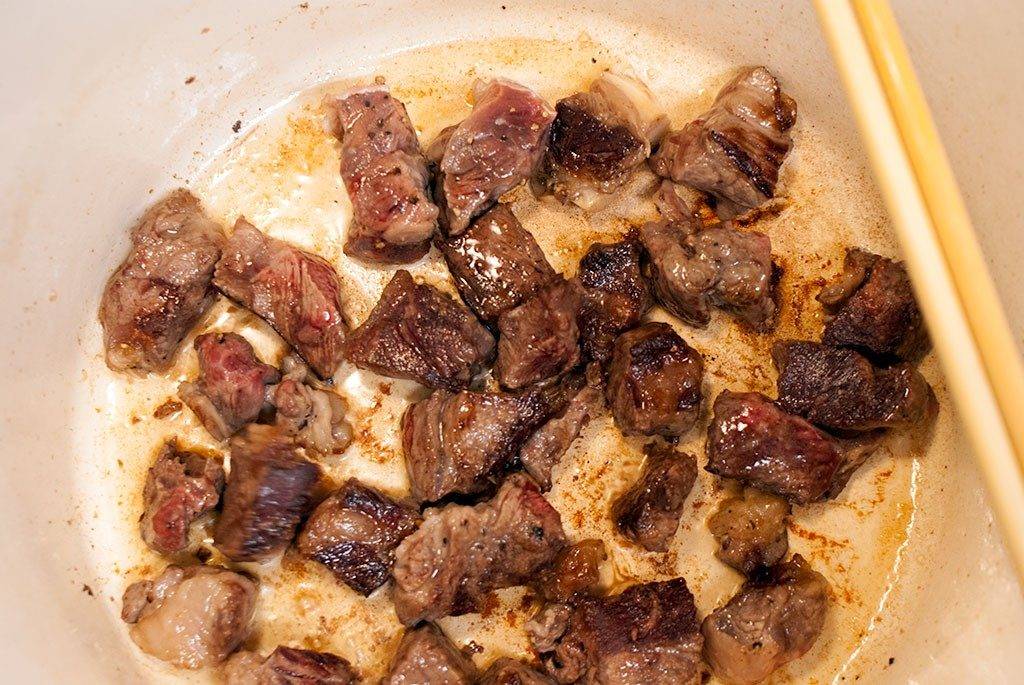 Almost done with the last batch of chuck. Note all the nicely browned bits on the bottom and sides of the pot. (The black bits are pepper. Don't worry, I didn't burn it.)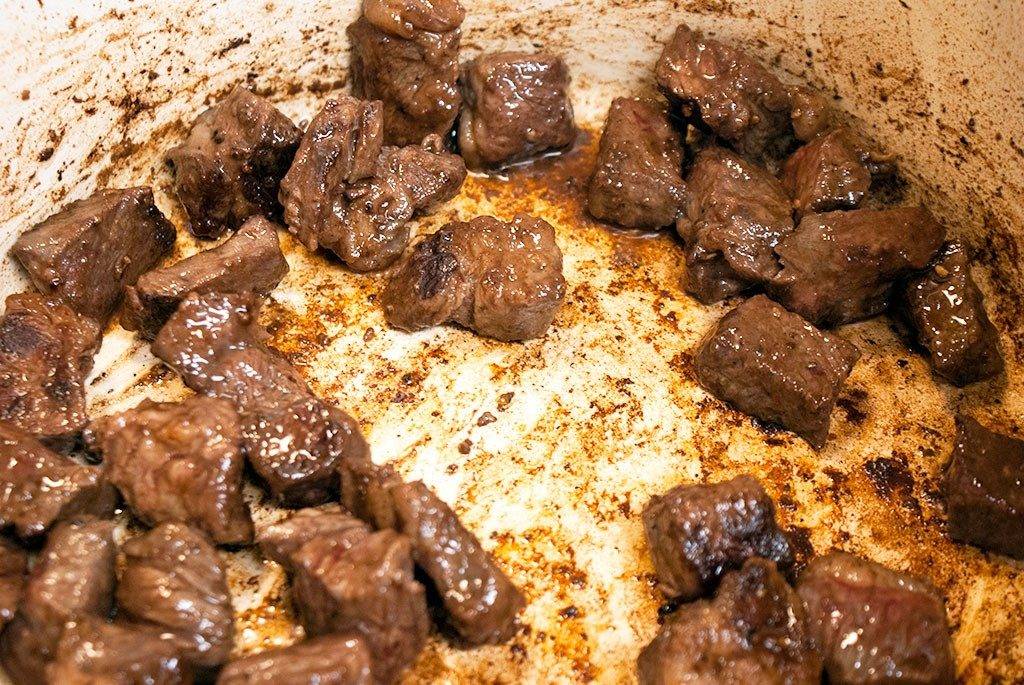 OK, it's done. Everybody back in the pool. It's time to turn this chuck into beef tips and gravy.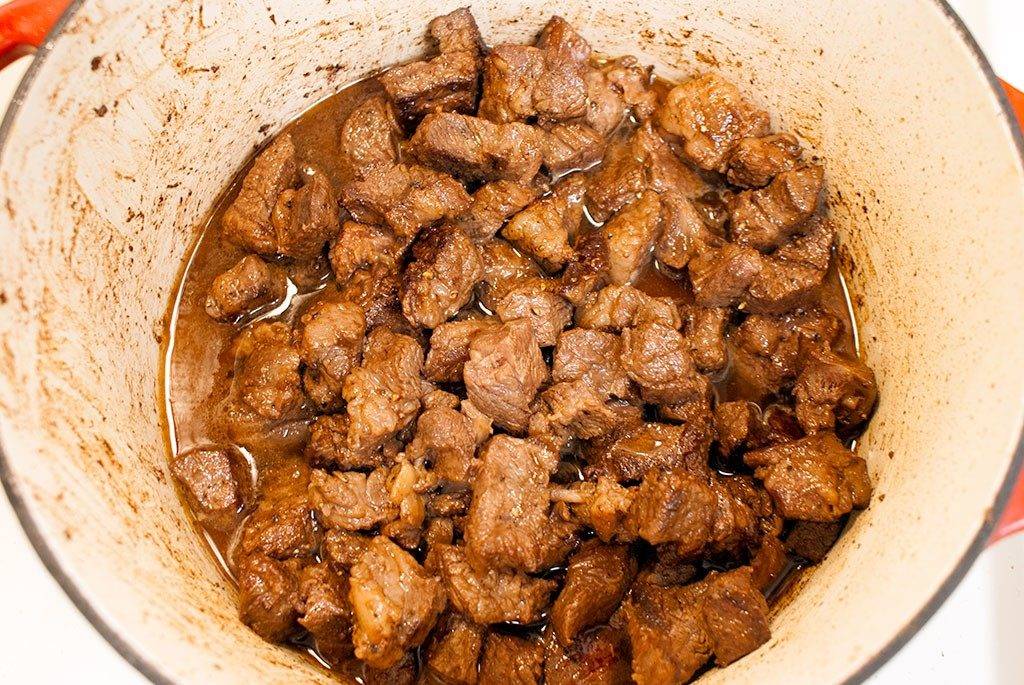 Add a cup or so of water or beef stock and drop the temperature down to a simmer and give everything a good stir. Cover, but leave the lid slightly ajar so that the stock can reduce. Cook for about 2 hours. Check often and add more stock if needed. In the end, there will be almost no liquid left in the pan.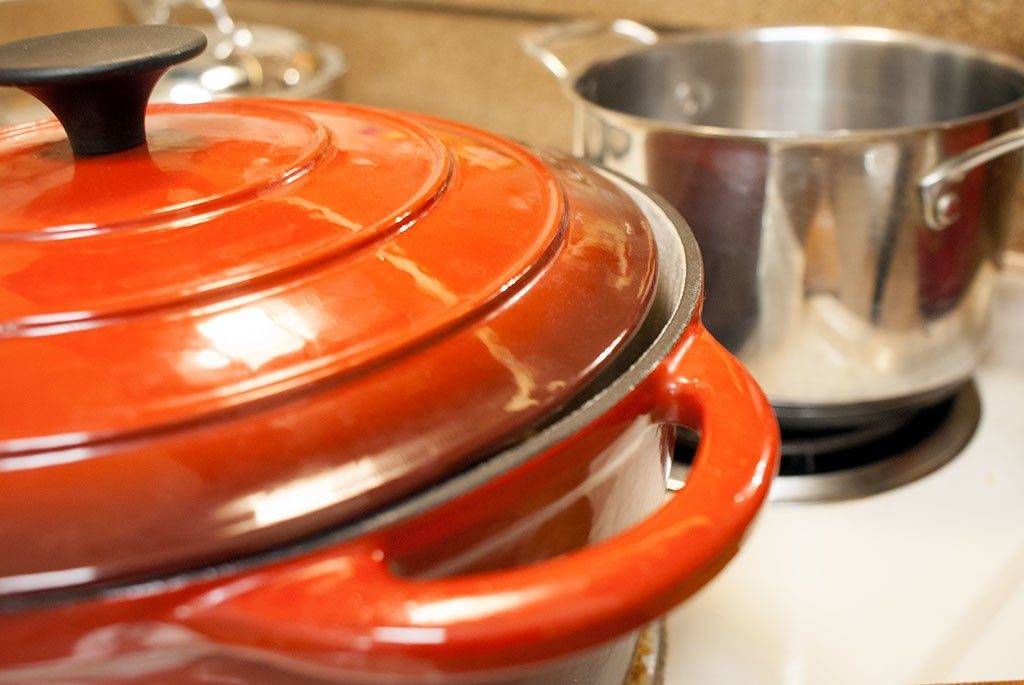 when the beef is tender, remove it from the pan and set it aside. Pour out all the juices and drippings into a measuring cup.
This is the total amount of liquid and fat we had left over. We're looking for 4 Tablespoons of fat and 2 cups of juices here, but don't worry if you don't have that much. In my case I got about 1 Tablespoon fat and 1/8 cup of concentrated beefy goodness out of the pan. This was more than enough to get some massive flavor out of the gravy. Especially since we're going to add the beef tips back in at the end.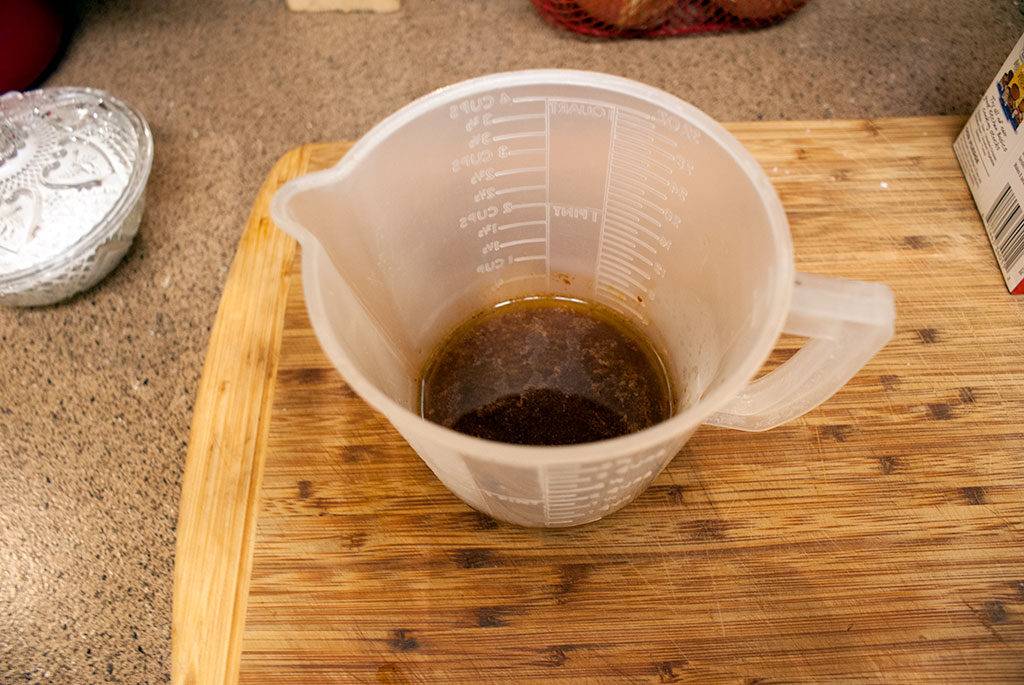 Skim the fat and add it to a nice, clean pot If you don't have 4 Tablespoons worth, just add some vegetable oil to make up the difference. Add the flour and whisk constantly until everything is slightly golden and the flour smells nutty.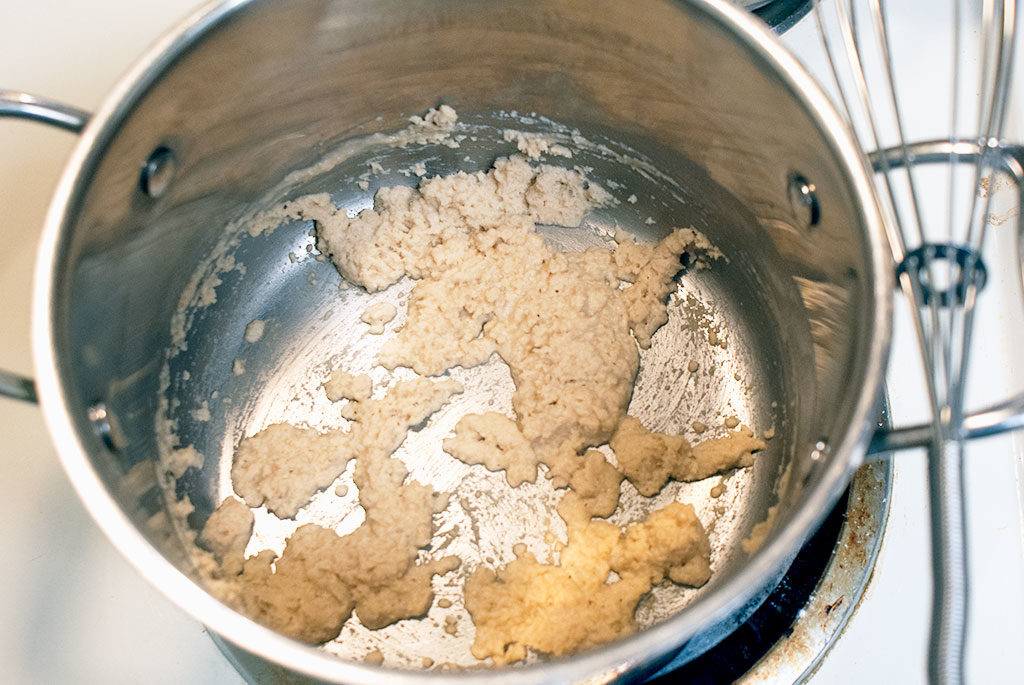 Pour in the juices. (If you don't have 2 cups of liquid, just add beef stock until you've got 2 cups worth. It will be fine!) Give it a good whisk, and for a finishing touch, add a pat of butter right before you toss the beef back in. This adds a little extra richness to the gravy. It also gives it a beautiful sheen on the surface.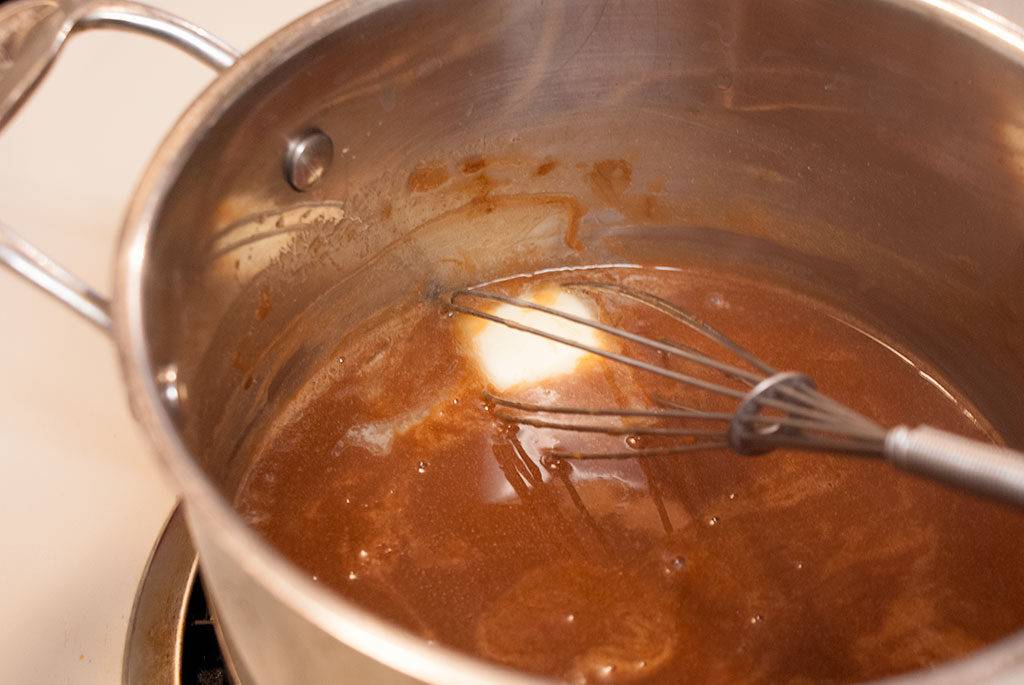 Almost there folks! Toss the beef into the gravy and let it simmer for about 20 minutes. Then grab a big sloppy ladle of it and pour it all over whatever you'd like.
The classic choices are rice or egg noodles, but we prefer our beef tips over mashed potatoes. It's the perfect pair!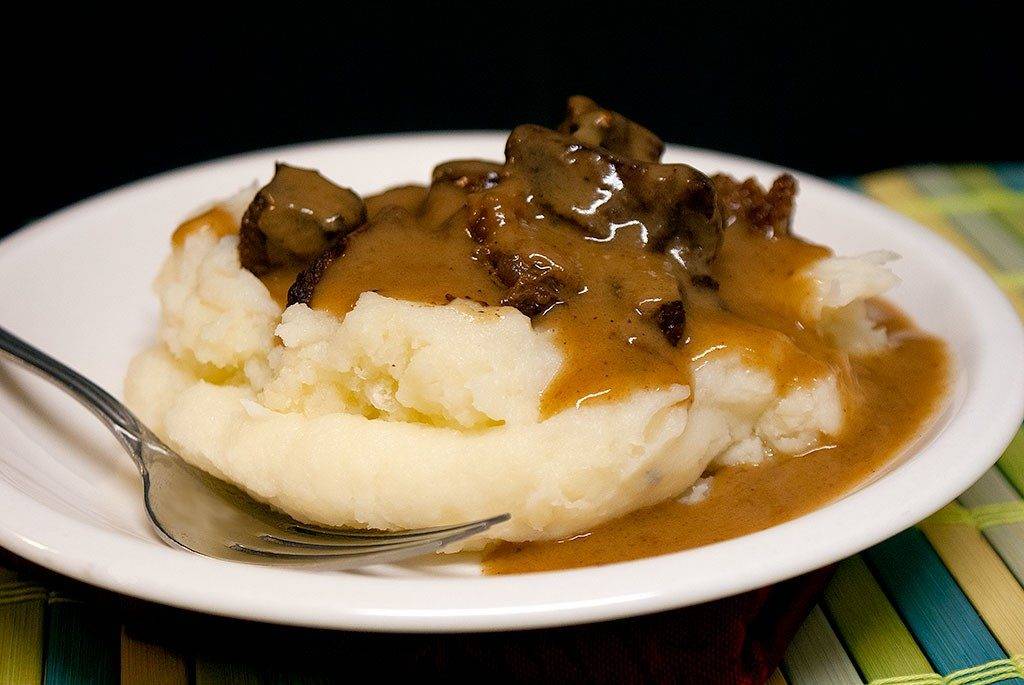 On to the good stuff!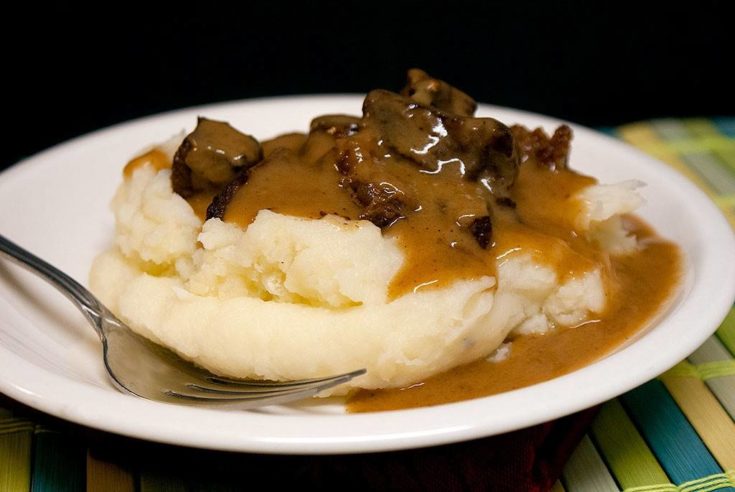 Yield:

4 servings
Beef Tips & Gravy
Total Time:
3 hours
10 minutes
Succulent beef tips simmered in rich brown gravy are a decadent way to spend a great dinner around the table with your family.
Ingredients
2 to 2 1/2 pounds beef chuck or stew meat cut into 1-inch cubes (You'll need the fat, so don't trim it off!)
Salt and pepper for seasoning beef
2 Tablespoons vegetable oil, for browning beef
32 ounces beef stock or water
4 Tablespoons beef fat reserved from cooked beef (or reserved beef fat plus enough oil to equal 4 Tablespoons)
2 Tablespoons all-purpose flour
2 cups reserved meat juices (or reserved juices with enough beef stock to equal 2 cups)
Salt and pepper to taste
1 Tablespoon unsalted butter (Optional)
Instructions
Cut beef into 1-inch pieces. Season well with salt and pepper.
Brown beef in batches using a heavy bottomed pan over medium heat.
Return beef to pan and add beef stock or water. Bring to a boil. Reduce heat to a simmer and loosely cover. Simmer for 2 to 3 hours, or until beef is tender.
Remove beef from pan and set aside. Pour juices and fat into a measuring cup.
Skim off 4 Tablespoons fat and reserve 2 cups juices. (Add additional vegetable oil or beef stock to make up the difference.)
Heat beef fat and oil over medium high heat in a small saucepan. Add flour and stir occasionally until mixture is golden brown and smells nutty.
Pour in 1/2 cup liquid and stir until smooth. Add remaining liquid and stir until combined.
Bring to a boil, stirring constantly. Reduce heat and simmer 2 minutes.
Season to taste with salt and pepper.
Stir in 1 Tablespoon of butter if desired for a silky sheen.
Add beef to gravy. Stir to combine and cook, covered over low heat for 20 minutes.
Serve hot over mashed potatoes, rice, egg noodles or toast points.
Nutrition Information:
Yield:
4
Serving Size:
1
Amount Per Serving:
Calories:

1198
Total Fat:

64g
Saturated Fat:

25g
Trans Fat:

1g
Unsaturated Fat:

35g
Cholesterol:

440mg
Sodium:

1048mg
Carbohydrates:

14g
Fiber:

0g
Sugar:

8g
Protein:

139g
Additions and substitutions (Or: What I could do differently):
Like most great Southern recipes, you have a world of options when creating your own version of beef tips in gravy. You can make it more savory by simply cooking some mushrooms with the beef and adding them in. (Trust me, it's amazing.) You can add sautéed onions, a little cayenne pepper, or just about anything else that goes well with beef and brown gravy.
Be creative! Make this dish your own. You'll be glad you did.
Links to other great beef tips recipes from around the web:
One last thing:
Thanks for stopping by. I truly love having you in the kitchen.
If you liked this beef tips recipe, please leave a comment below. I always appreciate hearing your opinions.
Or you can follow me on Facebook, Pinterest or Twitter, if you're feeling social, that is.
As always, Food is love. Share and enjoy!