I wanted to make something special for Mrs. seat of her Pants this Valentine's day, not just your run-of-the-mill dessert. I must have hit every site on Google before I stumbled on this recipe. I was looking for a way to use up some of the Sherry or Sweet Marsala we have lying about, but this just looked so decadent that I had to do it.
It's also my entry for Sugar High Friday #28, hosted by the lovely jasmine over at Confessions of a Cardamom Addict. If you were planning on entering, you've only got 4 days to get your entry in!
Let me warn you in advance, this is by no means low calorie or diet friendly. This is a heavy cake with a rich flavor that will linger on your palate for quite a little while. Not too sweet, but definitely all kinds of chocolaty satisfaction.
The sauce recipe is my own adaptation, mostly due to a lack of ingredients, but I think it's probably a better compliment than the original would have been.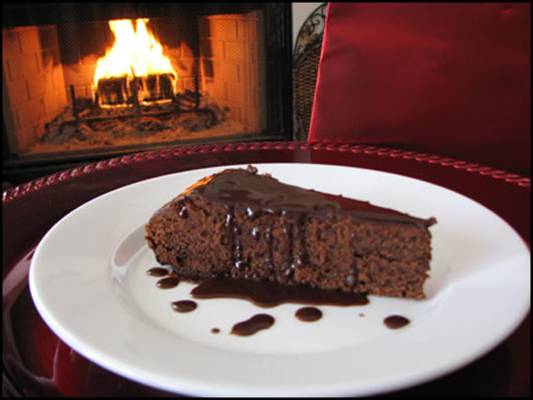 Yield: 10 servings
Chocolate Port Wine Cake Recipe
Prep Time: 10 minutes

Cook Time: 30 minutes

Total Time: 40 minutes
Ingredients
Cake:
4 ounces butter
1/2 cup port wine
5 ounces unsweetened chocolate
1 cup granulated sugar
3 eggs, separated
3/4 cup all-purpose flour
1/8 teaspoon salt
Port Wine Sauce:
1/2 cup granulated sugar
1/4 cup port wine
3/4 cups water
4 ounces dark chocolate
1 cup heavy whipping cream
Instructions
Cake:
Preheat oven to 350 degrees. Butter and flour one 9 or 10-inch cake pan. Melt butter and chocolate together in small saucepan. Add wine in quarters, stirring slowly until last addition is thoroughly incorporated before adding the next quarter. (If you go too fast it will break!)
Combine sugar and egg yolks in bowl and mix on medium speed until pale yellow in color. Add melted chocolate slowly, and beat until smooth. Add flour and beat on medium speed for 1 minute. In another bowl, beat egg whites on high until stiff peaks form. Gently fold in 1/3 of chocolate mixture into egg whites. Fold in remaining chocolate carefully. Pour into cake pan and bake for 30 minutes.
Sauce:
Blend water, sugar, and wine in small saucepan, and cook on medium heat to create syrup. Reduce heat to low, and add chocolate. Stirring constantly until melted. Remove from heat and add cream. Pour over Chocolate Port Wine Cake wedges before serving.
Nutrition Information:
Yield:
10
Serving Size:
1
Amount Per Serving: Calories: 496Total Fat: 30gSaturated Fat: 18gTrans Fat: 1gUnsaturated Fat: 10gCholesterol: 108mgSodium: 243mgCarbohydrates: 50gFiber: 3gSugar: 37gProtein: 6g


What I would have done differently had I thought about it:
From the look I got when my wife tried this, absolutely nothing. And to be honest, it's not too sweet for me, either. It has a depth of flavor that I enjoy greatly without overloading your palette with sweetness. this pairs extremely well with a cup of very strong coffee or a glass of cold milk.
I hope you'll give it a shot and enjoy!