When it's cold outside, the best solution is to have something warm, satisfying and a bit decadent inside. There's no better way to fight the chill of winter and forget about the snow shovel for a few minutes than to sit down to a piping hot bowl of thick, rich creamy soup. This cheesy potato soup, loaded with cheddar, ham, and broccoli fits that bill perfectly.
A warning, though: This soup is not for the timid. There's nothing light about it. It's rich, hearty, thick and full of flavor. The texture is more like a thin batch of mashed potatoes than a full-on soup, but it is oh-so-worth every single spoonful.
Another plus is that this soup is the perfect foil for leftover holiday ham. You know, that big hunk of pork that would otherwise just end up as a few sandwiches or tossed in with a crock-pot full of beans? Yeah, that one.
Have pity on the pig. Give it a new life it can be proud of. Make it a star in this cheesy potato soup.
This is a simple recipe, guys. It doesn't take a degree in cookery. It shouldn't. This is the perfect meal for sitting around on a long, cold winter's night while enjoying conversation or maybe even a little TV. It's not fussy, is something that can be made on a busy night without having to stand over it, and it's GOOD. Very good. You're gonna love it.
Of course, you can't love it if I don't stop yappin' and tell you how to do it, so let's get to cooking, shall we?
How to make cheesy potato soup with ham and broccoli
First off, peel yourself a bunch of potatoes, rinse them really well and then chop them into manageable pieces. Don't worry about perfect 1/2-inch squares or whatever, precision like that is for picky recipes. All you have to do here is make them smaller than they were. They cook faster that way.
After they're cut, toss them in a big pot. Add cold water to cover them by about an inch, then add a bunch of salt (at least three tablespoons worth). Potatoes are salt magnets, so this is just the beginning. If you don't salt the water now, you'll have to add a LOT more later.
Get the spuds going over medium-high heat and get the pot boiling well. Then turn down the heat to medium-low and go find something to do for 20 minutes or so. The potatoes aren't going anywhere, so there's probably something you'd rather be doing than watching them.
O.K., So it's been 20 or 30 minutes or whatever. You've got the kids through their homework or watched a few good videos on YouTube about kittens. Now it's time to get back to this dinner thing.
I'm going to show you one of my favorite kitchen hacks next:
The soup calls for broccoli, and I almost always use frozen broccoli over fresh. Not because I wouldn't rather have fresh veggies, but because the schedules in the Russell house are out of control, and I hate to waste food.
What we want in this soup is crisp-tender broccoli, the same kind I like in my stir fry. I've come up with a simple way to get that without using more water, more electricity or a microwave.
Just toss that frozen broccoli in a bowl. (I take a minute to make sure everything is bite-sized and spoon friendly beforehand, since it's easier to do when the stuff is still frozen.)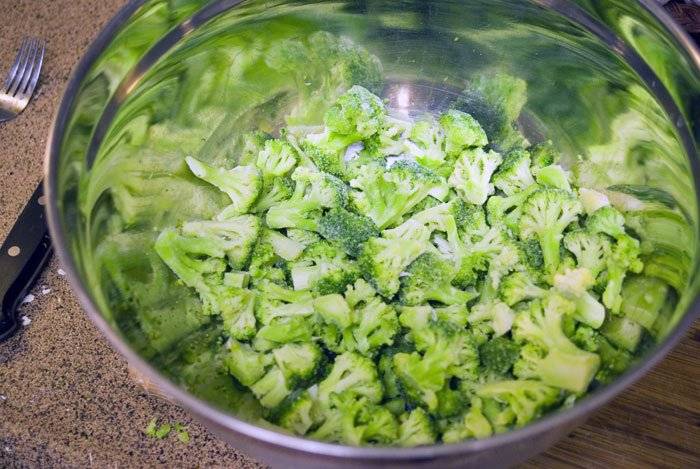 Grab a colander or strainer and put it over the bowl, then pour the water from the potatoes over the broccoli.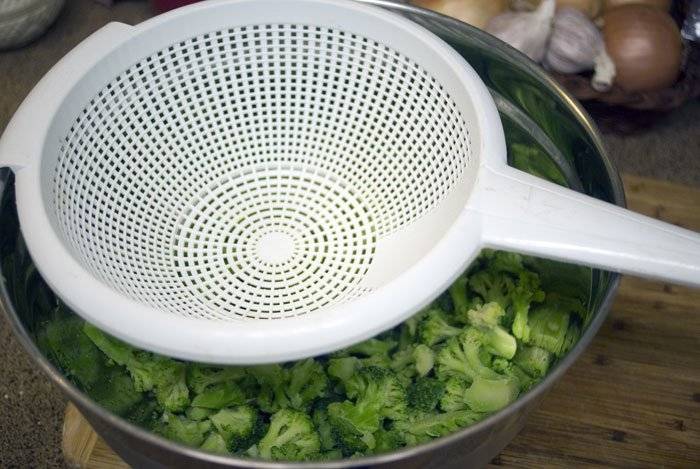 Simple. The boiling water will par-cook the broccoli in about five minutes. At that point, drain the bowl and then toss the broccoli into a iced water bath so it stays pretty and green. No wasted resources, food, or effort. Yeah. That makes me happy.
Next, get your ham, milk, cheese and butter ready.
Chop an onion, toss it in the pot you used to cook the potatoes and throw in a half-stick (4 Tablespoons) of butter. Cook until the onions are a nice brown color.
Now it's go time. Throw in the drained spuds and mash them mercilessly. Really, like you hate them. Don't worry about being gentle. We're not trying for fluffy, airy, light mashed potatoes here.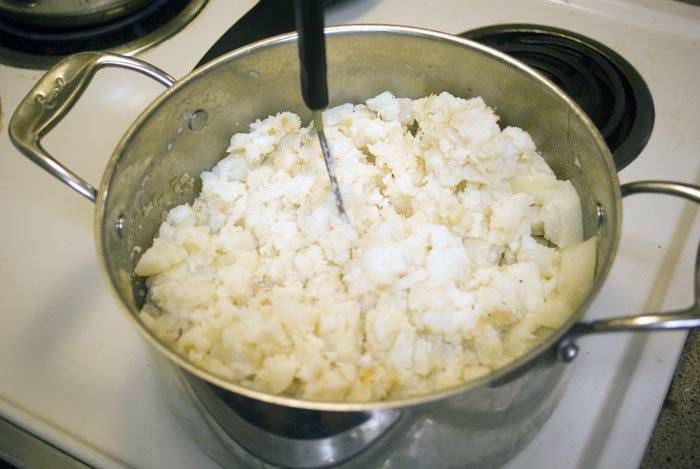 Add milk a splash at a time to help things along. It's a good idea to keep the pan on a burner that's on medium low.
Once you've got something manageable, it's time to go old school and grab the hand mixer.
From here it's super easy. Add milk until the soup is thin enough for your liking. Stir in 4 to 6 cups of Sargento Shredded Cheese and then toss in the ham and (well-drained) broccoli. Season the thing and eat it.
Yeah, it's good. Very good.
Now the printable, savable recipe, because you'll want this one on hand for the next time the weather gets ugly and you need to warm the hearts of your family.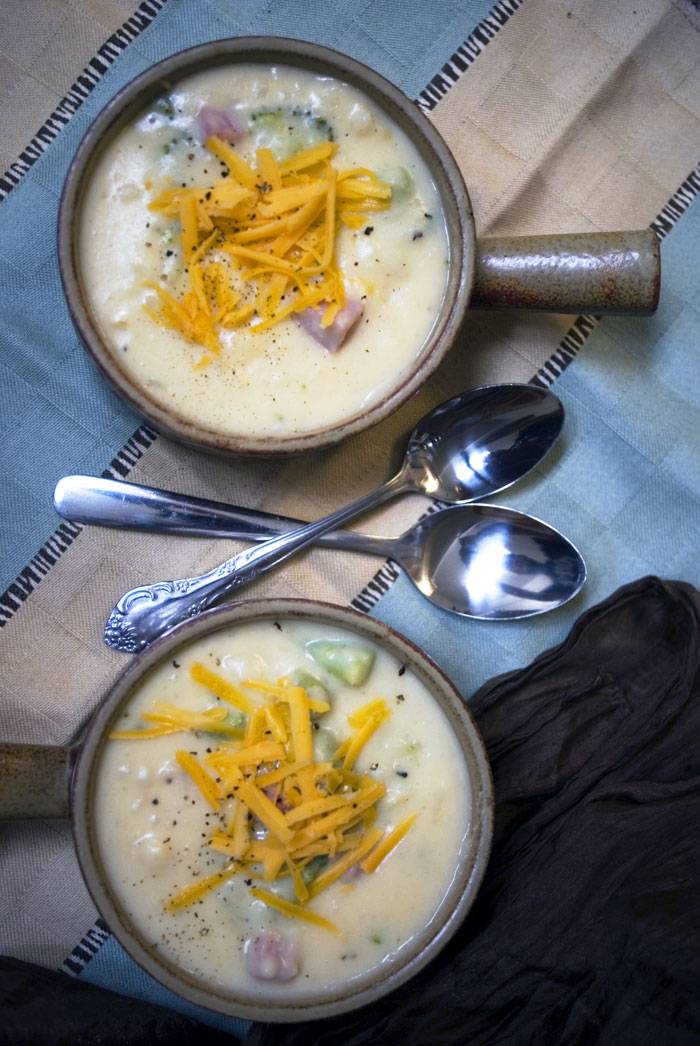 Yield:

12 servings
Quick& Easy Cheesy Potato Soup with Ham & Broccoli
Any time is the right time for cheesy potato soup with ham and broccoli. This rich, hearty and satisfying soup will warm your heart. And it begs for seconds!
Ingredients
5 pounds potatoes, peeled, rinsed and roughly chopped
4 Tablespoons unsalted butter
1 large onion, finely chopped
1/2 teaspoon powdered mustard
3 to 6 cups milk, depending on how thick (or thin) you'd like your soup.
4 cups Sargento Chef Blends 4 State Cheddar Cheese Shreds plus additional as garnish (if desired)
14.5 ounces frozen broccoli, defrosted and cut into bite-sized pieces
1-1/2 cups cubed ham (or more, if you'd like)
Salt and pepper to taste.
Instructions
Place potatoes in a large pot and cover with cold water. add 2 Tablespoons salt and bring to a boil over medium-high heat. boil, uncovered for 20 minutes or until tender. (potatoes should crumble when picked up with tongs or pressed with a fork. Drain potatoes and set aside.
(If using frozen broccoli, place broccoli in a large bowl and drain the water from the potatoes directly over the broccoli. allow to sit for 5 minutes, then drain broccoli and submerge in ice water. Drain and set aside.)
Melt butter in the same pot over medium heat. add onions and cook, stirring often, until golden. (About 6 minutes) Add 1 cup milk and mustard powder, stir to combine.
Return potatoes to pot and mash with a potato masher until relatively smooth. Add 2 cups milk and continue blending with a hand mixer or immersion blender, adding milk as needed to achieve desired consistency. (keep the heat on!)
Mix in cheese a cup at a time, stirring each cup until combined completely. Repeat until all cheese is incorporated.
Stir in broccoli and ham. Let simmer for 5 minutes and transfer to serving bowls. top with additional cheese as garnish if desired. Serve hot.
Share and enjoy!
Notes
This cheesy potato soup freezes well! Save leftovers in individual servings and freeze for a quick lunch, or freeze in a casserole, cover with cheese and freeze for a hearty weeknight dinner with no fuss!
Nutrition Information:
Yield:
12
Serving Size:
1
Amount Per Serving:
Calories:

486
Total Fat:

16g
Saturated Fat:

9g
Trans Fat:

0g
Unsaturated Fat:

5g
Cholesterol:

64mg
Sodium:

594mg
Carbohydrates:

62g
Fiber:

5g
Sugar:

4g
Protein:

26g
What I would have done differently:
I might try adding just a bit of roasted garlic to this on the next round, but other than that, this is a definite keeper.
Other great cheesy potato soup recipes:
We partnered with Sargento cheese for this recipe. Why? Because Sargento is all natural cheese, not processed cheese-ish stuff. We're fans of real food around here, and avoid processed foods when possible, and we're glad that we had the chance to work with a company who shares that vision.
We chose Sargento Chef Blends Four State Cheddar because the blend of sharp and mild cheddars just seemed to fit this dish, but I'm sure it would be incredible with other blends as well. (Imagine this soup made with Sargento Artisan Parmesan and Romano. Yum!)
As a final note, we really do stand behind this company. I love their products and buy them often. this, for us, is a partnership based on mutual values and a commitment to real, honest food. I can't stress enough how important that is.
Have a good one, Y'all!