Everyone has their go-to Chinese takeout favorite. For my wife, it's cashew chicken. For my son, lemon chicken with fried rice and plenty of soy sauce does the trick. But for me, it's broccoli beef every time. I've got to have it.
But I've noticed that since we started exploring Japanese foods, the broccoli beef from our local takeout places just seems too heavy. The sauce is cloying and overpowers the flavor of both the beef and the broccoli. Suddenly it just wasn't as much fun to eat as it used to be.
So I decided to try a take on broccoli beef that was inspired by the Japanese recipes I'd been making lately and pair it with a simple white rice. The result was fabulous.
The sauce for this broccoli beef doesn't overpower any of the ingredients, it enhances them without taking away any of the individual flavors. Best of all, it's simple and comes together in as little as 30 minutes from start to finish. Who doesn't love a takeout classic that's ready in less time than delivery?
Let's make some Broccoli Beef!
First, we'll need to gather some ingredients. For this dish, I'm using soy sauce, cooking sake, and mirin (Japanese sweet cooking wine.) But feel free to use real sake or substitute it with water. I also added in a half-cup of vegetable stock.
You'll also need an onion, some green onions, a little sugar, some salt and pepper, and of course, beef and broccoli.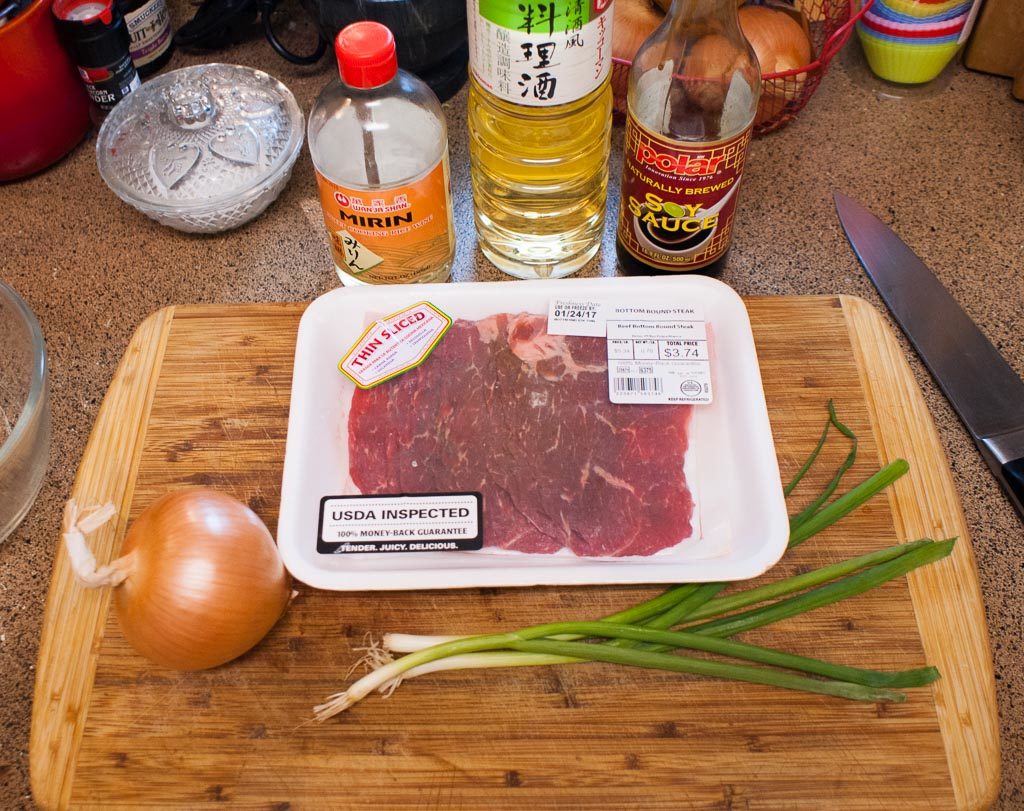 First, mix the soy, sake, mirin, veggie stock a little sugar and some pepper in a large bowl. Whisk until the sugar is dissolved.
Cut your onion into bite-sized pieces. I just slice it down the middle, then into strips. Simple.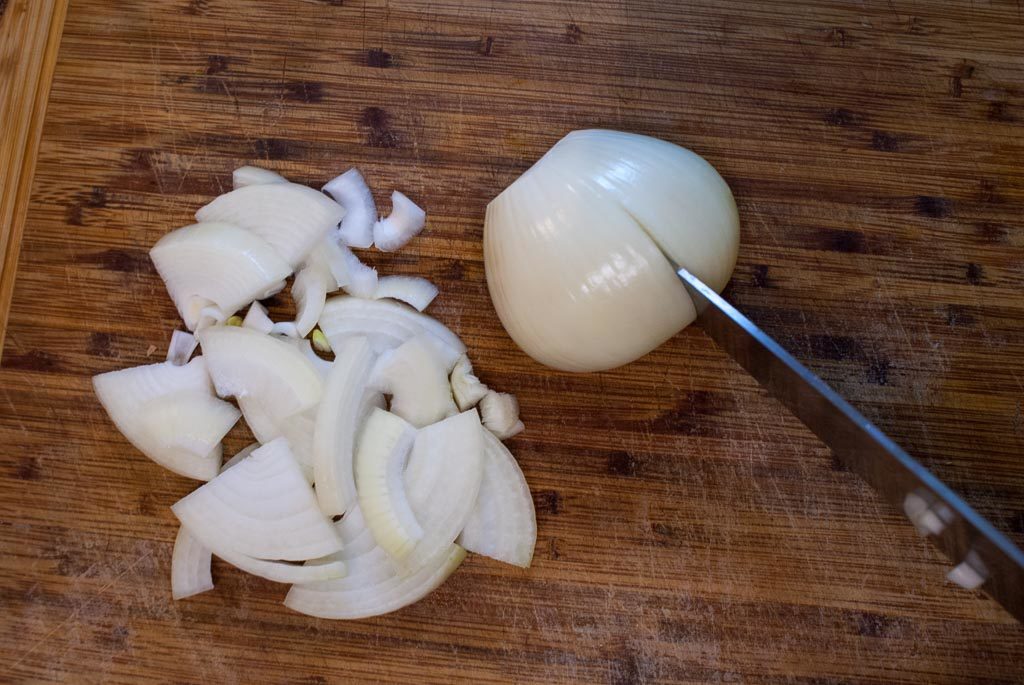 Cut the beef into bite-sized strips.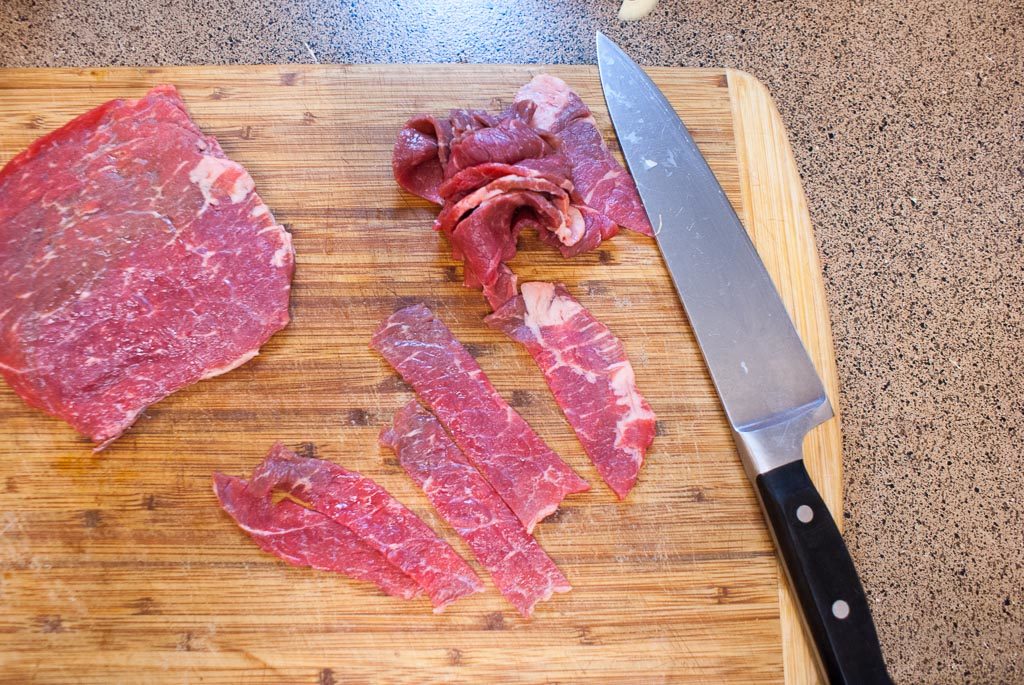 I cut mine in a suitable size for chopsticks, but whatever you're comfortable with works.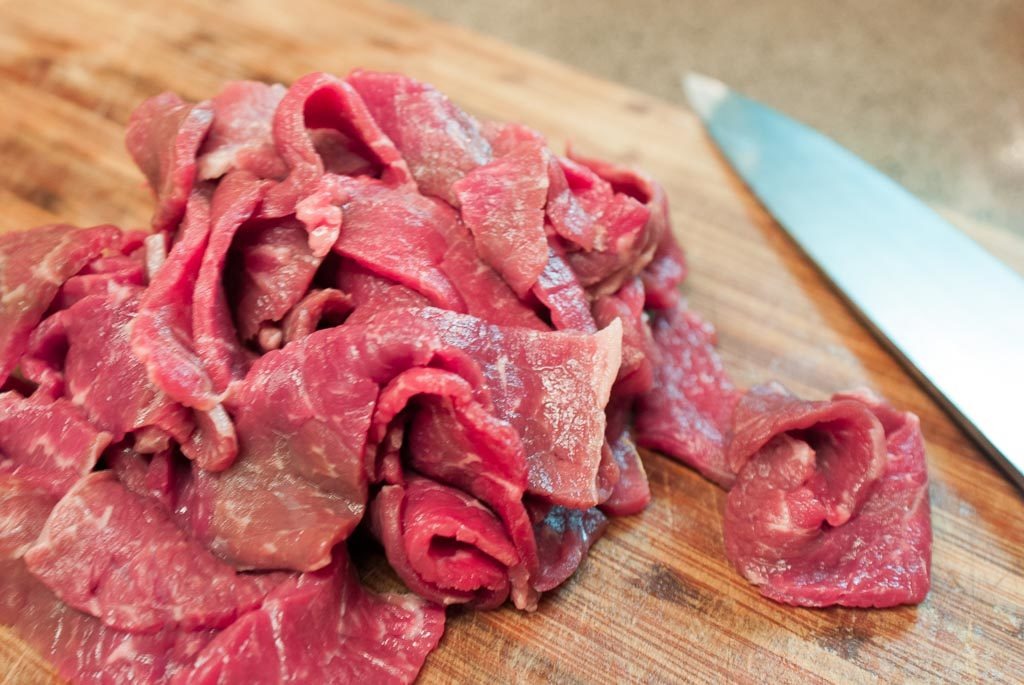 Next, toss the beef and onions in the bowl with the marinade and toss to coat. This can be rested in the fridge if you want, but it's not necessary.
Heat some vegetable oil or sesame oil in a large skillet and get it smoking. Toss the beef, onions, and marinade into the skillet and give it a good mix.
Once the beef is browned, toss the broccoli on the top, cover the pan and drop the heat. Cook until the broccoli is crisp-tender, or however cooked you'd like it.
That's it! Put your broccoli beef in a serving bowl or in individual bowls. Top with chopped green onions and some sesame seeds. Serve with rice, noodles, or whatever makes you happy.
Share and enjoy!
##And now for the printable broccoli beef recipe!

Yield: 4 servings
Broccoli Beef - A Japanese Twist on a Chinese Takeout Classic
Prep Time: 15 minutes

Cook Time: 25 minutes

Total Time: 40 minutes

Broccoli Beef is a favorite at Chinese Restaurants, but you'll flip for this Japanese inspired version. It's lighter than the takeout version, deceptively simple to make, and can be on the table in 3o minutes or less!
Ingredients
Approximately 1 pound thin sliced bottom round steak
1 onion, cut into bite-sized pieces
1/2 cup soy sauce
1/2 cup vegetable or chicken stock
2 Tablespoons Sake, cooking Sake, or water
1 Tablespoon Mirin
1 Tablespoon sugar
1 pound broccoli florets (Thawed, if frozen.)
Salt and pepper, to taste
3 small green onions, chopped
Sesame seeds , for garnish, if desired
Instructions
Slice beef into bite-sized pieces. Set aside.
In a large bowl, whisk together soy sauce, sake, mirin, sugar, and some black pepper. Add beef and onions. Stir to combine. Cover and let rest for at least 10 minutes.
Heat 2 Tablespoons vegetable oil or sesame oil in a large skillet over medium-high heat. Pour in beef, onions, and marinade.Cook, stirring often, until beef is browned.
Add broccoli to pan, reduce heat and cover. Simmer for Approximately 15 minutes, or until broccoli is crisp-tender. Stir to combine.
Garnish with sliced green onions and sesame seeds, if desired
Notes
If you prefer a more "traditional takeout" style sauce, Mix 1 teaspoon cornstarch with 1/2 cup water or stock and mix it in with the beef and broccoli at the end of cooking. It will thicken within 30 seconds. Enjoy!
Nutrition Information:
Yield:
4
Serving Size:
1
Amount Per Serving: Calories: 448Total Fat: 15gSaturated Fat: 5gTrans Fat: 0gUnsaturated Fat: 8gCholesterol: 104mgSodium: 2014mgCarbohydrates: 23gFiber: 6gSugar: 8gProtein: 43g
What I would have done differently:
Nothing. Nothing at all. Guys, this is a brilliant beef & broccoli recipe.
Show a little love, people!
As always, I love you guys. You're the reason I've been fortunate enough to do this for 10 years. I don't know where I'd be without you. I also love sharing new recipes and tips with you. I hope you found this useful, or funny, or both.
If you did, please take a second to share this recipe on your various social media platforms. Maybe grab one of the items we highlight above the recipes. If you do, we make a few pennies here and there, and we appreciate it.
Maybe drop a comment and leave a rating on the recipe. We love to hear from you.
Until Next time,
Food is love. Share and enjoy.