Blame it on Elise Bauer. I do. I was browsing through my favorite food blogs recently and came across a photo and recipe at Simply Recipes that made me stop and drool profusely. Not only did her Tarragon Tuna Melt make me want to run to the kitchen and get cooking, and once again her photography skills brought out the green eyed monster in me. (Down, Boy!)
I love tuna melts. They're simple, filling and scrumptious, in essence, the perfect lunch. It took a few days for me to get around to it, but I finally assembled my version of this absolutely fabulous sandwich. In fact, we've had them twice in the past two weeks, so I'm confident in proclaiming it was a hit with my wife as well.
Elise's recipe called for cheddar and while I'm a fan, I prefer a lighter flavor with my tuna. I'm also not particularly fond of tomatoes with it, so I modified the recipe a bit. (Who would have thought that I'd ever do that!?!) I used low fat mayo instead of "real" mayonnaise to cut the cholesterol content a bit, and I prefer to brown up bread in olive oil rather than butter. I just like the flavor and texture more, not to mention that it's a bit better for you.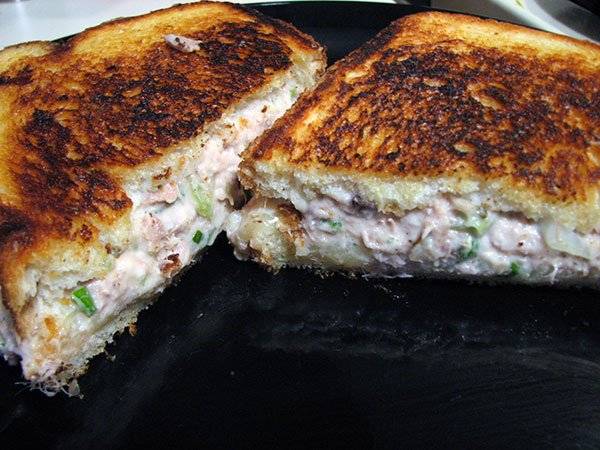 Yield: 4 sandwiches
Basil Provolone Tuna Melt Recipe
Prep Time: 5 minutes

Cook Time: 10 minutes

Total Time: 15 minutes
Ingredients
1 12 oz. can chunk or solid tuna (in oil, please! water is a solvent, and dilutes the flavor of the tuna.)
4 slices sourdough sandwich bread or or whatever bread just happens to float your boat.
4 slices provolone cheese
3 tbsp. chopped parsley (flat or curly leaf, whatever you've got)
2 tbs. chopped fresh basil or 2 tsp. dried basil
3 thinly sliced scallions, including the greens
Salt and pepper to taste
1/4 cup light mayonnaise or 1/3 cup regular mayonnaise.*
Approximately 4 tbsp. extra virgin olive oil
Instructions
Mix tuna, parsley, basil, scallion, salt, pepper and mayonnaise in medium bowl until well combined.
Heat a large griddle or skillet over low medium low heat. (A cast iron griddle is the perfect pan for this.) Spread tuna mixture on bread in desired amount. Place cheese over tuna mixture and top with another slice of bread.
Drizzle one side of sandwich with olive oil and place oil side down on griddle. Cook until golden, drizzle other side with olive oil and flip. cook until golden and cheese is melted.
Notes
The reason for the differing amounts is that light mayonnaise doesn't "quite" cook the same way regular mayo does. The lack of egg whites makes light mayo a bit runny, whereas heated "real" mayonnaise acts as a bit of a binder.
Nutrition Information:
Yield:
4
Serving Size:
1
Amount Per Serving: Calories: 644Total Fat: 41gSaturated Fat: 10gTrans Fat: 0gUnsaturated Fat: 29gCholesterol: 39mgSodium: 1047mgCarbohydrates: 47gFiber: 4gSugar: 5gProtein: 24g


What I would have done differently had I thought of it at the time:
Honestly, everyone has their own favorite tuna salad recipe, and whatever yours happens to be, it would probably make a pretty phenomenal tuna melt. Try whatever you like, the worst that could happen is that you'll make it better next time!