Beefy, cheesy goodness on a bun. With a little left over roast beef, some onions, garlic and cheese you can whip up this hearty and satisfying sandwich that's guaranteed to crush those hunger pangs in just a few minutes.

My wife introduced me to the "Beefy Cheddar Melt" at a local restaurant when I moved to Texas. What was presented was a greasy mass of overcooked roast beef, butter slathered onions and some of the most God-Awful cheddar cheese (If it was even cheddar) that I've ever had the misfortune of eating. Needless to say, my first response was "I can do better than that!"
I think I have, but you be the judge.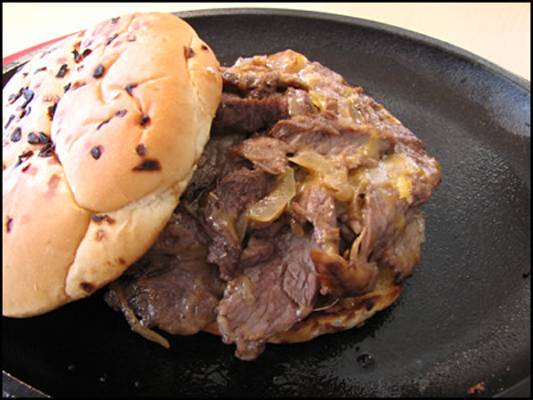 Yield: 1 Sandwich
Beefy Cheddar Melt Recipe
Prep Time: 10 minutes

Cook Time: 5 minutes

Total Time: 15 minutes
Ingredients
Roughly 1/2 pound leftover beef roast, sliced as thinly as possible
1/4 of a large onion, quartered and sliced thin
2 cloves garlic, chopped
A splash of port or dry sherry
1/4 cup shredded mild cheddar or sharp cheddar cheese
1 kaiser roll
1 Tablespoon butter
Instructions
Heat a skillet over medium-low heat. Sweat onions in butter until caramelized. Add garlic and cook for another minute.
Add sliced beef, stirring occasionally until heated through. Pour approximately 1/8 cup of port or sherry over beef, stir until liquid has evaporated. Add cheese, stir to combine, remove from heat when cheese is melted.
Serve on a toasted kaiser roll (I toast mine in a little more butter for flavor)
Nutrition Information:
Yield:
1
Serving Size:
1
Amount Per Serving: Calories: 1214 Total Fat: 77g Saturated Fat: 36g Trans Fat: 1g Unsaturated Fat: 31g Cholesterol: 361mg Sodium: 1158mg Carbohydrates: 36g Net Carbohydrates: 0g Fiber: 2g Sugar: 3g Sugar Alcohols: 0g Protein: 88g



What I would have done differently had I thought about it:
This would be great with mushrooms, especially if the cheddar were traded out for swiss.
If you've got any ideas as to what could have made this better, let me know.