If you thought canned tuna had to be boring, think again. If you look past the American tradition of slathering this delectable fish in mayonnaise and stuffing it between two pieces of bleached white bread, you'll find that there is a world of inspiration waiting to be found in that tin, and this is but one of many I've had lately.
The same holds true of iceberg lettuce, it's gotten a bad rap in these days of micro greens and baby field greens, but on a hot summer day in Texas there's just nothing as refreshing as the cool, crisp texture and flavor if a good iceberg salad, whether that be a traditional wedge salad or a more composed dish like this one.
This dish stems from the need for both my wife and I to eat more Omega3 rich foods, and on the day it was served, the temperature here had soared well past 90, so a salad seemed in order, and as I dug through the pantry searching for viable ingredients the tuna caught my eye. I thought that I'd seen something similar from Elise at Simply Recipes, but when i went to look for it, I couldn't find it. Therefore this tuna salad recipe is an original, based on my tastes for the day.
The end result was light, cool and infinitely satisfying. More than enough of a meal to carry me through a long hot afternoon until dinner and with no guilt at all, as this is probably one of the healthiest lunches I have prepared in a very long time. If you've been feeling a craving for seafood but don't have the budget for a good piece of fresh fish from the local fishmonger, this is a dish that I highly recommend!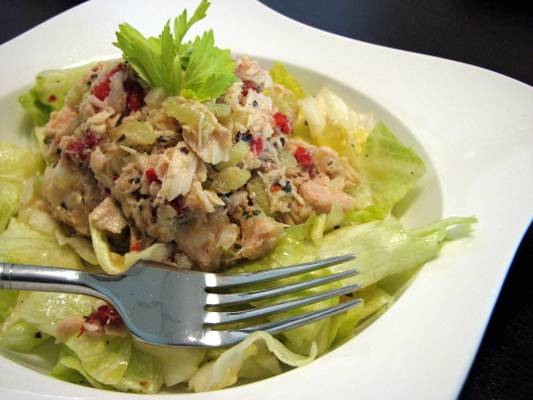 Yield: 4 servings
Tuna and Iceberg Salad Recipe
Prep Time: 5 minutes

Total Time: 5 minutes
Ingredients
2 6-ounce cans solid white albacore tuna in water.
1 roasted red pepper or equivalent. chopped fine
(I buy mine jarred whole, it makes for simple recipe writing.)
1 celery stalk, sliced extremely thin
3 green onions (scallions) chopped fine, whites included
2 cloves garlic, minced or grated
1 tsp dried oregano
1 tsp dried sage
2 tsp. lemon juice
1/8 cup (approximate) extra virgin olive oil
Salt and pepper to taste
1/4 head iceberg lettuce, torn or cut in bite-sized pieces
Your favorite Italian style dressing, approximately 1/8 cup
Instructions
Remove tuna from cans and drain well in a colander or sieve. Place in a medium sized mixing bowl and break tuna into small pieces using the back of a fork. Add roasted red pepper, celery, scallions, garlic, oregano, sage, lemon juice and olive oil, stir to combine and taste for sat and pepper. If desired, add a bit more lemon juice or olive oil to taste as well. Cover loosely with plastic wrap and refrigerate for at least 30 minutes to allow flavors to marry.
Place lettuce in a separate bowl and dress sparingly with your favorite Italian style vinaigrette for a bit of zing, or simply with olive oil and a dash of red wine vinegar. Season to taste with salt and pepper.
Place lettuce in salad bowls and top with desired amount of tuna mixture. Garnish with celery leaves or scallion tops and serve chilled.
Nutrition Information:
Yield:
4
Serving Size:
1
Amount Per Serving: Calories: 225Total Fat: 8gSaturated Fat: 2gTrans Fat: 0gUnsaturated Fat: 6gCholesterol: 56mgSodium: 635mgCarbohydrates: 5gFiber: 1gSugar: 3gProtein: 31g


What I would have done differently had I thought of it at the time:
Absolutely nothing. I really can't think of anything that would have made this any better. If you can, drop a comment with your suggestion!
Links to other recipes like this: