Fried rice is comfort food. I don't care whether you're from Tokyo, Beijing, or San Antonio. It doesn't matter what ethnicity you are or what you grew up eating. This stuff is worthy of a place all its own in the history books of food that just makes you feel better. Honestly, I feel better just knowing that fried rice exists in the world.The chance to actually make and eat it makes any day wonderful. Bacon fried rice is nothing short of heavenly. And yes, it can be done… No. Wait. It should be done… At home.
Your home. Tonight would be good.
Unlike many other Asian stir fries, bacon fried rice doesn't need anything that you can't find in any western kitchen. There's no need for a burner that puts out more heat than a volcano. You won't need a wok or other special pan. Everything you need is already in your cupboard. So. Are you ready?
Great. let's make some fried rice that's guaranteed to give your favorite takeout place a run for its money.
We'll assume that you already have your rice made. Ideally it should be made the night before and cooled in the fridge, but if you're like us, it's usually made the same day. Just make sure it has time to cool before it's time for dinner!
Let's start with the star of this particular dish, the bacon. (It wouldn't be bacon fried rice without the bacon, now would it?) You'll need about 3/4 of a pound to a pound total. (Cooked, that will come to about a half-pound.) we use bacon ends and pieces for this, so we dice them first. If you're using regular strip bacon, you can just cook it, then crumble it.
Get the bacon in the pan and cook it up.
While that's cooking, grab a few green onions.
Slice 'em on the bias, so you have a lot of little green onion spears, like this.
Toss those in a bowl and move on to the eggs. For this recipe you'll need 3.
Beat the eggs with some salt and pepper, get the bacon in a bowl and ready to go and we'll move on to the rice. (You really do want everything in place and ready. You won't have a lot of time between steps.)
Now that everything is good to go, heat a large nonstick skillet on medium heat with 2 Tablespoons of vegetable oil and a Tablespoon or two of bacon grease. (We're really pushing the bacon flavor here.)
Wet your hands a little and separate the grains of rice as much as you can in the bowl, then toss it in the pan. Stir with a spatula (or better, a bamboo paddle) until all the grains are pretty much coated with a thin layer of the oil.
Next, scoot the rice over to the side and add the egg to the pan.
Let them cook for just a second, then mix the eggs and rice together.
Once you've got that mixed, dump in the rest of the ingredients.
Now fold all of this together until it's all combined. Yes, bacon fried rice is just that easy.
And that's it! Plop your finished rice in a bowl and savor the yumminess. Feel free to slather it in soy sauce or your favorite condiment!
Bacon fried rice is great as a side dish, but it's also perfect as a main course, so take your pick. Either pair it with some lovely pork, or eat it for a great lunch or dinner. We'll let you decide.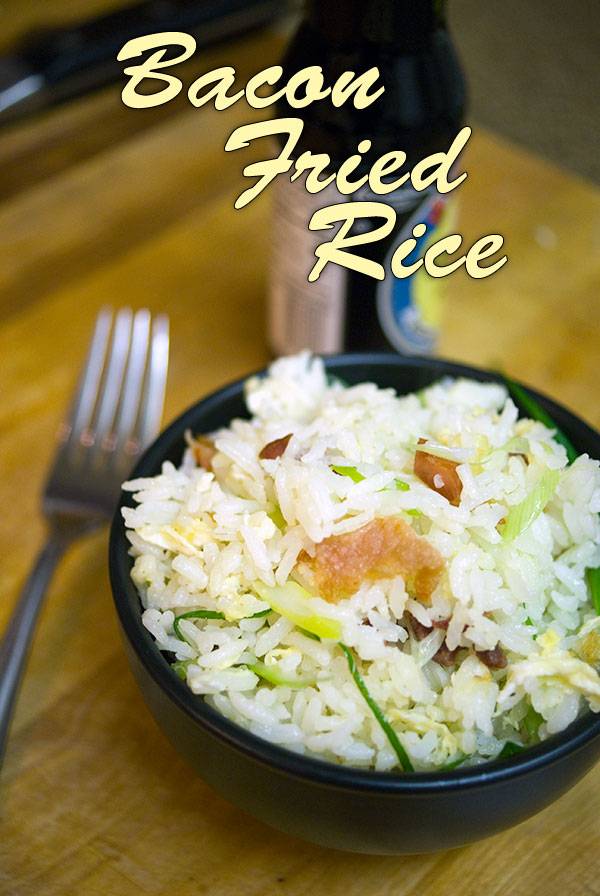 Yield: 8 servings
Bacon Fried Rice
Prep Time: 20 minutes

Cook Time: 5 minutes

Total Time: 25 minutes

Sumptuous fried rice with green onions and bacon. Because fried rice is good, and bacon fried rice is better.
Ingredients
1/2 pound bacon, cooked and crumbled
6 cups cooked rice, cooled
3 green onions or scallions, sliced thinly on the bias
3 eggs, beaten
Salt and pepper to taste.
2 Tablespoons vegetable or peanut oil.
1 Tablespoon bacon drippings (If desired)
Soy sauce (If desired)
Instructions
Cook bacon until crisp. Drain on paper towel and crumble into a small bowl. Slice green onions and place in a bowl. Beat eggs in a separate cup or bowl and season with salt and pepper. Slightly dampen fingers and separate the grains of rice into a large bowl. (Trust me, this makes it easier.)
Place a large nonstick skillet over medium heat. Add 2 Tablespoons vegetable oil and 1 Tablespoon of the drippings from the bacon. Add the rice and stir until rice grains are separated and coated evenly with oil.
Move rice to one side of the skillet and pour in the egg. Stir the egg into the rice with a paddle or spatula until all eggs are cooked and mixed completely throughout the rice. Add bacon and green onions and stir until all ingredients are mixed well.
Serve hot with plenty of soy sauce or vinegar (or garlic-chili stir fry sauce.)
Nutrition Information:
Yield:
8
Serving Size:
1
Amount Per Serving: Calories: 341Total Fat: 14gSaturated Fat: 5gTrans Fat: 0gUnsaturated Fat: 9gCholesterol: 100mgSodium: 684mgCarbohydrates: 35gFiber: 1gSugar: 0gProtein: 16g
What are your thoughts on this bacon fried rice?
Are there any additions you would have made? Anything you'd do differently? let us know, maybe we'll make it!
Other great fried rice recipes: