This shop has been compensated by Collective Bias, Inc. and its advertiser. All opinions are mine alone. #JuicyGrilledCornish #CollectiveBias
Summer is winding down and by now you've probably grilled up your fill of burgers and dogs. It's time to bring a whole new set of flavors to the table. Like tender, sweet, grilled Cornish hens kissed with deep, rich umami from a gloriously sticky glaze made of soy sauce, honey and lemon juice. Add a few light sides and you're in business for a great weeknight meal or weekend family dinner.
So, I popped over to our local Walmart to gather up the stars of this show, a twin pack of Tyson® Cornish Hens. Why Tyson in particular? Because Tyson Premium Cornish Hens are all-natural, hormone and steroid free. In other words, they're just little chickens. There's nothing artificial here. That's a good thing. Also, it's easy to get great portions for everyone, since you just serve a half-bird to each person.
As for the shoyu (soy sauce), I found it on the Hispanic foods aisle. (Huh? No. I'm serious! Just check out the photo below.)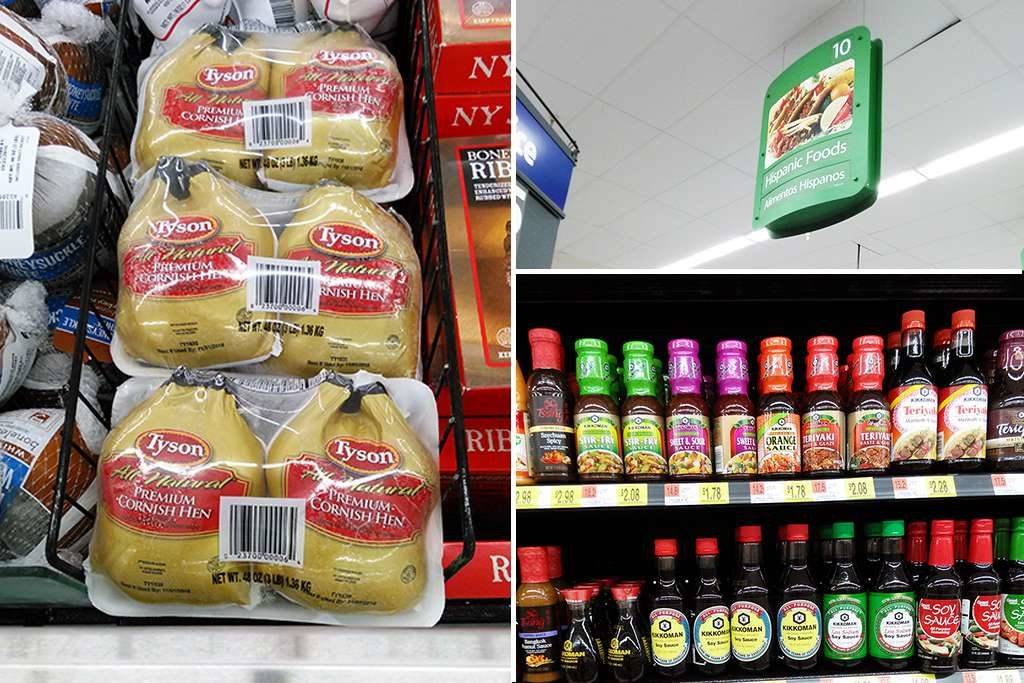 I always have 6 or 7 bottles of assorted Kikkoman® Soy Sauce in my pantry. Some of the more specialized are from our local Japanese market, and vary from light, to dark, to gluten free and organically brewed varieties. (Of course, I also have the original version and low sodium variety as well. You can't cook as much Asian food as we do without having a bunch of different kinds of soy sauce on hand. Today I had to restock the Original Kikkoman sauce, and since it was right there, I grabbed a few bottles. (I also picked up a bottle of Sweet & Sour, because I want to play with that later this week.)
OK, so things are assembled. The Cornish hens come frozen, and it's awful hard to make grilled Cornish hens with little frozen chicken bricks, so toss them in the fridge for a day or two and let them defrost, then grab them and your soy sauce and get started.
First things first, we're going to spatchcock these hens so they grill more evenly.
Wait. What's a "Spatchcock", you ask? Well, basically it's a fancy name for flattening out a bird, especially smaller birds like our friend the Cornish hen) so that they cook more quickly and evenly.
(Fun word, spatchcock. Try saying that a few times fast.)
Spatchcocking looks intimidating, but it's actually really simple. Just take a set of kitchen shears and cut our little soon to be grilled Cornish hens along both sides of the backbone, open them up, flip them over and push down until you hear a popping sound.
That's it. And make sure to save those backbones for some really yummy stock. You can tuck the wings under if you want, or just leave them as-is. It's completely up to you.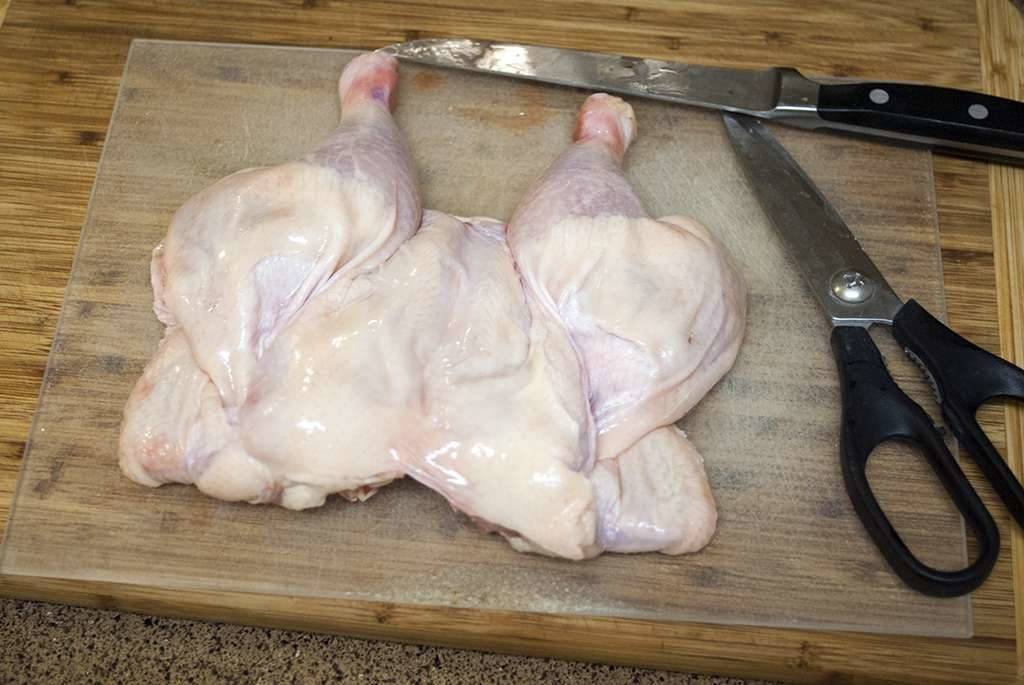 Next, just whisk together the soy sauce, honey, lemon juice and a few grinds of black pepper. pour that into a 9×13 inch baking dish and drop in the Cornish hens skin side down. Toss that in the fridge for an hour (or a day) and fire up your grill.
Be careful not to splash your counter with marinade like I did.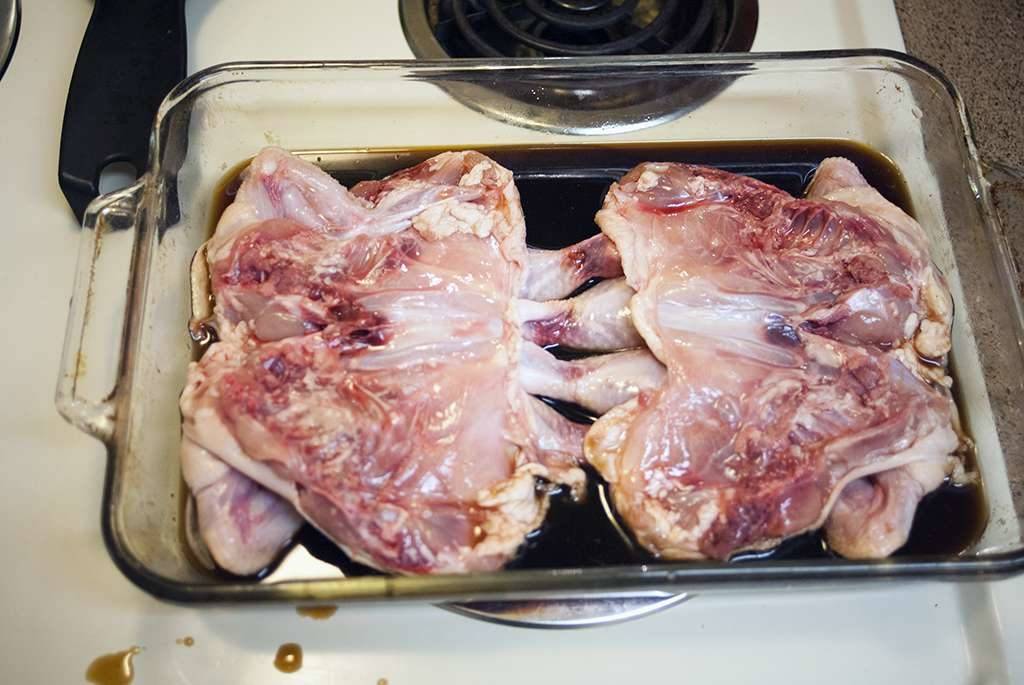 Once you've got the grill good and hot, rake the coals off to the sides and plop the hens onto the grate. I start skin side down to get a good set of grill marks.
Gas grillers, fire two of your burners up to high and one down to low. Cook the hens over the low burner.
Let them sit for about 4 minutes, then give them a quarter turn and let 'em go another 4, then flip them over. See? Gorgeous grill marks. There's no mistaking that these are grilled Cornish hens now!
Now comes the labor-intensive bit. Close the grill and let the little guys cook for about 15 minutes. Then every 10 minutes after that, open up the lid and baste our friendly little chickens with a healthy amount of the remaining marinade. This will make for a crazy, flavor packed sweet and sticky glaze that's sure to inspire much finger-licking.
You can flip them and marinate the underside once or twice if you want, but I don't think it's necessary in this case.
Cook your birds until they reach an internal temperature of 160 degrees, then pull 'em off and let them sit for just a few minutes before serving.
For sides I just made some simple rice and shredded cabbage dressed in soy sauce and rice vinegar. The tartness of the cabbage contrasted beautifully with the sweet glaze on the grilled Cornish hens, and rice just goes with anything.
Now, since I know you're dying to make this at home. (You should be. Really. You should be.) Here's the printable recipe.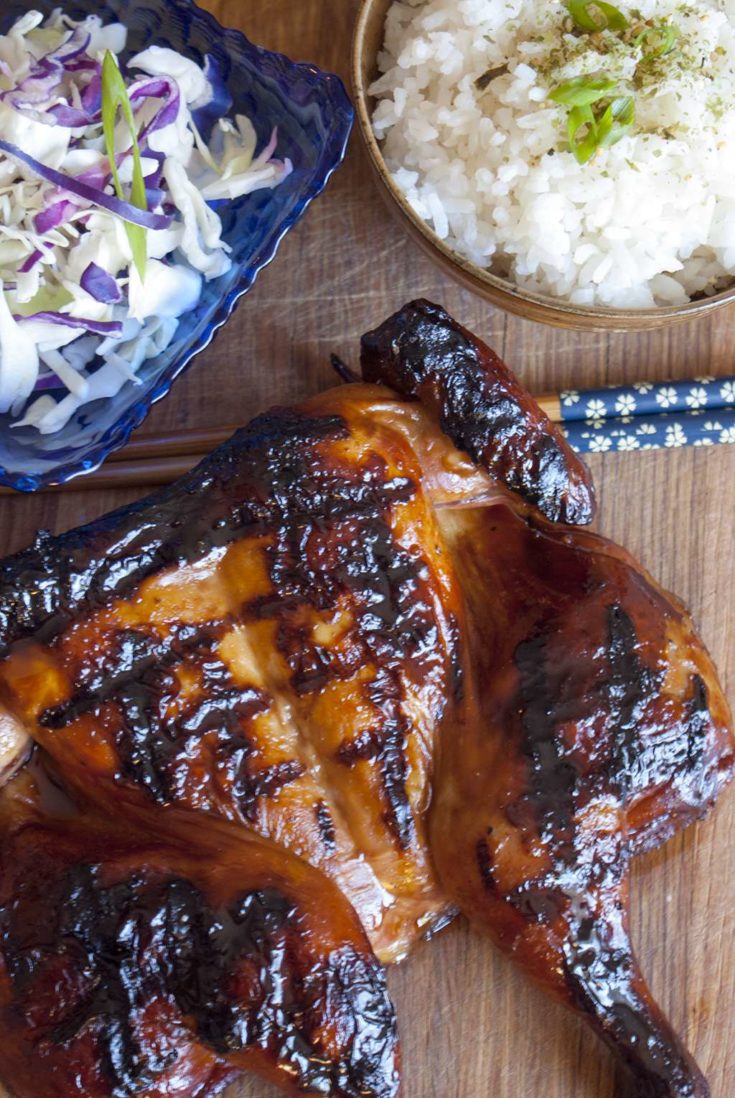 Yield: 4 servings
Grilled Cornish Hens Glazed in Soy, Honey and Lemon
Prep Time: 1 hour

Cook Time: 1 hour

Total Time: 2 hours

Grilled Cornish Hens are a delicious addition to your weeknight meals. Just 6 ingredients and a little time and you've got a tender, juicy, sweet, sticky, mouthwatering meal that's sure to please the whole family.
Ingredients
2 Cornish Hens (About 3 pounds)
1/2 cup Kikkoman Soy Sauce
1/2 cup honey
1/2 cup lemon juice
1/4 cup white wine (Sherry, mirin, or moscato are perfect here.)
Finely ground black pepper, to taste
Instructions
Cut backbones from defrosted Cornish hens with kitchen shears. Turn over and press down firmly until breast bone separates. Tuck wings under if desired.
Mix remaining ingredients in a small bowl and pour into a 9-inch by 13-inch baking dish. Place hens skin side down in dish and refrigerate for at least one hour, and up to 1 day.
Fire up your grill. If using gas, cook chicken over low heat and turn other burners to high. If using charcoal, arrange hot coals on either side of the grill and cook hens over cool spot.
Cook hens skin side down for about 5 minutes (Just to get those gorgeous grill marks.) Flip, close the lid and cook, basting with remaining marinade every 15 minutes, until internal temperature reaches 160 degrees. (Start checking at about 35 minutes, but this can take up to an hour depending on your grill.)
Let rest 10 minutes before serving. Cut each hen in half along breastbone to serve.
Notes
Hey, I don't have a grill. Can I cook this in the oven?

Yep! Though technically it won't be Grilled Cornish Hens at that pont, this recipe works just fine in the oven. Just set the oven to 350 degrees F, and follow along with the same directions as for grilling.
Nutrition Information:
Yield:
4
Serving Size:
1
Amount Per Serving: Calories: 497Total Fat: 24gSaturated Fat: 7gTrans Fat: 0gUnsaturated Fat: 15gCholesterol: 168mgSodium: 1843mgCarbohydrates: 39gFiber: 1gSugar: 36gProtein: 32g
Now that you've tried our grilled Cornish Hens recipe, get inspired!
This recipe only scratches the surface of what you can do with Tyson® Cornish Hens and Kikkoman® Sauces. Be sure to visit the Tyson® and Kikkoman® websites for a whole slew of tips, tricks, recipes and ideas to help make Cornish hens and soy sauce a great part of your weeknight routine.