The holidays are a season of joy, family, togetherness and of course, great food. My second installment for this Holiday menu might surprise some, but for me it's coming in in its rightful place. Even though the table was full of all the goodness that comes from two solid days of prepping and cooking, complete with cranberry relish, gravies, dressing, ham, turkey, appetizers and desserts, there is one more component of the table that, if left unmade, makes the whole meal incomplete. The dinner roll.
Seriously, what's the point of having all that gorgeous food if there's nothing hanging around to sop up all the drippings?
Until recently, my experience with cloverleaf dinner rolls was limited to the "Buy them in the freezer section, brown and serve" variety. If that's all you've ever known, they're a fine addition to a holiday table, but I guarantee once you've had them fresh from the oven, you'll never go back. At least I never will. These rolls are simply the best I've ever eaten. soft, warm and ever so subtly yeasty. Perfect with just butter or drenched with turkey gravy or cranberry relish.
Yield: 24 rolls
Cloverleaf Dinner Rolls
Prep Time: 10 minutes

Cook Time: 20 minutes

Rise Time: 3 hours

Total Time: 3 hours 30 minutes
Ingredients
1 1/4 cups milk
1/2 cup plus 2 teaspoons butter
3 tablespoons nonfat dry milk
3/4 cup plus 1/2 teaspoon sugar
1 teaspoon salt
1 (1/4-ounce) package active dry yeast
2 eggs, lightly beaten
4 1/2 cups all-purpose flour
Instructions
In a small saucepan over medium heat combine the milk, 1/4 cup of the butter, dry milk, 3/4 cup of the sugar and the salt and cook, stirring frequently, until the butter is melted and the sugar has dissolved, about 2 to 3 minutes. Remove from the heat and set aside to cool to lukewarm before proceeding.
In a large mixing bowl dissolve the yeast and remaining 1/2 teaspoon of sugar in 1/4 cup of warm water (110 degrees F). Add the eggs and stir to combine. Set aside until foamy, about 10 minutes. Add the milk mixture to the yeast mixture and stir to combine. Using a wooden spoon, add the flour 1 cup at a time. The dough will be quite stiff and somewhat sticky. If the dough gets too stiff to stir with a spoon, use your hands to mix.
Lightly grease the inside of a large bowl with 1 teaspoon of the remaining butter. Transfer the dough to the bowl and turn to coat. Lightly grease a piece of waxed paper or plastic wrap with the remaining teaspoon of butter and use it to cover the bowl. Set aside in a warm place until doubled in size, at least 2 hours.
Melt remaining 1/4 cup of butter and transfer to a small bowl to cool. Turn the dough out onto a lightly floured surface and knead until smooth and elastic, about 2 to 3 minutes.
Using a lightly floured rolling pin, roll the dough to a thickness of 1/2-inch. Using a sharp knife, cut the dough into 36 equal pieces. Tuck the cut edges of each piece under so as to form a smooth round ball of dough. Place 3 balls of dough side by side into each well of a muffin tin. Using a pastry brush, lightly brush the top of each roll with some of the melted butter. Cover with plastic wrap and set aside in a warm, draft-free area until doubled in size, about 1 hour.
Preheat the oven to 350° F.
Bake the dinner rolls in the center of the oven until golden brown and puffed, about 18 to 20 minutes. brush with a little more melted butter just before service.
Notes
Adapted from a recipe by Chef Emeril Lagasse.
Nutrition Information:
Yield:
10
Serving Size:
1
Amount Per Serving: Calories: 248Total Fat: 3gSaturated Fat: 1gTrans Fat: 0gUnsaturated Fat: 1gCholesterol: 42mgSodium: 256mgCarbohydrates: 46gFiber: 2gSugar: 1gProtein: 9g



Plating: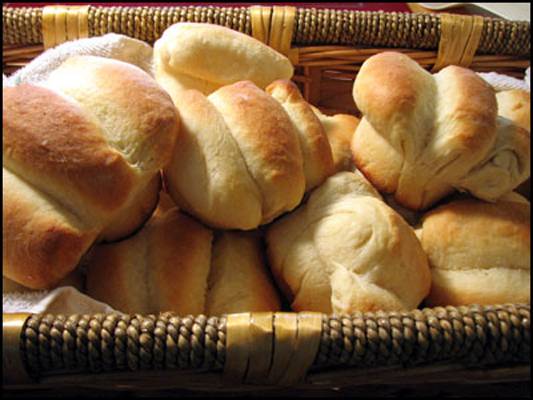 For me, the quintessential method of plating any roll or small loaf is in a nice basket, wrapped in a tea towel or large cloth napkin. It serves not only to keep the rolls warm, but adds a nice homey touch to the affair.
What I would have done differently had I thought of it at the time:
I don't know if anything could have made these better, except perhaps a bit more butter. they would be perfect served with jam, honey or just a pat of butter. (Can you tell I likes me some buttah?) They were incredible with the roast turkey gravy, and possibly better still dipped in cranberry relish. We will definitely be making these again.