Very few things can bring joy to the heart of a Southern cook, even one who happens to live in Alaska, like the words "Smoked Ham Hocks." When making a braised dish or a stew, even bacon and butter can't hold a candle to a good hock. While both of the latter give a lot of flavor to a dish (just ask the French about butter), the smoky, salty, purely porcine assault of flavors from a good smoked ham hock is absolutely beyond compare.
For those who have never used a ham hock, it is basically a pig's ankle joint. A hock is mostly connective tissue, fatty skin and, in the cases of the larger examples, a bit of extremely tough meat. Most cooks use hocks in the same way that they would use soup bones, cooking them with vegetables or beans to add flavor and then removing the hock before serving.
Hocks are generally sold in packages of two to four. In my case, I got four hocks for just under four dollars and made enough soup to feed a family of five with leftovers for the next day.
In Southern cooking derived from areas hit hard by constantly poor times or from the dust-bowl era, the meat is separated from the hock and added back to the dish before serving. It is a subsistence food generally overlooked by most cooks, which tends to make it an ideal choice for low cost cooking.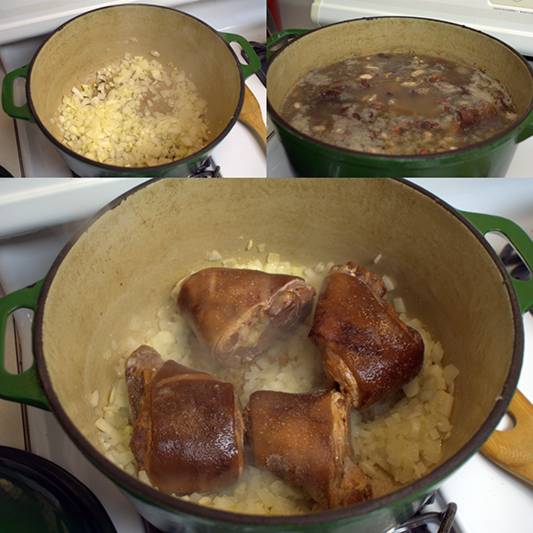 As for flavor, a smoked hock is cured in much the same way bacon is. Hocks are salt cured and smoked, which gives them an incredibly long shelf life. (They will last nearly indefinitely in the freezer if packaged properly.)
Though made in the same process, ham hocks are meatier than bacon. They are chock-full of collagen and connective tissues, which not only changes the flavor, but deepens and concentrates the very nature of everything done with them. If bacon is a gateway protein, then hocks are where the gateway leads.
Hocks are inexpensive, overlooked and come from very humble beginnings. All of those things tie deeply into my family history, but none of them are the reason I buy smoked hocks when I see them. I buy them because they remind me of home. Because their flavor is unmistakable. Because they are comfort food, soul food and love, all in one place at one time.
I'm a southern boy, and I love me some hocks.
If you've never tried them, never seen them or even if you have never heard of them you have to see if you can find some and make a batch of this soup, greens, or just toss them in a stew pot for a pork stock like you have never imagined before. I think you'll find that you have something special on your hands.
This was a perfect dish for a freezing cold winter evening. My wife agreed, though the kids found it to be a little much. (They aren't huge bean fans.) For me, this was a near-perfect finish to a long, cold day. One that I would be happy to serve to family and friends at any time. I hope you agree.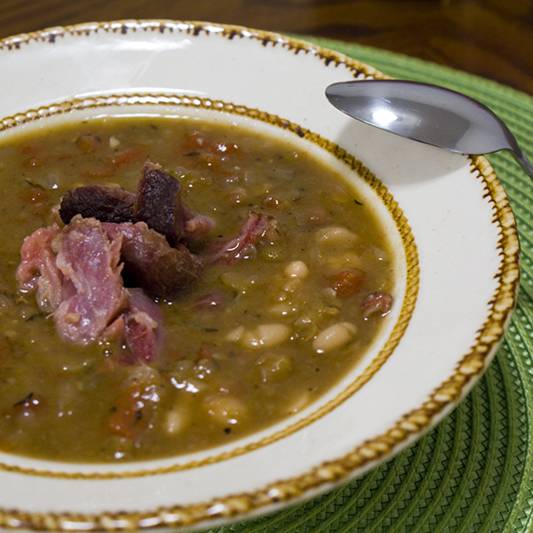 Yield: 12 servings
15 Bean Soup with Smoked Ham Hocks Recipe
Prep Time: 15 minutes

Cook Time: 3 hours

Total Time: 3 hours 15 minutes
Ingredients
2 Tbsp olive oil
2 medium onions, chopped
2 to 4 cloves garlic, minced (Depending on your tastes)
2 to 4 smoked ham hocks, depending on size and amount of meat on the bone)
32 ounces chicken stock
64 ounces cold water
1 - 20 oz package 15 bean soup mix (Just the beans, toss the flavor packet)
3 bay leaves
1 tsp dried thyme
1 -14.5 ounce can diced tomatoes, with juice
Salt and pepper to taste
Instructions
Sweat onions with a small pinch of salt in a large stock pot or Dutch oven over medium-low heat, stirring occasionally, until just translucent. Add garlic and continue cooking for an additional 2 minutes. Add ham hocks to pan and cook, stirring occasionally, for about 5 minutes.
Add chicken stock, water and beans to pot. Turn heat to high and bring to a boil. Stir, making sure all beans are in the liquid. Add bay leaves and thyme. Reduce heat to low and simmer, stirring occasionally, for 1-1/2 to 2 hours or until beans are just tender. Add tomatoes and simmer for another 15 to 20 minutes, stirring occasionally.
Remove bay leaves and discard. Check for seasoning and add salt and pepper as needed. (Warning, hocks can be VERY salty, so go light on the salt until you've tasted the soup!)
Remove hocks and shred meat from bone. Place a few pieces of the ham meat in the bottom of a serving bowl. Ladle soup over and around ham pieces. serve immediately.
Share and Enjoy!
Nutrition Information:
Yield:
12
Serving Size:
1
Amount Per Serving: Calories: 249Total Fat: 7gSaturated Fat: 2gTrans Fat: 0gUnsaturated Fat: 5gCholesterol: 13mgSodium: 1796mgCarbohydrates: 33gFiber: 12gSugar: 9gProtein: 14g


What I would have done differently had I thought of it at the time:
Watch the salt! Hocks are salt cured. The addition of four made for a salty dish. (It also would have cause my Grandmothers' eyes to roll, if it didn't make her faint. Four hocks in a pot is something she would have considered an extreme luxury.)
Links to other recipes like this: