Holiday leftovers are some of my families favorite meals. They tend to be quick, hassle free and simplistic, yet brimming with flavor. They're easy because after all the work that went in to the Holiday meal, nobody is really in the mood for a complicated affair or a long day spent tending another meal. Of course, you still get all the flavors that you put into the original dish, so BONUS!
This particular dish is one of my favorites from childhood. It's a simple combination of ham and beans, but don't let the simplicity fool you. This soup is as close to perfection as you can get, and paired with fresh homemade bread or cornbread, it's a complete meal in itself.
Many will say that this is just a rehash of the 15 bean soup with smoked ham hocks recipe I posted earlier this year, but it isn't. Really! Anyone that's familiar with smoked hocks knows full well that they should not be treated in the same manner as a true ham, and that ham should never be treated like hocks. the differences between the two are not subtle at all and this recipe takes those differences into account.
Ham has a milder, sweeter flavor and needs to be treated far more delicately than hocks (They may say ham hocks but they are not made the same way!) It also does not pair exceptionally well with garlic. Actually, it doesn't pair at all with garlic. It's best to simply remove the garlic from the room while making this so that the cook will not be tempted. If necessary, remove the garlic from the home and keep in an undisclosed location. You'll thank me for this, trust me, you will.
And now, because I know that you're really here for the recipe that follows, and because I think it's crewel to keep you waiting any longer, please allow me to introduce you to a family favorite. A Holiday tradition passed from our family table to yours. (Of course, you don't need to wait for the Holidays to make this!)
What are your Holiday leftover traditions? Everyone has their own, and they all tend to be unique. We'd love to hear about yours.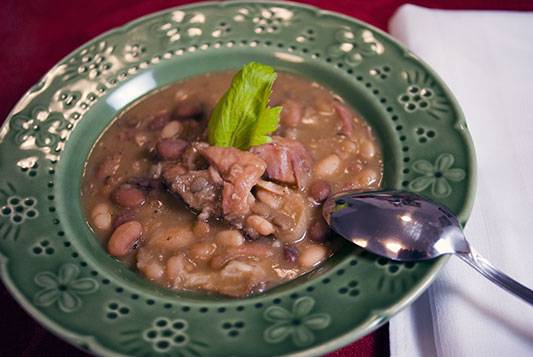 Yield: 12 servings
Leftover Ham and 15 bean Soup - A Holiday Staple
Prep Time: 10 minutes

Cook Time: 2 hours 20 minutes

Total Time: 2 hours 30 minutes
Ingredients
2 Tbsp olive oil
2 medium onions, chopped
1 leftover ham bone, with whatever extra meat you have handy (approximately 2 pounds worth)
32 ounces chicken stock
64 ounces cold water
1 – 20 oz package 15 bean soup mix (Just the beans, toss the flavor packet)
3 bay leaves
2 to 4 Tbsp Cajun seasoning (More = Hotter.)
Salt and pepper to taste
Instructions
Sweat onions with a small pinch of salt in a large stock pot or Dutch oven over medium-low heat, stirring occasionally, until just translucent. Add ham bones to pan and cook, stirring occasionally, for about 5 minutes.
Add chicken stock, water and beans to pot. Turn heat to high and bring to a boil. Stir, making sure all beans are in the liquid. Add bay leaves and cajun seasoning. Reduce heat to low and simmer, stirring occasionally, for 1-1/2 to 2 hours or until beans are just tender.
Remove bay leaves and discard. Check for seasoning and add salt and pepper as needed.
Remove ham bone and remove meat. Discard bone and return the meat to the pot. Serve immediately.
Share and Enjoy!
Nutrition Information:
Yield:
12
Serving Size:
1
Amount Per Serving: Calories: 242Total Fat: 7gSaturated Fat: 2gTrans Fat: 0gUnsaturated Fat: 5gCholesterol: 18mgSodium: 3943mgCarbohydrates: 30gFiber: 11gSugar: 6gProtein: 15g


What I would have done differently had I thought of it at the time:
Yeah. Um. Nothing. Ever. Not a darned thing. Except perhaps make a bigger batch.
Links to other recipes like this: