I'd like to introduce all of you to the wonderful, lovely and talented Jessica Russell. (Otherwise known as the other half of this blog, creative director, taskmaster, supporter and many other things.)
It also happens that she is a very talented author of sizzling romance novels, which makes this spicy recipe the perfect introduction. This post and the recipe are all hers, so take it away, honey!
In a home with three growing boys, it's imperative to extend meals and stretch proteins. This recipe is something I developed in my early Air Force career. It was week 3 of killer shifts, and I was sick to death of fast food. Seventeen hour days left little time to plan or prep, so I needed something that was relatively safe cooking while I was out in the field.
I had a crock-pot I'd never used. A phone call to my grandmother told me you could make anything in a crock-pot if you add enough moisture at the beginning. You can throw meat in while it's frozen if need be.
Feel free to use chicken leg quarters as this meal is mostly low-calorie and I know my boys need a lot of calories to burn!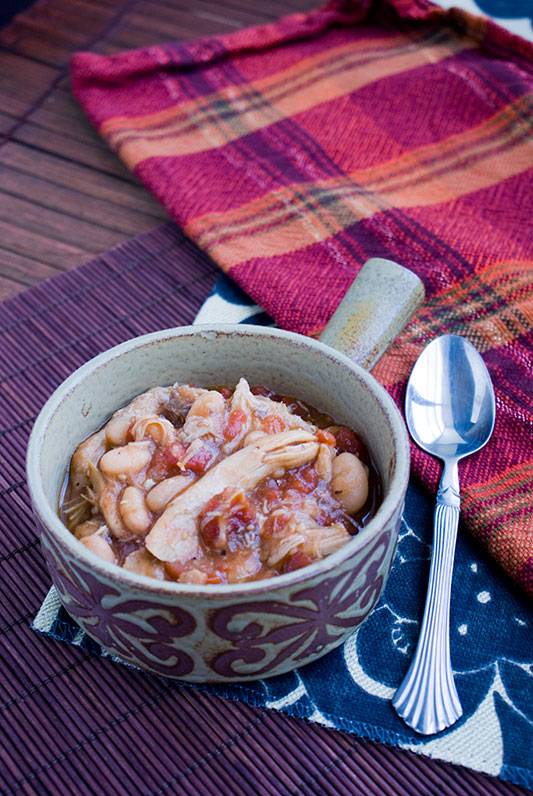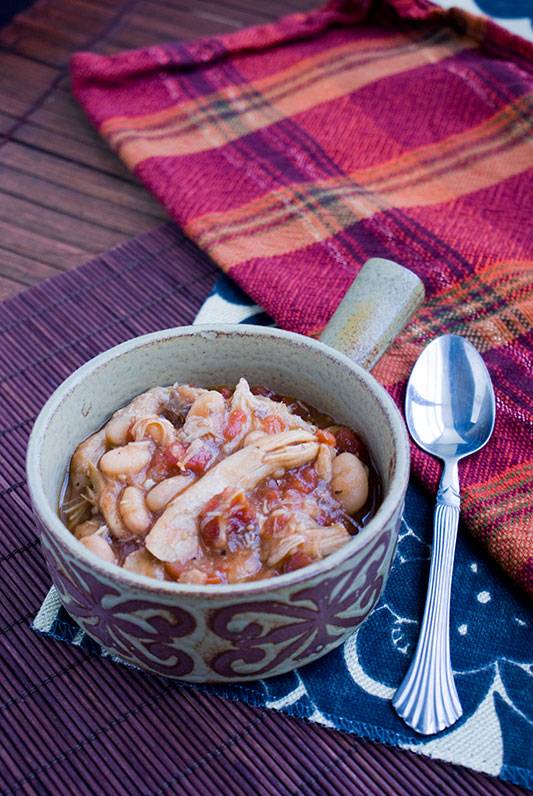 Yield: 8 servings
Slow Cooker Chicken and Bean Soup
Prep Time: 10 minutes

Cook Time: 8 hours

Total Time: 8 hours 10 minutes

Let your slow cooker do all the work for you! This Chicken Chili Soup with beans brings the flavor and a little bit of heat. Without all the effort.
Ingredients
1 chicken leg quarter, or approximately 1 pound chicken. (Frozen or thawed, doesn't matter.)
1 (8 ounce) can Ro-Tel® tomatoes or other brand tomatoes with green chilies, with juice
2 (14.5) ounce cans of diced tomatoes, with juice
1 (14.5 ounce) can of water
2 (14.5 ounce) cans of reduced sodium navy beans, with juice
1 onion, diced
Fresh basil, to taste (Approximately 2 teaspoons for us.)
Seasoned salt of choice and pepper to taste
Instructions
Add chicken to the bottom of the slow cooker, then add everything else. Cover and cook on high for 4 to 6 hours or on low for 8 to 9 hours. Test for seasoning and adjust as necessary.
Share and enjoy!
Nutrition Information:
Yield:
8
Serving Size:
1
Amount Per Serving: Calories: 266Total Fat: 11gSaturated Fat: 3gTrans Fat: 0gUnsaturated Fat: 6gCholesterol: 94mgSodium: 418mgCarbohydrates: 19gFiber: 2gSugar: 12gProtein: 23g


What I would have done differently had I thought of it at the time:
Ways to extend this meal:
1. Pour leftovers over cooked rice or potatoes.
2. Toss in a nonstick pan and reduce the sauce. Then put in a heated flour or corn tortilla.
3. This recipe makes a solid base for Texican inspired chicken enchiladas.
Links to other recipes like this:
This post brought to you by Appliance Planet, who offered to sponsor "Any recipe that I would like to write." Thank you guys! If you're reading this recipe in the UK or own a home there, you need to check these guys out!