I've said it before and I will most definitely say it again. Simple foods are the best foods. Some of the most sought after dishes in the world are inspired by what were once food for the poor only. Meals that were originally intended to stretch a few meager ingredients until they couldn't be stretched any farther have become the rage at swanky restaurants all over the world.
That's because they taste phenomenal.
This is one of those dishes. It was inspired by my Southern roots and the depression era cooking of both of my Grandmothers. It's a humble dish. A meal of few ingredients. A meal with no fancy spices or other twists. This is something that very likely graced the tables of family members now long gone.
And it is one of the first things that I'd serve to family or dear friends. It is the embodiment of a meal that says "come sit down a spell and take a load off." It's a meal that is designed to be eaten with plenty of conversation and a good glass of iced tea, milk or beer.
The key to the immense flavor in this dish is time. It takes a few hours to cook, but is well worth it. It's time that transforms a tough, rather unappetizing cut of meat like a ham shank into something silky, sweet, salty and succulent. There are no shortcuts, only love of a great meal, Southern style.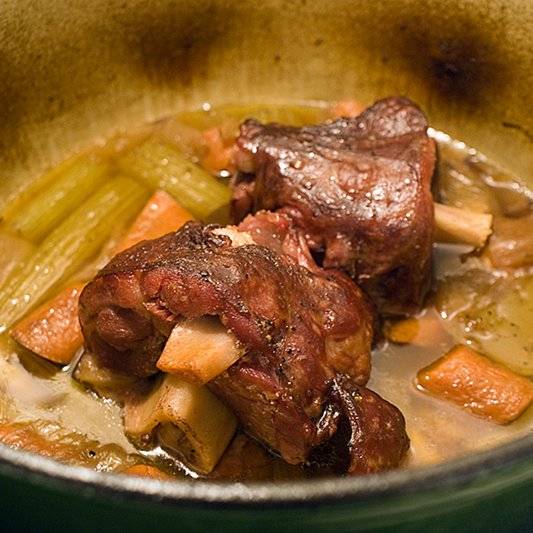 The key to the whole affair is the shank itself and the broth that it and a few vegetables create. A deep, slightly smoky, intense reduced stock that gives the rice a flavor that is unique without being overpowering. This is the kind of meal that my sister and I used to whine about as kids and have come to crave as adults.
This is comfort food. This is more than a meal, it's love on a plate. It's both a nod to the fact that I grew up poor enough to eat this often and to the fact that now that I am no longer poor, I can't live without it. This is a meal that both inspires and grounds me.
This, ladies and gentlemen, is home. I humbly invite you to give this a try as soon as the weather wherever you happen to be is cool enough. You'll want to thank me for it, but don't. Thank my Grandparents. They taught my mother how to make it.
As a final note, I heard from a colleague on twitter ( Thanks @NikSnacks!), that a local high-end restaurant in her area was serving this dish at $24 dollars per plate. It just proves that great food is great food, no matter what its origins are.
Of course, dinner for 4 only cost me about 6 dollars. Just sayin.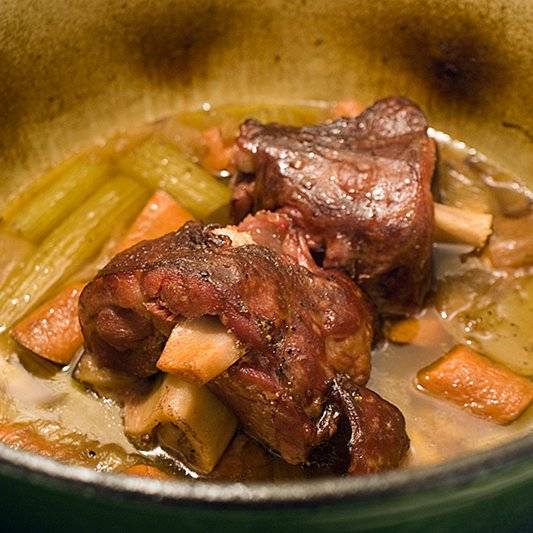 Yield: 8 servings
Braised Smoked Ham Shank with Beans and Rice Recipe
Prep Time: 10 minutes

Cook Time: 3 hours

Total Time: 3 hours 10 minutes
Ingredients
1 - 1 3/4 to 2 pound smoked ham shank (whole or cracked)
2 Tbsp butter
2 Tbsp olive oil
32 ounces chicken stock
2 onions, peeled and cut in quarters
2 carrots, cut in chunks
2 celery stalks, cut in chunks
4 cloves garlic, peeled and smashed
1 - 15 ounce can dark red kidney beans, drained
1 - 15 ounce can pinto beans, drained
4 cups cooked white rice
Salt and pepper to taste
Instructions
Preheat oven to 350 degrees.
Add butter and olive oil to a large oven proof pot with a lid (preferably a dutch oven) over medium high heat. Once melted, add onions, celery and carrot. Season lightly with salt and cook, stirring occasionally, until the vegetables are just browned. Add garlic and cook, stirring often, for an additional 2 minutes.
Add the ham shank to the pot and pour in chicken stock. Season with black pepper and a pinch of salt. Bring to a low boil, cover and place in the oven. Bake at 350 degrees for 2-1/2 hours or until the meat is fork tender and falling off the bone.
Remove pork from the pan and allow to cool for a few minutes. Meanwhile, strain the vegetables from the stock and return stock to pot. Add beans and rice and bring to a simmer. Taste for seasoning and add salt and pepper as needed. (Go easy on the salt, the ham has a LOT.)
Remove ham from the bones and chop or shred with two forks. Place rice on 4 plates and top with equal amounts of chopped ham.
Serve immediately.
Share and Enjoy!
Nutrition Information:
Yield:
8
Serving Size:
1
Amount Per Serving: Calories: 467Total Fat: 12gSaturated Fat: 4gTrans Fat: 0gUnsaturated Fat: 7gCholesterol: 36mgSodium: 1534mgCarbohydrates: 58gFiber: 7gSugar: 6gProtein: 33g


What I would have done differently had I thought of it at the time:
Absolutely nothing.
Links to other recipes like this: