When the weather gets warmer, it's time for a bit lighter fare. This salad was the perfect answer to the heat of a Texas spring day. Crisp, refreshing and light, with the zing of a fresh vinaigrette to perk up the palette.
I used a store bought bag greens mix containing frisee, arugula, romaine, red leaf lettuce and carrots, though this would be just as wonderful with baby spinach or plain-ol' romaine. You can also substitute your favorite crumbled cheese for the feta, if you're not a fan.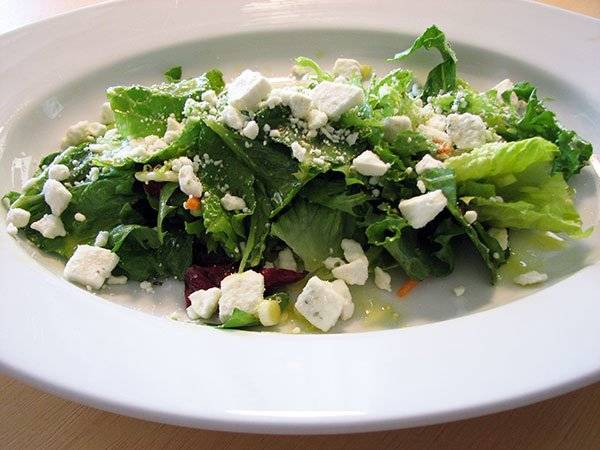 Yield: 1 Salad
Spring Greens and Feta Salad Recipe
Prep Time: 5 minutes

Total Time: 5 minutes
Ingredients
Salad:
1 good handful mixed spring greens or lettuces of your choice
1/4 cup crumbled feta cheese
2-3 green onions (scallions) chopped to about 2? into the greens
Vinaigrette:
3 part extra virgin olive oil (roughly 3/4 cup
1 part white wine vinegar (roughly 1/4 cup)
1 tbsp mustard (I used regular salad or 'hot dog' mustard, but any you like will do)
2 tbsp honey (again, use your favorite. I used clover out of a 'little bear' container)
Salt and pepper to taste
Instructions
In a medium bowl, add white wine vinegar, mustard and honey. Whisk to combine. While still whisking rapidly, drizzle in olive oil until desired consistency is achieved. Taste and add salt and pepper to your liking.
Place a small amount of dressing in a larger bowl, add greens and toss. If too wet, add a bit more of the greens and toss again. Each leaf should be "just coated". If too dry, add dressing by tablespoons and toss again.
Place on serving plate, sprinkle with feta, serve immediately.

What I would have done differently had I thought of it at the time:
Actually, this salad was extremely nice in it's simplicity, and I think it's perfect for those times that you're pressed for time and just want a light meal. As spring rolls into summer, I'll be making a lot more in the way of salads, but this is the one I'll make for my wife to take to work with her.
If you're planning on taking this, or any other salad out for a picnic or to the office for lunch, simply store the greens in a large zip top bag, with the cheese in a smaller container and the pre-made vinaigrette in a small liquid tight container. To serve, just shake the dressing well, pour over the greens, seal the bag and give a good shake, then put it on a paper plate or in a plastic bowl and sprinkle with cheese. It'll be almost as good as if it was made right there at the table.