A lot of people contact me to write posts for them. Most are horribly unsuited for this venue, but every once in a great while one comes along that gets my attention, not just because the people behind the product are willing to compensate me for my time, but because what they have to say is relevant, important and has an impact for the most important people in this blog's world; You.
This is one of those instances.
Several of my female food-blogging partners in crime either are, or have very recently been pregnant. This post is dedicated to making sure that their health and the health of their children is in the forefront at all times. It seems that a lot of women avoid seafood during pregnancy due to concerns about mercury.
While it is certainly a good idea to avoid high-risk seafood such as shark, mackerel, swordfish and tilefish, studies have proven that the high levels of Omega3 fatty acids present in seafoods such as salmon and tuna help to prevent depression as well as helping the development of your baby, both in the womb and while breastfeeding.
Since I am not a doctor (I just play a chef on the Internet), I will refer you to the studies provided by healthy tuna. I've looked them over and they seem to be reputable, I give them credit and will vouch for them insofar as being worth a good-hard read, at which point I leave you to draw your own conclusions.
The lovely Veronique at healthy tuna also sent along a few recipes with a request that I give one a try and share it with all of you. From the group sent, I chose the Southwest Tuna Salad for the sake of simplicity. The original instructions were for a salad that would very likely have been tasty, but on film would have been far from appealing.
After a few days of conversations, I was allowed to play with the recipe a bit, as I am wont to do with every recipe I touch on occasion. I decided that the salad would be far more presentable if presented as a composed salad, sort of in the bent of a Cobb salad (remember those from the 80's?) and I was off.
The original recipe is presented as given to me, my changes are detailed below.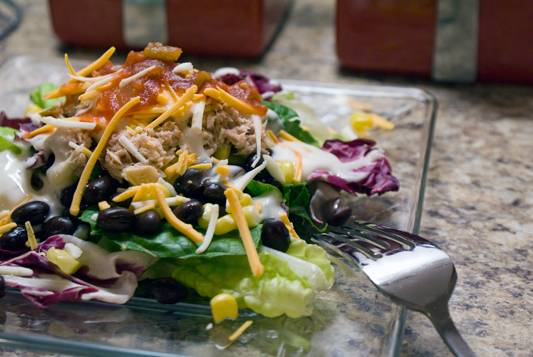 Yield: 2 servings
Southwest Tuna Salad
Prep Time: 5 minutes

Total Time: 5 minutes

A simple, robust twist on a classic tuna salad recipe that your family is sure to eat up!
Ingredients
1 (2.6-ounce) pouch of Chunk Light or Albacore Tuna (if using cans, drained and chunked)
½ cup black beans, drained and rinsed
¼ cup low-fat Ranch dressing
1/4 cup Mexican cheese blend, shredded
2 ½ cups (4-ounces) lettuce, washed and torn
½ cup whole kernel corn
¼ cup salsa
Instructions
In a large salad bowl place lettuce, tuna, beans, corn and ranch dressing. Top with salsa and cheese. For two small salads, divide all ingredients in half.
Nutrition Information:
Yield:
2
Serving Size:
1
Amount Per Serving: Calories: 321Total Fat: 11gSaturated Fat: 4gTrans Fat: 0gUnsaturated Fat: 5gCholesterol: 54mgSodium: 939mgCarbohydrates: 27gFiber: 6gSugar: 4gProtein: 30g


What I would have done Differently had I thought of it at the time:
This really should be "what I did differently…
Instead of just adding everything to a bowl, I layered the ingredients as follows:
Lettuce (I used an Italian Greens Mix, because I had it on hand and it's pretty on camera)
Black beans
Whole kernel corn
Tuna
Light ranch dressing
Shredded cheese
Salsa
Salt and Freshly ground Szechuan peppercorns
Hey, if a little fish in your diet can help keep you happy and healthy, why not have some? i try to get it in at least once per week myself, and have been trying to get the kids to eat more of it as well.
The salad was tasty if you like black beans… If not, use a white bean instead. They're pretty up-front in their flavor and overpower just a tad as a whole, but still a mighty good snack.
This is a Sponsored Post written by me on behalf of HealthyTuna.com (which sadly no longer exists). All opinions are 100% mine.