From the archives. Quick Chicken Curry is remarkably fast and satisfying dish that's perfect for a school-night dinner or as a quick meal on hectic days between soccer practice, football or whatever else your busy schedule throws at you. (Hint: Make the curry ahead of time and refrigerate it for up to three days. Just reheat and serve over rice.) Oh. and it's gluten free, so Enjoy!
Anyone who's followed this blog for a while will know that curry powders in various forms are some of my favorite spice blends. I regularly use them to put a little depth of flavor and a hint of kick to poultry, vegetables and especially potatoes.
For me curry is a comfort food. Not because of the flavors, but because the aroma of curry powder transports me immediately back into the safest and most loving place I've ever known. My mother's kitchen. If I'm feeling down, you can bet there will be a dash of curry in the recipe of the day, whether anyone but me ever realizes it or not.
Having said that; Reason for making a quick chicken curry recipe stems more from an onslaught of British television than a bout of depression. It seems that the English love their Indian curries, and almost any program on BBC America mentions them every few episodes or so. It was a subtle brainwashing on their part, but after a week of Gordon Ramsay's F word and Top Gear, I was dying for chicken curry. Not my Mother's version, but the ones I kept seeing on television.
A quick Google for curry recipes brought me to this one, which I adapted to fit what I had on hand and the volumes I needed. The recipe was good, it was quick and above all, it was so rich that seconds were not even an option (Nothing survived). For that matter neither was dessert. This is now most definitely on my list of go-to base recipes and I'm looking forward to making some variations on this chicken curry recipe in the future.
Give it a go and tell us what you think of the recipe. We'd love to hear your ideas!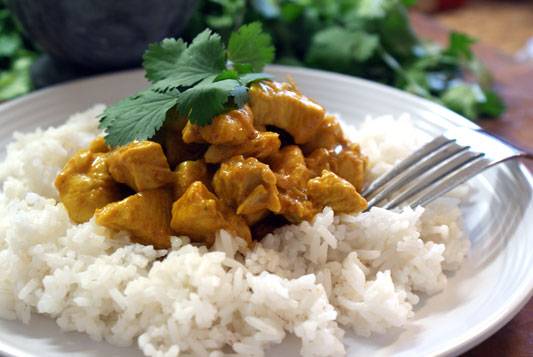 Yield: 6 servings
Quick Chicken Curry Recipe
Prep Time: 10 minutes

Cook Time: 20 minutes

Total Time: 30 minutes
Ingredients
3 boneless, skinless chicken breasts (about 1-1/2 pounds) cut in bite-sized pieces
1 medium onion, chopped fine
2 cloves garlic, minced
1 serrano chile, seeded and chopped fine
1/4 tsp salt
1/2 tsp ground cumin
1/4 tsp ground coriander
1/4 tsp ground turmeric
1 tsp tomato paste
1 tsp curry powder
8 oz heavy cream
3 tbsp olive oil
Cilantro leaves, for garnish (optional, but attractive)
Instructions
Heat a large skillet over medium heat. Add olive oil and fry onions for about 1 minute. Add the chicken pieces and continue cooking for 5 to 6 minutes, or util chicken is entirely white on the outside.
Add garlic and chili to the pan and stir to combine. Cook, stirring often, until everything is golden brown. (About another 3 minutes.)
Add salt, turmeric, cumin and coriander. Stir well. Add tomato paste, curry powder and 8 ounces heavy cream. Stir well to combine all flavors.
Serve immediately over cooked rice or with naan bread.
Share and enjoy!
Notes
Don't want to use heavy cream? no problem. use coconut milk, half and half, regular milk or water.
Nutrition Information:
Yield:
6
Serving Size:
1
Amount Per Serving: Calories: 218Total Fat: 22gSaturated Fat: 10gTrans Fat: 0gUnsaturated Fat: 10gCholesterol: 49mgSodium: 114mgCarbohydrates: 4gFiber: 1gSugar: 2gProtein: 3g
What I would have done differently had I thought of it at the time:
While this was an absolutely fabulous chicken curry recipe, it was also incredibly rich. I think the next time I make it I'm going to opt for either coconut milk or yogurt instead of the heavy cream for something a little more on the healthy side than this. Other than that, I can't think of a lot I'd like to change. It was awesome!
Links to other quick chicken curry recipes: