Is there any other food as comforting as chicken noodle soup? It seems to me that you would be hard pressed to find one. It's a staple of mothers for sick children, adults who are feeling homesick and the perfect choice for a gloomy drizzly day at any time.
Most people my age probably grew up on the version in the little red and white can, but there is absolutely no reason why you shouldn't be making this from scratch. The flavor is better, the vegetables are crisp and the texture is amazing. All it takes is a little time and a little love an you too can have the ultimate chicken noodle soup ready and waiting for you when you need it the most, even on days when you would rather not be cooking at all.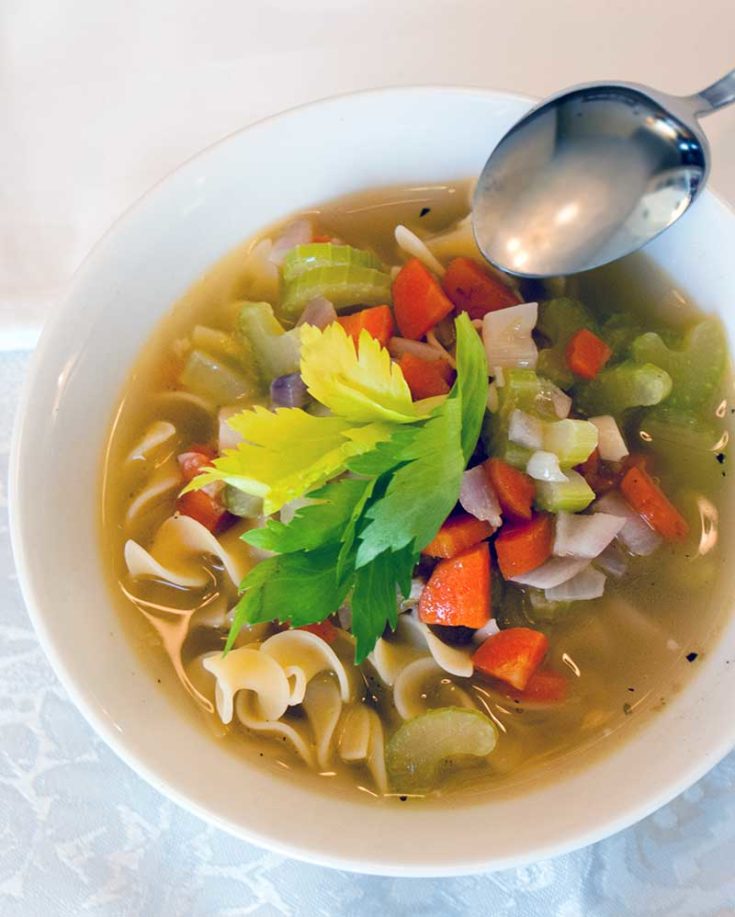 Yield: 8 servings
The Ultimate Chicken Noodle Soup
Prep Time: 10 minutes

Cook Time: 2 hours

Total Time: 2 hours 10 minutes
Ingredients
For the soup base:
5-6 chicken thighs or 3-4 chicken leg quarters.
2 stalks celery, broken in pieces
2 carrots, broken in pieces
1 large onion, halved
1 head garlic, halved
Three good pinches salt
A palm full of peppercorns (approximately 1 tbsp.)
1 sprig rosemary
3 sprigs thyme
1 tbsp white wine vinegar or seasoned rice vinegar
Water, to cover
For the Finished Soup:
Reserved shredded or cubed chicken
1 stalk celery, chopped
1 carrot, chopped
1 small onion, chopped
2 cloves garlic, minced
The leaves of 2 sprigs thyme (or approximately 1/2 tsp. dried thyme.)
1 tbsp extra virgin olive oil
Salt and pepper to taste
3 quarts boiling, salted water
1-4 servings dried egg noodles
Instructions
Soup Base:
Add all ingredients to a large stock pot and add water to cover. Bring to a bare simmer over medium heat. Reduce heat to low and simmer uncovered for approximately 2 hours, or until chicken is tender and falls apart easily when prodded with a fork.
*Do not allow the pot to boil. This will result in a cloudy stock!
(Alternately, place all ingredients in a large crock pot and cook covered on low for 8 hours.)
Strain liquid into a large heat proof pot or other container through a fine meshed sieve or colander lined with rinsed cheesecloth. (If cheesecloth is not rinsed, the stock will be cloudy.) Reserve chicken but discard vegetables.
If storing for later use, place chicken in a zip top bag with two tsp. of cooking liquid and store for up to 4 days in the refrigerator or up to 6 months in the freezer. Store soup base in an airtight container for up to 1 week in refrigerator or up to 6 months in freezer. (If freezing, store in serving-sized portions and allow to defrost fully before using.)
Finished Soup:
Heat soup base over medium low heat until piping hot.
Cook noodles according to package directions and drain.
Cook vegetables in olive oil with a pinch of salt and pepper until just softened. Place shredded chicken in the bottom of a serving bowl, top with noodles and sauteed vegetables. Ladle soup base over entire contents. Garnish with celery leaves or cut green onions if desired.
Serve immediately.
Share and Enjoy!
Nutrition Information:
Yield:
8
Serving Size:
1
Amount Per Serving: Calories: 649Total Fat: 30gSaturated Fat: 8gTrans Fat: 0gUnsaturated Fat: 20gCholesterol: 322mgSodium: 423mgCarbohydrates: 33gFiber: 5gSugar: 2gProtein: 62g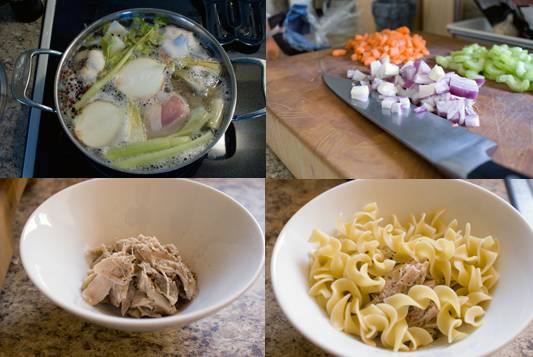 What I would have done Differently had I thought of it at the time:
It may seem like this recipe has an awful lot of steps for something as simple as a bowl of soup but trust me, it's worth every second of time and any effort involved in the end. Once you've tasted your own homemade chicken soup there won't be any going back. It truly is comfort food at it's very, very best. Full of love, warmth and healthy ingredients that can be switched around in any manner you desire with whatever you have on hand.
I wouldn't change a thing.
Links to other chicken noodle soup recipes from around the web: