If I have one truly guilty fast food pleasure, it's hash browns. You know…the deep fried kind. Crisp and crunchy on the outside, but pillowy soft on the inside. I'll take those over a breakfast sandwich any day. (Or at least get a double order.)
Usually to make this kind of hash brown at home, I'd buy the frozen hash brown patties at the MegaMart and fry them up myself. But that takes a lot of oil, and makes quite a mess. There has to be a better way, right?
There is. And I'm going to share it with you today.
This is a recipe with a secret. Usually when you're making hash brown potatoes, you need to grate your spuds and then do your best to squeeze all the water out of them so they won't be soggy. Not anymore people.
Not any more.
No fuss, no ruined kitchen towels. Just crisp, succulent hash browns that are perfect for any meal of the day, and also perfect as a grab and go breakfast.
These little guys have another secret. They aren't just hash browns. They're Parmesan Hash Browns. Yeah. I know. You need these in your life, right?
Let's get started, shall we?
It probably goes without saying, but we're going to need a few potatoes here. So peel them up and get them rinsed off.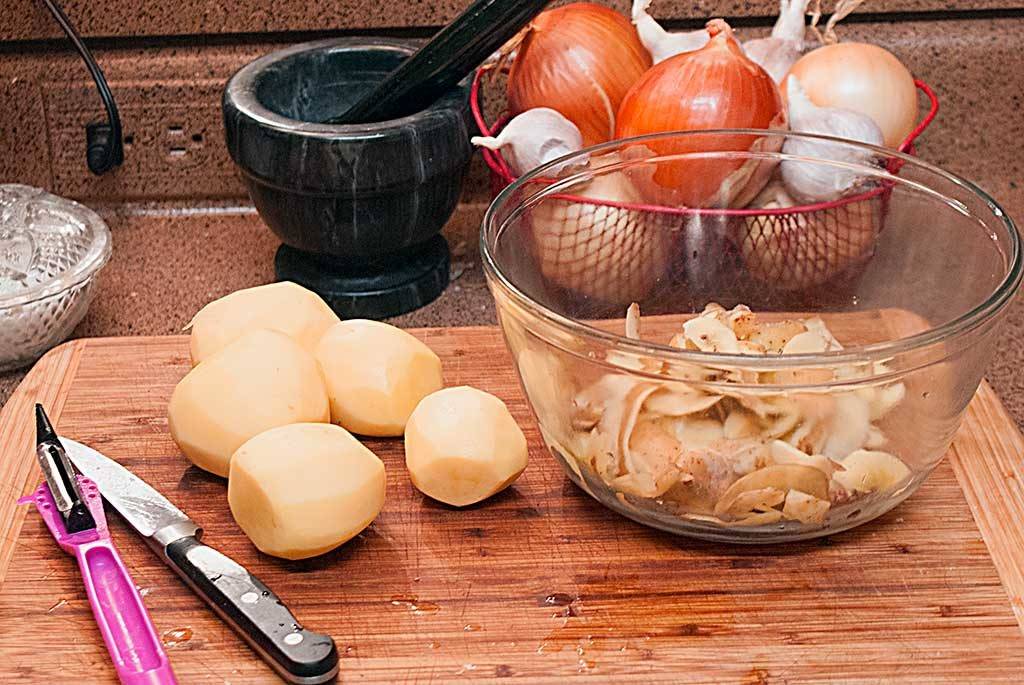 Next, bring a pot of water to a boil and plop your spuds in for 6 to 8 minutes. They should still be firm to the touch, but par cooking them is the secret step that gets rid of all that wringing.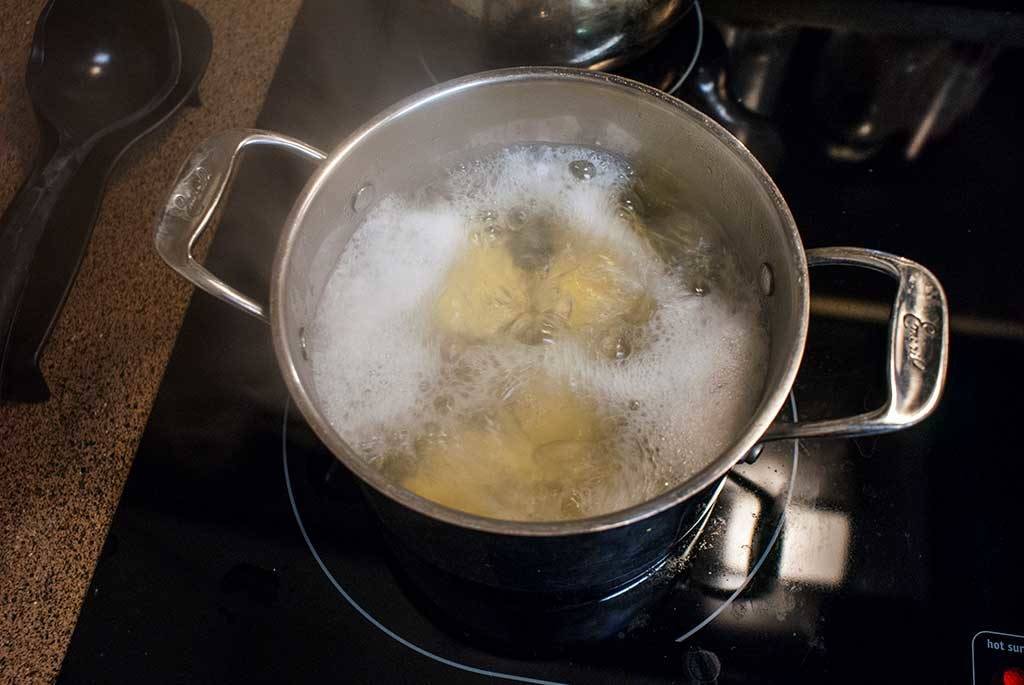 Once they're done, get them under cold running water as quickly as possible. This will stop the cooking process, leaving them cool enough to grate.
Then of course, we've got to get these little beauties shredded. If you've got a food processor with a grater attachment, feel free to use it. Mine broke a while ago, so I just went at it the old fashioned way.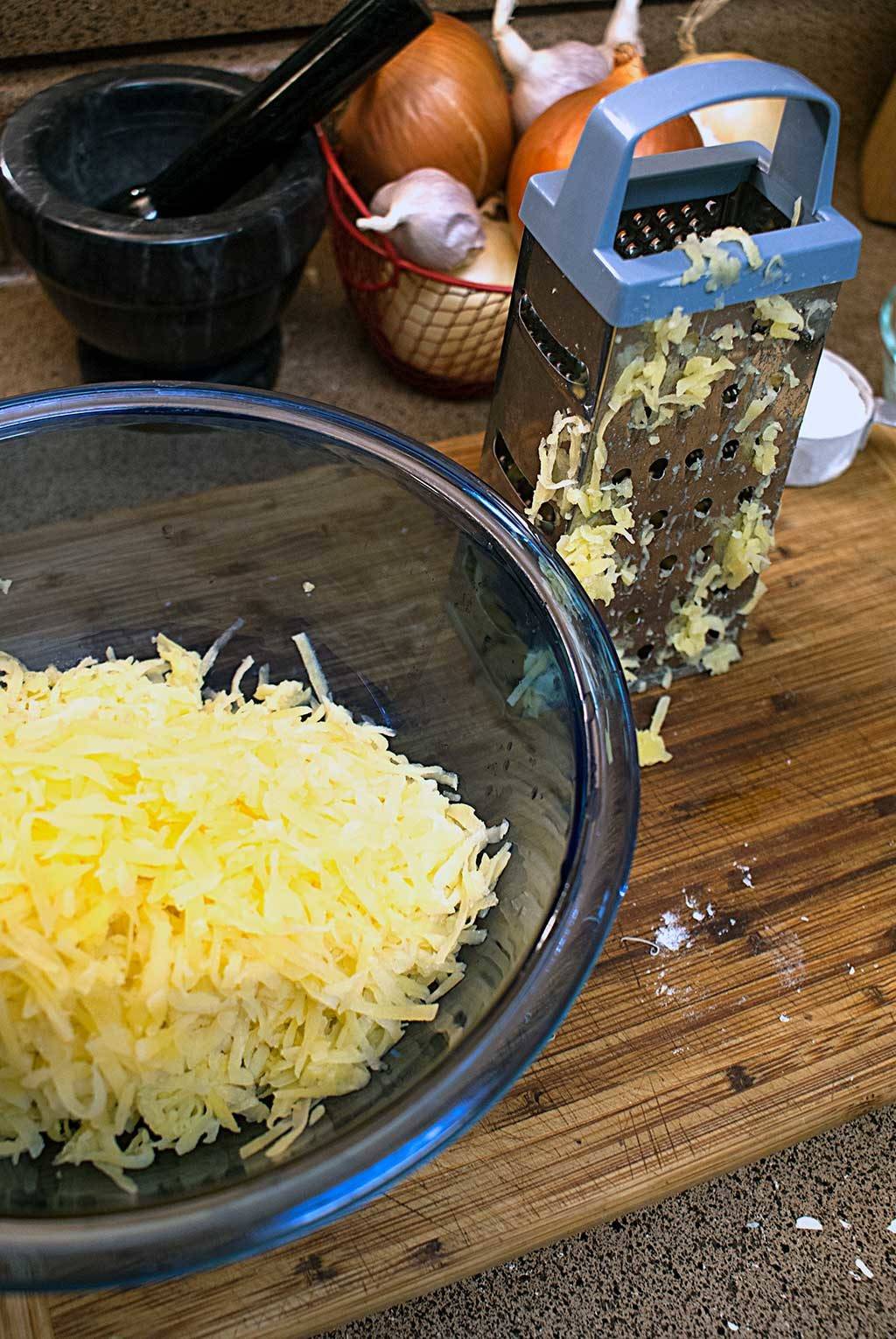 Now we assemble the rest of our ingredients. We'll need an egg, some softened butter, a little flour, a good amount of cheese and some salt and pepper.
*Note. When I say softened butter. I mean room temp or melted. Otherwise these aren't going to work.*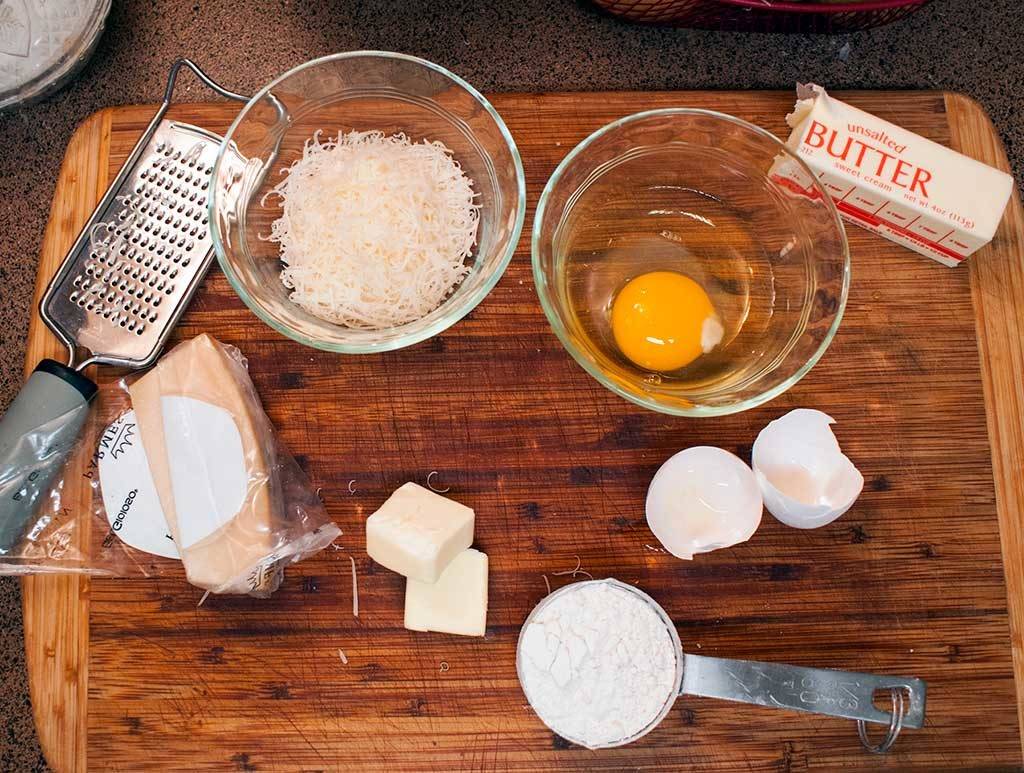 Mix everything together and we're nearly good to go.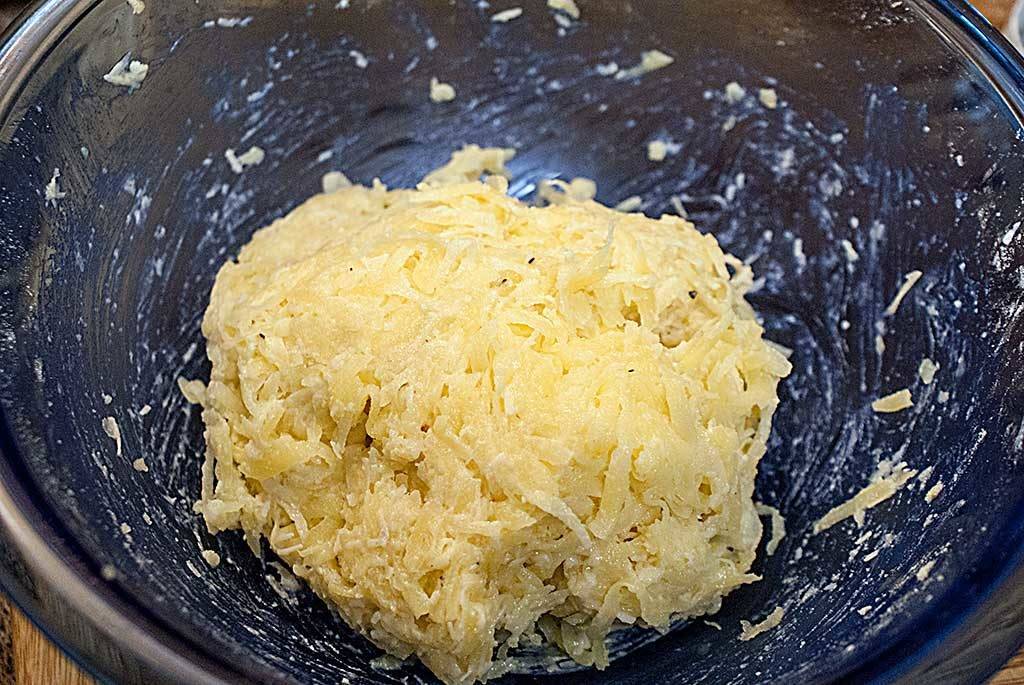 Divide up your potatoes, roll them into balls and make patties of whatever size you'd like. I went sort of thick here, but you're free to go smaller or thinner or even bigger if you'd like.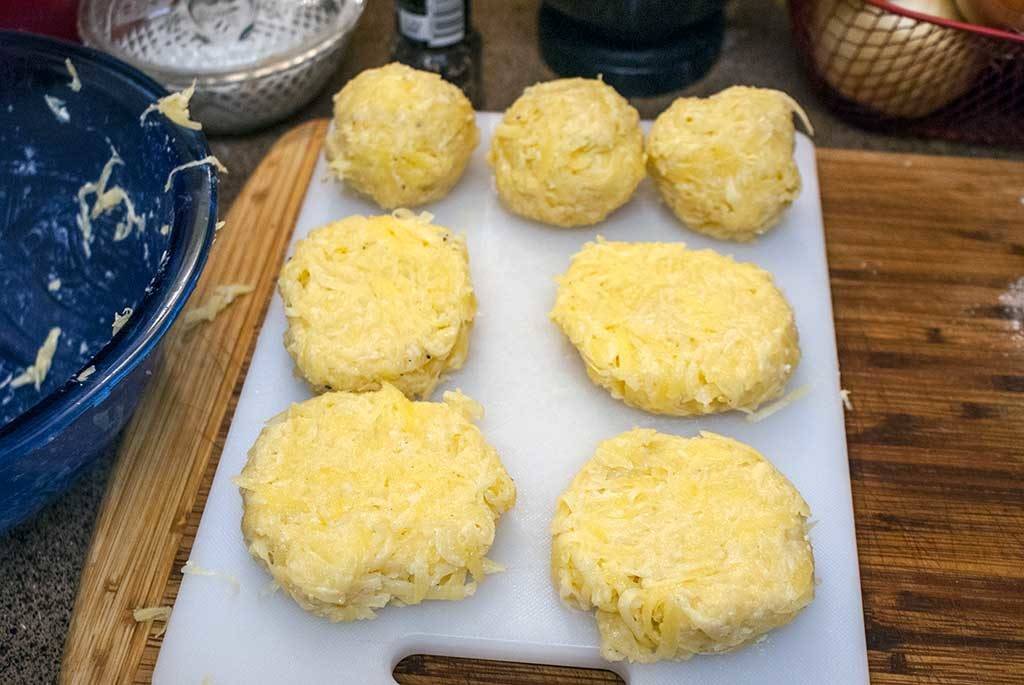 Heat up a skillet with with about 1/4 cup of vegetable oil. Once it's hot, pop your soon-to-be delicious potato patties into the pan, and let them cook for about 5 minutes.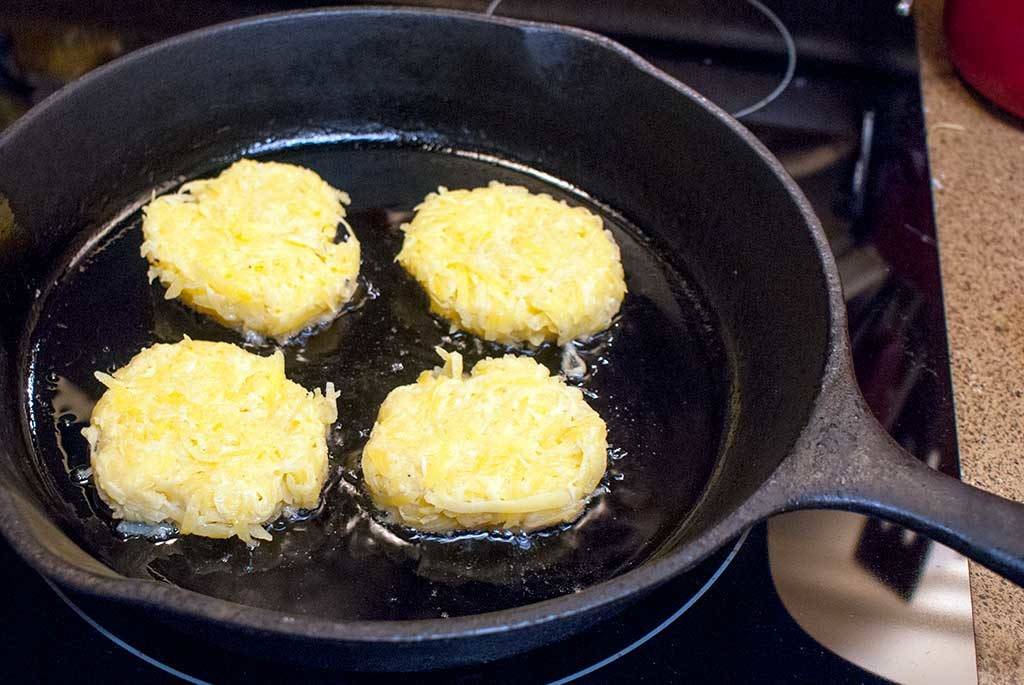 Once golden, give them a flip and cook for another five minutes or so.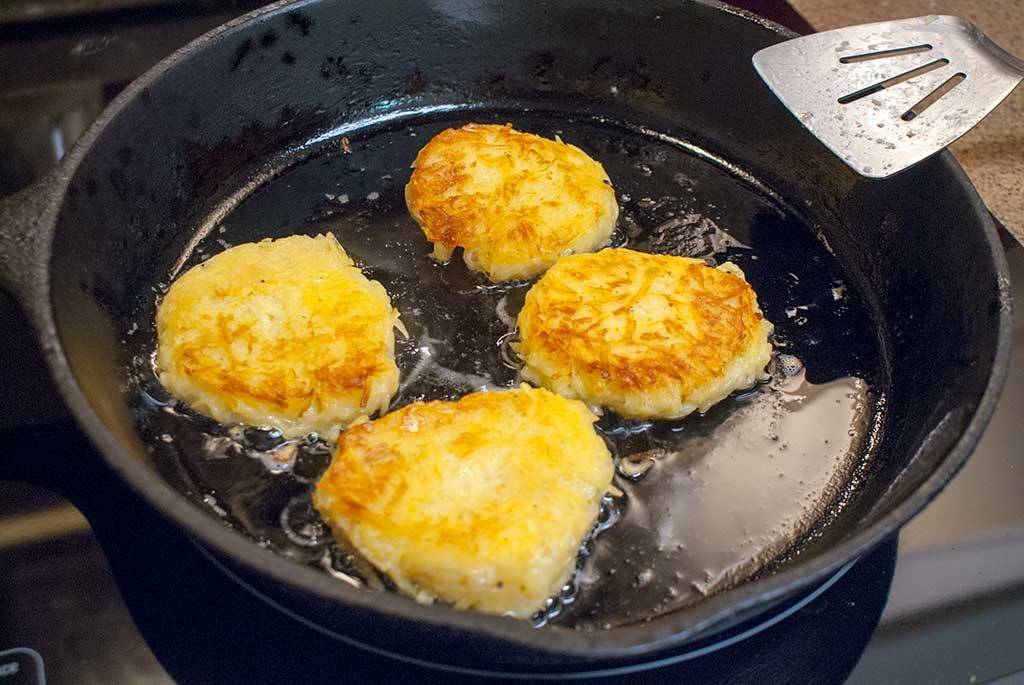 Then let them sit on paper towels to drain for a minute.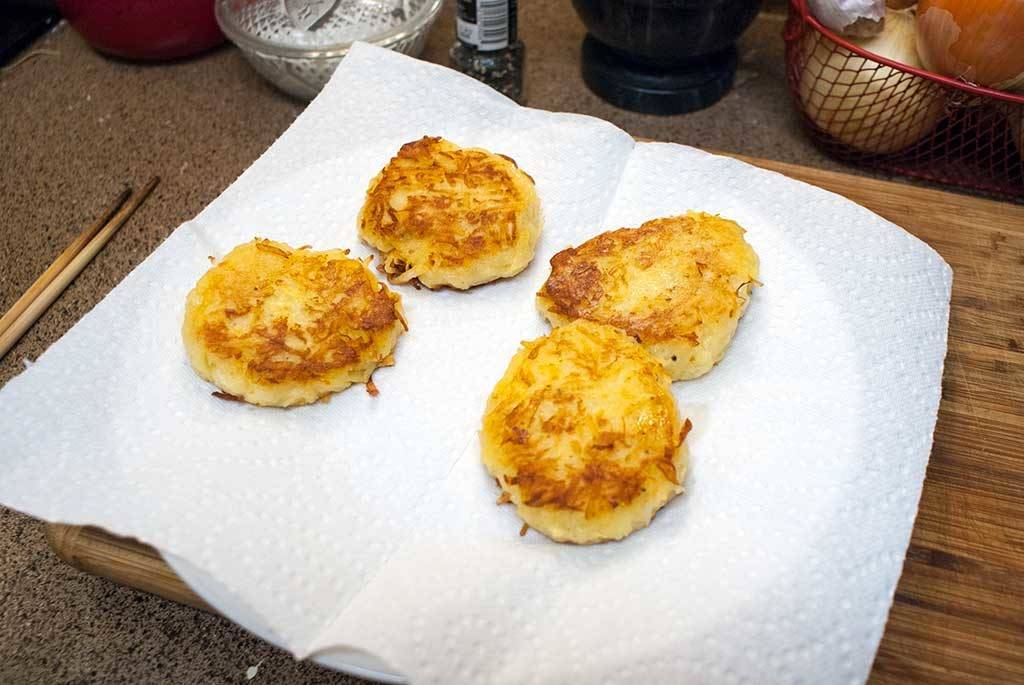 All set! Now you've got yourself a batch of wonderfully crispy Parmesan hash browns just waiting to be dipped in your favorite sauce, or covered with a fried egg.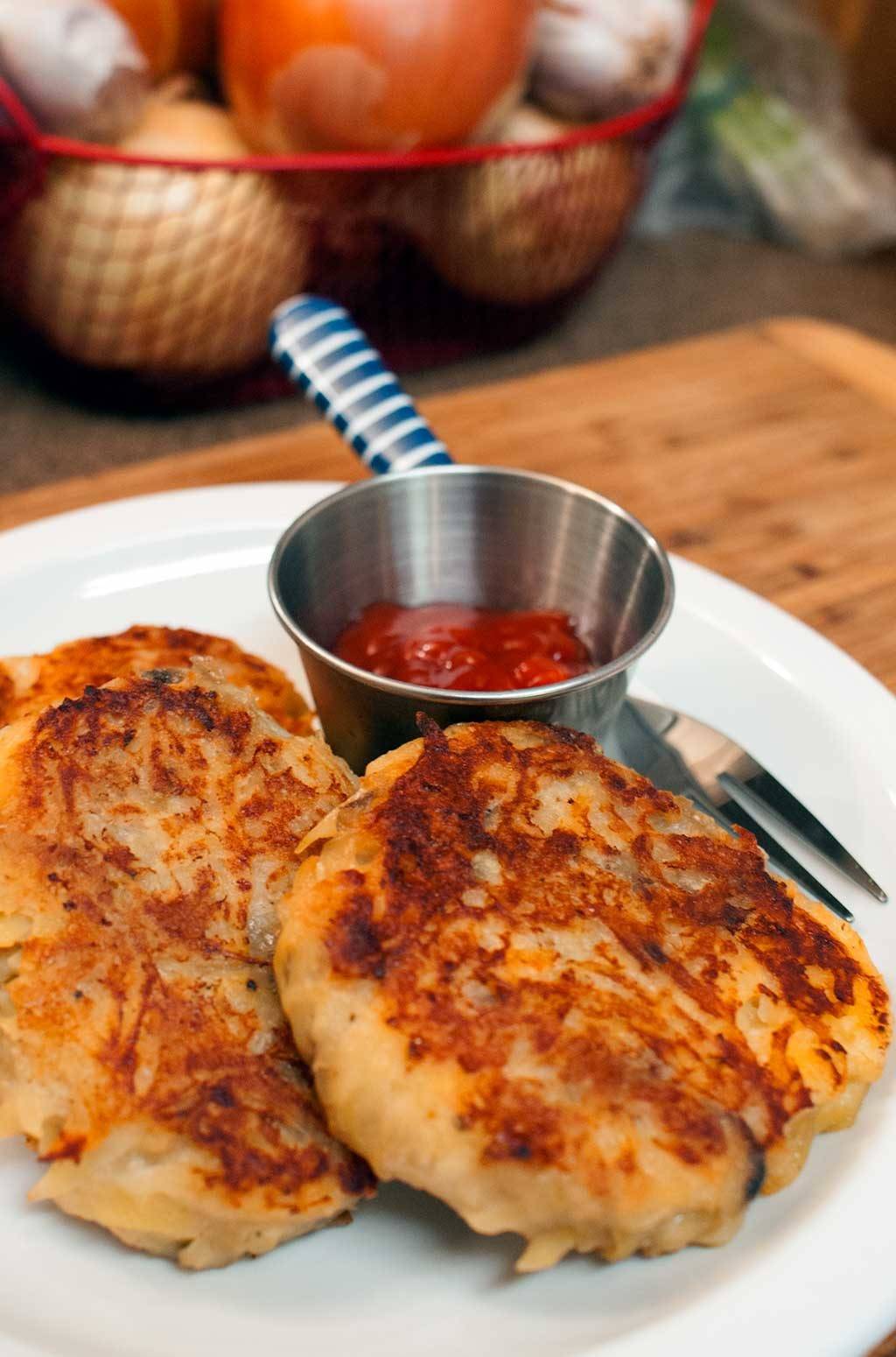 I'll be revisiting this concept to make a whole bunch of different takes on this recipe. It's amazing. Parmesan hash browns are great, but I can't help thinking that these would also be great with jalapeno and cheddar, or with Swiss cheese and a dollop of sour cream. The possibilities are endless!
On to the printable recipe!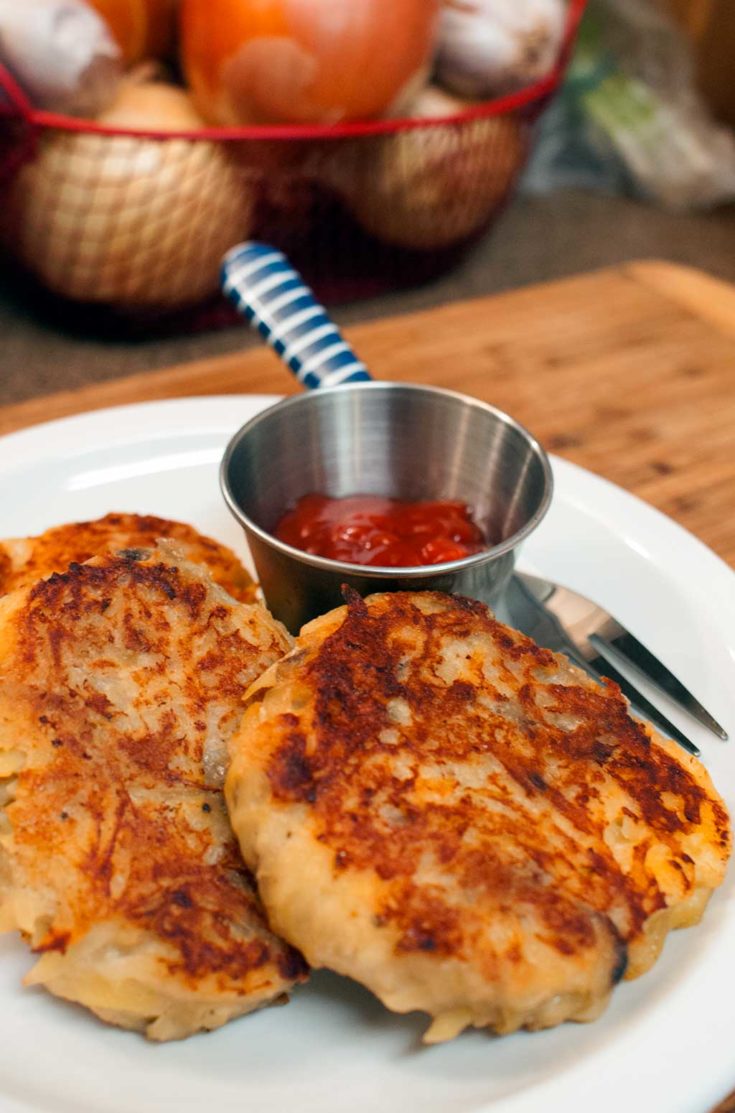 Yield: 6 to 8 hash browns
Super Crispy Parmesan Hash Browns
Prep Time: 15 minutes

Cook Time: 10 minutes

Total Time: 25 minutes

Crispy Restaurant Style Parmesan hash Browns. - Crispy on the outside and fluffy on the inside. (Sort of like latkes, but different.)
Ingredients
5 small potatoes
1/3 cup flour
1 egg
1/2 cup shredded Parmesan cheese
2 Tablespoons softened butter
Salt and pepper to taste
Instructions
Peel and rinse potatoes. Add to a pot of boiling water and cook for 6 minutes.
Drain potatoes and place in a bowl under cold running water until cool. Then grate.
Mix remaining ingredients in a large bowl until well incorporated. Shape potatoes into patties approximately 1/2 inch thick.
Cook patties in a skillet over medium heat with 1/4 cup vegetable oil until golden (about 5 minutes). Turn patties and cook until golden on the other side (About 5 minutes).
Drain on paper towels before serving.
Share and enjoy.
Nutrition Information:
Yield:
8
Serving Size:
1
Amount Per Serving: Calories: 154Total Fat: 5gSaturated Fat: 3gTrans Fat: 0gUnsaturated Fat: 2gCholesterol: 34mgSodium: 162mgCarbohydrates: 22gFiber: 2gSugar: 1gProtein: 5g
What I would have done differently
Not a lot. These Parmesan hash browns are incredibly crispy on the outside. Soft and delicate in the center, ant the Parmesan flavor is pleasingly subtle. They were a hit with the whole family.
I will be expanding on this recipe, so if you have any suggestions, please let me know in the comments.
Other recipes like Crispy Parmesan Hash Browns from around the webs.