Like most families, we saw each other mostly on holidays, and the order of the day was, of course, the food. Roast turkey in particular, with homemade cornbread stuffing (or cornbread dressing, if that's what you want to call it.), though there would of course be all kinds of other dishes and desserts.
Traditional Southern-style cornbread stuffing is a fairly simple dish, but it's also very hands-on. It's Southern cooking at its best. Frugal, filling, and packed with flavor. It's meant to take the ingredients you have on-hand and do the most with them.
My mother and grandmother would usually handle the dressing personally, bickering good-naturedly over amounts and cooking times up until the point that one of them went to sleep. (The stuffing is usually made the night before, and the bird is started in the morning.)
Those conversations usually went something like this:
Nan: Doris, there's not enough onions in this.

Mom: Niki won't eat them if she can see them, Mom.

Nan: *Chuckling* Oh… I seem to remember someone else who used to say the same thing, we'll just cut them smaller. I think this needs more sage, or maybe some poultry seasoning.

Mom: It seems right to me, but we'll add a bit more if you think it needs it.

Nan: Oh… It's fine if this is the way your kids like it… But no, maybe just a tad more.

Mom: O.K. Mom, but just a bit.

Nan: Didn't we have more cornbread?

Mom: We did… I think Jerry got to it.

Nan: Does that boy ever stop eating?

Mom: No. Never.

Nan: *Soft Chuckles and back to stirring*
At about this point I would usually sneak off to my room with that last piece of cornbread. Had I known then how fleeting our time with family is, I would have stayed and shared it with them.
Both of these wonderful ladies are now gone. I desperately miss the quiet talks they would have. Mother and daughter together, sharing old memories and planning the future.
Today these traditions are carried by my sister and myself. The son and daughter of two of the most amazing women in the world, and our children, and theirs. Family is an ever evolving thing, and it carries on. Especially during the holidays.
But enough with the bittersweet memories. We're here to make some cornbread stuffing!
As I said. Traditional cornbread dressing is a pretty simple thing to make. It's just bread, cornbread, onions, celery, butter, sage, and seasonings. That's it. This is my version of the classic Southern cornbread stuffing.
Having said that, getting the ratios right takes time and patience. It also depends very highly on the quality and freshness of your spices, so for the love of all that is good, seasonal and holy, buy a new bottle of sage!
First things first. Get your celery and onions chopped.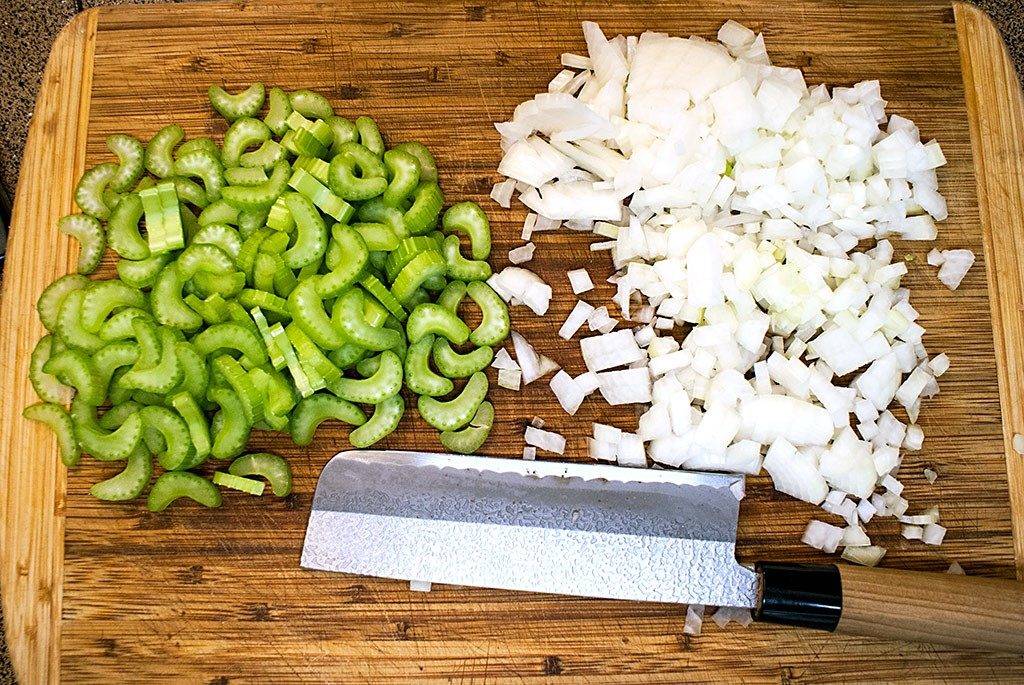 Then get your bread ready. For this recipe I use a full batch of cornbread and a whole French loaf that I let sit around for two to three days. (For me a quick "full batch" is two Jiffy cornbread packets. Or you can make your own from scratch.)
Next, melt a stick of butter in a large, heavy pan. My mother always used her cast iron skillet, but I find a Dutch oven to be easier.
Now plop those veggies in the pan, hit them with a little salt and pepper, and let them cook until they're just starting to soften.
Once they're fragrant and a little translucent, pour in your bread and give it all a good mix. Then add your seasonings and give it another good stir.
Keep mixing until all the bread has toasted just a little bit, then pour in a little chicken or turkey stock. Don't add all of it at once. How much you need depends on the type of bread you're using. For instance, packaged stuffing cubes will need a lot more stock than my two day old stale French loaf. You kind of have to judge this part by feel.
Just keep folding everything from the outside to the center until your stuffing is moist, but not wet, adding stock as you go.
Once you've got everything mixed and you're satisfied with the spices, it's time to toss this bad boy in the oven, or pack it into our turkey.
But wait!
Since you're probably making this for a holiday meal, we might as well take it to the next level. let's dot the top with some pats of butter first, shall we?
Perfect! Now into a 350-degree oven for about 40 minutes. Pull your lovely creation out, and viola!
Now all that's left is to get this to the table and eat. In our house as a kid, it just came out in the skillet it was cooked in, but feel free to dish it up in something pretty if you'd like.
I hope Y'All enjoy, and whatever your holiday tradition is, be sure to share it with family.
And now for the printable recipe!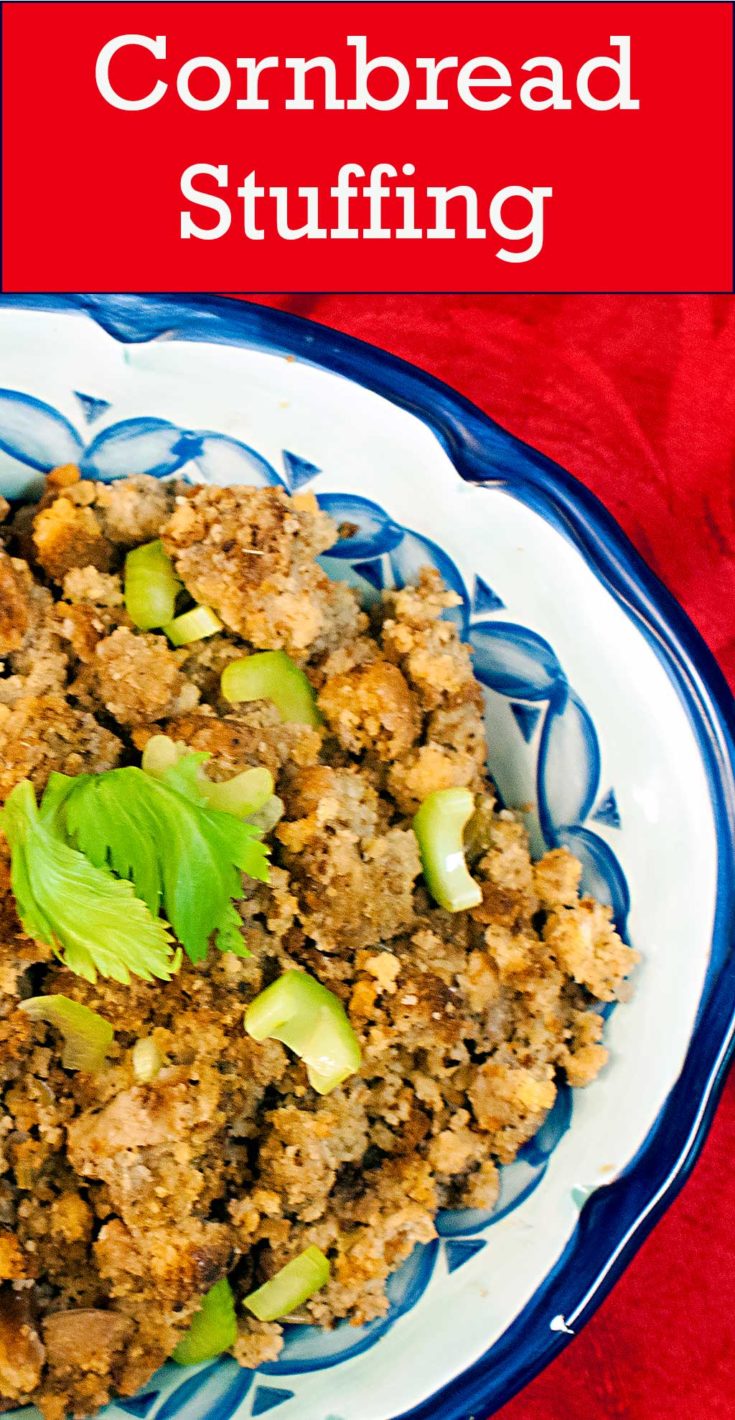 Yield:

12 to 14 servings
Southern Cornbread Stuffing Recipe
Total Time:
1 hour
5 minutes
Whether you call it cornbread dressing or cornbread stuffing, this traditional Southern side is sure to make your holidays happier. Just a few ingredients, but full of the flavors of home and family.
Ingredients
6 cups cornbread, cubed or crumbled
1 loaf store bought French bread, cut into small cubes
1 onion, chopped
Approximately 4 celery stalks, roughly chopped
1 stick of butter (1/2 cup or 1/4 pound)
2 – 3 Tablespoons dried rubbed sage
1 Tablespoon poultry season (optional)
4 cups chicken stock (approximate.)
Butter for browning the crust. (Optional)
Salt and pepper to taste
Instructions
Heat a cast iron or other heavy bottomed pan over low heat. Add entire stick of butter and melt until the butter just begins to foam. Sweat onions and celery in butter with salt and pepper over low heat until nearly translucent, approximately 15 minutes.
Add bread crumbs and cornbread crumbs in thirds, slowly folding in vegetables to coat. Season with sage and poultry seasoning and continue cooking over low heat, folding constantly.
Add about 1/4 cup chicken stock every few minutes or when stuffing looks dry on the bottom. (The idea here is to moisten the dressing mix without getting it too wet, while toasting the cornbread crumbs slightly throughout the process. Cornbread stuffing should be relatively dry if being used to stuff a bird or peppers, and just wet enough to steam heavily if you plan to cook it on the side.)
Place stuffing in oven safe casserole. Bake 350°F for approximately 40 minutes.
Share and Enjoy!
Nutrition Information:
Yield:
12
Serving Size:
1
Amount Per Serving:
Calories:

520
Total Fat:

19g
Saturated Fat:

8g
Trans Fat:

0g
Unsaturated Fat:

9g
Cholesterol:

71mg
Sodium:

1201mg
Carbohydrates:

74g
Fiber:

1g
Sugar:

4g
Protein:

14g
What I would have done differently had I though of it at the time
Not much. This is my take on a time-honored recipe and I try to stay true to it. Yes, I've made changes here and there, but not many. My family is pretty set in their ways when it comes to cornbread stuffing, so I keep this one fairly consistent. (I don't like rebellions. And if I change this up, there would be a rather violent one!)
More great Holiday recipes
Show a little love, people!
As always, I love you guys. You're the reason I've been fortunate enough to do this for over 10 years. I don't know where I'd be without you. Really. I love sharing new recipes and tips with you and I hope you found this useful, or funny, or both.
If you did, please take a second to share this recipe on your various social media platforms. Maybe grab one of the items we highlight above the recipes. If you do, we make a few pennies here and there, and we appreciate it.
Maybe drop a comment and leave a rating on the recipe. We love to hear from you.
Remember, this is a conversation. We'll never know what you want to see if you don't tell us, right?
Until Next time,
Food is love. Share and enjoy.