If you're looking for a dead-simple way to cook the most succulent and juicy chicken you can imagine and do it on a budget, you're in the right place. This simmered chicken and onion recipe is based on a Japanese cooking method called nimono and I'm here to tell you, once you've tried this, you'll wonder where it has been all your life.
(Unless of course, you grew up eating this. Then you already knew, didn't you? And I'm jealous, because believe it or not, it took me decades to discover this method! )
Now, let's run through how to make this awesome nimono-inspired chicken. But while we're at it, keep in mind that this is more about the method than it is the ingredients. You can use the same method for a lot of different things, and we'll talk about that in detail a bit later.
Let's make some simmered chicken and onions!
First up, gather your ingredients. nothing fancy here, some boneless/skinless chicken, some onions, stock or broth of some kind (or water, if you don't have any), soy sauce, sugar, and salt and pepper. There are other things we can add if they're available, but this is the bare minimum to get this recipe to work properly.
The only solid rule this recipe has is that your chicken needs to be deboned and have the skin removed. We're looking for a clear broth here, skin or bones would cloud it, so if all you have is a whole chicken, remove the skin and bones, then use them for something else, like chicken stock.
Just cut the chicken into bite-sized pieces. (Note that I'm using a separate cutting board and knife here, and be sure to wash your hands before moving on!)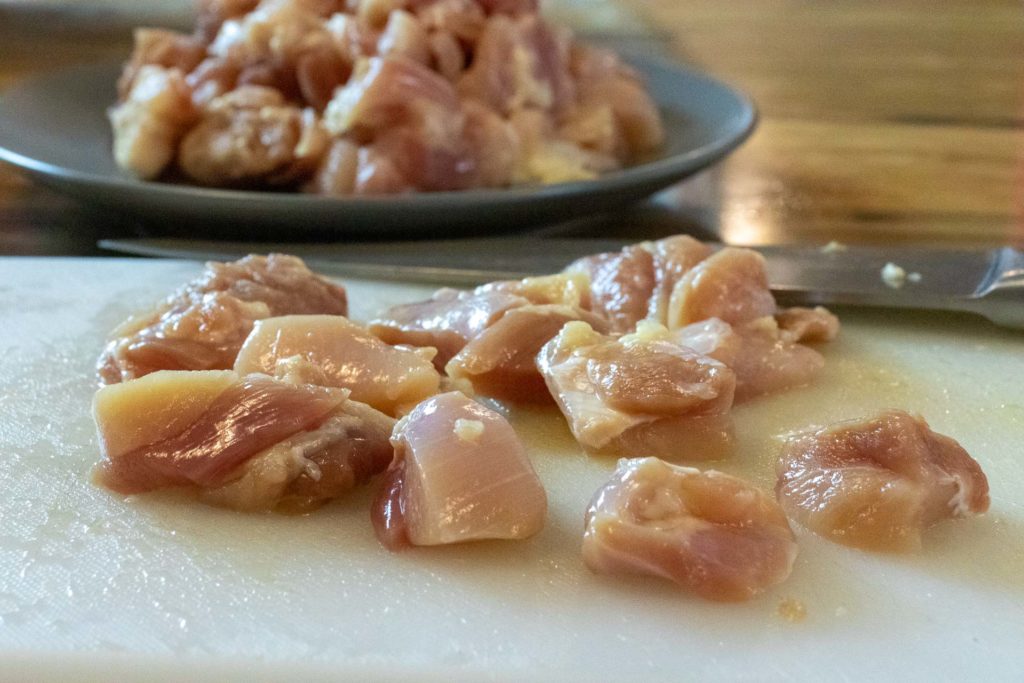 Peel your onions and cut them lengthwise top-to-bottom into bite-sized strips, then separate all the layers.
Believe it or not, this was the hardest part of this recipe. Everything's good to go, so let's head for the stove!
Get yourself some soy sauce. (I'm using quite a lot here, because this is a very big batch, and I'll be saving the leftovers.)
Pour your stock into a medium saucepan, and add the soy sauce, then about a Tablespoon of sugar.
The (sort-of) optional ingredients in our simmered chicken:
Now we get into the "add it if you have it" category. A traditional nimono will almost always include sake (Japanese rice wine) and Mirin (a very, very sweet rice wine used in cooking.) I cook a lot of Asian food, and I have mirin at all times, but sake can be tricky, so I used cooking Sherry. If you don't have either, you can add a touch more sugar and a splash of any white wine, or just leave the wine out.
Once everything is in the pot, bring the heat up to medium-low and stir until everything is dissolved. (My tool of choice is cooking chopsticks, but you can use a spoon or a whisk. Again, this is about the method, not the tools!)
Once your broth comes up to a simmer, it's time for the chicken to get in the hot tub for a good soak.
Let your bird simmer for about 5 minutes, or until it turns white, as shown below. (Don't boil it, just a gentle simmer is what we're after here.)
Also, you can skim the foam off the top if you're going for a crystal-clear broth. But I was in a hurry to feed my very hungry family, so I skipped that step.
Now toss in the onions and give them a good stir. Let them simmer for 5 more minutes.
That's it. We're done!
Once your 5 minutes are up, your onions should be just crisp-tender. At that point, all you have to do is serve up your simmered chicken and onions.
But what do I serve my simmered chicken with?
Actually, the possibilities are nearly endless.
Nimono is traditionally served as one of several side dishes meant to be paired with rice, and without the broth.
You can serve this in up as a side to a bowl of white rice, or ladled over rice.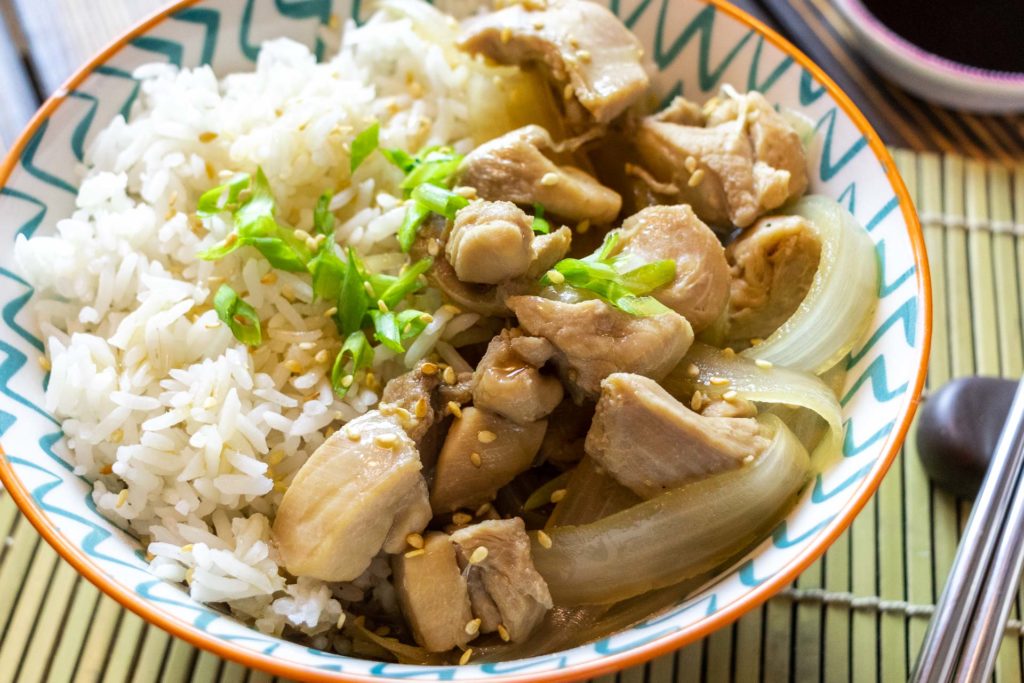 Add a little more broth and a few more veggies, and it makes for a great light soup.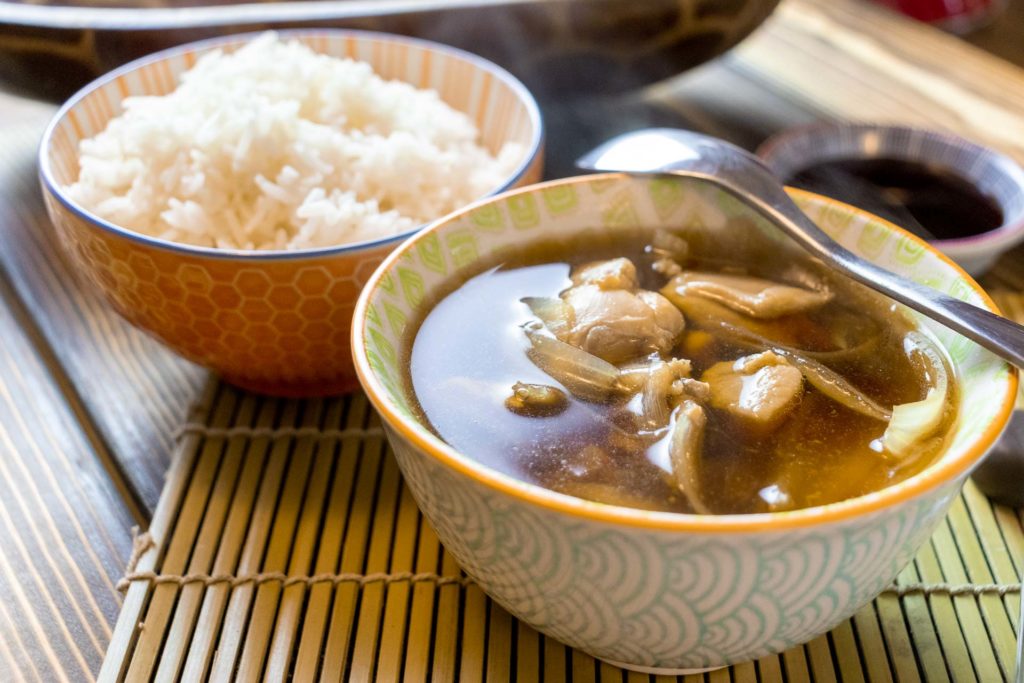 It's also great with Asian-style noodles, or if removed from the broth, as a great flatbread filling. The only limit to what you make with this method of cooking is your own imagination.
No matter how you serve this, its subtle salty/sweet flavor is sure to make you smile.
Yield:

8 servings
Simmered Chicken and Onions - Japanese nimono style chicken
Perfectly tender, juicy chicken with a hint of sweetness. Not only is this Japanese-inspired simmered chicken simple and affordable, but it's ready in the same amount of time it takes your rice to cook!
Ingredients
2 pounds boneless skinless chicken thighs
1 large white onion
32 ounces chicken stock (Or substitute veggie stock or water)
1/4 cup soy sauce
1 Tablespoon granulated sugar
1 Tablespoon sake or sherry (optional)
1 Tablespoon Mirin (optional)
Salt and pepper
Instructions
Cut chicken into bite-sized pieces. slice onions lengthwise from top-to-bottom in bite-sized strips.
Pour the stock into a medium saucepan. Add the soy sauce sugar. (Add mirin and cooking wine. if available.)
Place saucepan over medium-low heat and stir to combine.
Bring to a simmer and add chicken, stirring occasionally for 5 minutes, or until chicken has all turned white. Skim foam from the top of broth if desired.
Add onions, stirring occasionally, for 5 minutes, or until the onions are crisp-tender. (There should still be a crunch to them!)
Serve hot with rice, noodles, pasta, or whatever makes you happy!
Notes
Be sure to fully defrost the chicken before cooking, and cut it into small, chopstick-sized pieces or strips. If it's partially frozen or cut into large pieces, it won't fully cook!
Recommended Products
As an Amazon Associate and member of other affiliate programs, I earn from qualifying purchases.
Nutrition Information:
Yield:
8
Serving Size:
1
Amount Per Serving:
Calories:

255
Total Fat:

10g
Saturated Fat:

3g
Trans Fat:

0g
Unsaturated Fat:

7g
Cholesterol:

142mg
Sodium:

870mg
Carbohydrates:

9g
Fiber:

0g
Sugar:

5g
Protein:

31g
Why is this "Japanese-Inspired", not just "Japanese Cooking"?
Japanese nimono is simmered in dashi, a stock made of water, dried seaweed, and often dried fish. Dashi is used in just about every Japanese dish I've come across. And while dashi powder or the ingredients to make your own dashi are definitely available in other parts of the world, it's not available everywhere. This recipe uses what I'd call the Western equivalent, chicken stock.
And like many authentic Japanese recipes, nimono calls for dashi, sake, sugar, and mirin. Finding sake and mirin can be difficult in the States (Though it's becoming more common.) and sake… Well, I have to drive about 40 minutes to find that, so more often than not, I substitute sherry or a very dry white wine.
The result is that the flavors are close, but not exact. But you do the best you can with what you've got, and this is still my family's favorite method for cooking chicken.
The method, not the recipe
Nimono style dishes don't have to use chicken, or any meat at all, actually. A lot of Japanese nimono recipes are for simmered vegetables, such as lotus root, mushrooms, carrots, or whatever is on hand. The method itself is perfect for cleaning out a cupboard or saving some veggies that are getting a bit long in the tooth.
The theory is the same, no matter what. Simmer, your ingredients in a flavored broth to bring out the natural flavors. I've used this method for beef and it works well. You might find that pork gets tough, however.
And there's no rule that says you have to use chicken stock or even soy sauce. You could use the same method with red wine, or with flavored vinegar, if that's the flavor you're going for.
Give it a try. Go through the pantry and see what you've got. Play with flavors. That's where the fun of cooking comes in!
Does it store well?
Yup, it does!
Just pour whatever leftover simmered chicken you've got into a storage container and let it cool down.
(No picture was needed here, but I just had to share this gorgeous steam shot… Vanity. It's a thing.)
A note here: The quicker you get your nimono cooled to room temperature and get it in the fridge, the crisper the onions will stay. If left hot too long they'll start to soften and dissolve into the broth. It's not a bad thing, and still tastes great, but it changes the texture a lot.
There you have it, guys. a super-simple, yet absolutely amazing chicken recipe that's perfect for a weeknight meal, or for a pantry that might be short on ingredients.
What are your thoughts?
So what are your opinions, guys? Have you ever tried simmered chicken? Are you into Asian flavors, or are you more into something else?
Either way, we'd love to hear your opinions. So please feel free to leave a comment below. And if you try this recipe, be sure to rate it! The recipe ratings help us decide what we've done right so we know what to make next.
Also, be sure to check us out on all the social sites. Just do a quick search for UncleJerrysKitchen or click on the social media icons at the top of the site. You'll find us there.
Love Y'all, and until next time,
Food is love. Share and Enjoy!