It's summer. That means grilling season is upon us and for me, that means a lot of weekend burgers. It goes without saying (at least in my family) that if you're going to have burgers, you gotta have fries of some kind on the menu. (If I'm not feeling the urge to just grill up some potato rounds, that is.) These potato wedges fit that bill and then some.
If you love a good, thick steak fry, you'll adore this recipe. The oven roasted potato wedges are perfectly seasoned and crisp on the outside, yet light, fluffy and almost cloud-like in the middle. Trust me when I say that these potato wedges are potatoes perfected, my friends
So let's make some perfectly crisp & fluffy potato wedges!
I don't need the step-by-step, Just [wprm-recipe-jump text="take me to the recipe"]!
First, give your potatoes a good scrub and rinse well. For four people I'd go with about 6 medium sized potatoes, but if you've got good-sized baking potatoes, then one per person should be plenty.. (We were serving 5 potato-loving people, so I washed quite a few!)
Pat your potatoes dry, then pierce the skin several times with a fork to prevent them from splitting.
Toss your spuds into a large pot and cover with cold water. (Just water, you don't want to salt the potatoes yet. That would draw moisture out of them, and that's the last thing you want to have happen here.)
Put the pot on a stove on high heat until it comes to a rolling boil.
Then take it off the heat and let it stand for 10 minutes.
Now, drain your potatoes and rinse under cold water for a minute or two to cool them off a little.
Once they're cool enough to handle, slice them into potato wedges. Depending on the size of your spuds, you'll get 6 to 8 wedges per potato. (this one was on the smaller side, so just 6.)
Put your potatoes in a bowl and drizzle with olive oil. About 1/4 cup should do. Then give them a good toss in the oil to cover. (If you want a little less oil, you can just give them a good misting of cooking spray, but in either case, make sure that they are well coated.)
Then season them up. You want to go pretty heavy on the seasoning since we're going to be baking these at high temperatures for a while. We used seasoned salt and adobo seasoning, but feel free to use whatever makes you happy. Onion salt, garlic salt, or even chili powder or curry would work great here. Just make sure salt is involved!
And another good toss to coat. You'll probably end up sprinkling these guys a few times, but remember, potatoes will ALWAYS need more seasoning than you think they will because they absorb a lot of it. So don't worry about being heavy-handed.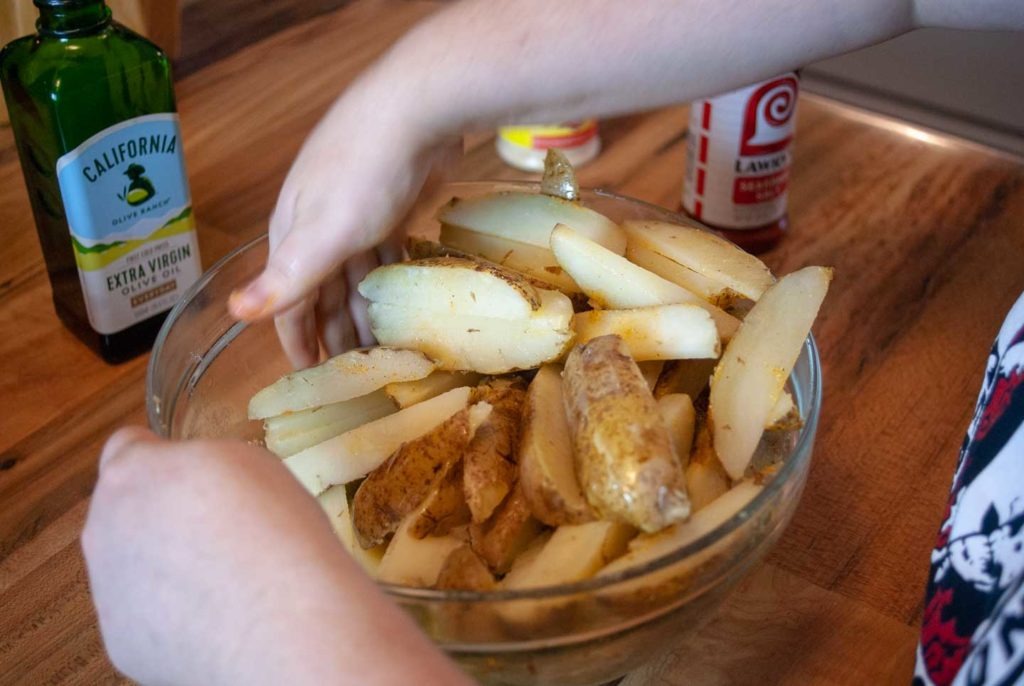 Lay out your freshly seasoned potato wedges on a foil-lined baking sheet (or sheets, as we needed 3 to finish these).
Toss your spuds in a preheated 425-degree oven. (That's 220 degrees Celsius or Gas Mark 7 if you're using those conventions.) Let them cook for 20 to 30 minutes, or until a knife tip slides easily through your thickest potato wedge.
Gorgeous, aren't they?
You can lay these on a few pieces of paper towel to absorb a little of the oil if you'd like, but hey. It's olive oil, so we're not gonna worry much about that, are we? What we need to do now is decide what to dip these bad boys in. For now, let's just be traditional about it and go with a little ketchup.
And there you have it, guys. Perfectly dunk-able, crisp, golden brown pillows of delight that will satisfy even the most robust fry fiend. I mean seriously, if you love steak fries, these potato wedges are going to fill every need you've got. They're perfect with burgers, with steak, and with fish. I also bet they'd make a wonderful poutine if that's what you choose to use them for. (They're also great by themselves!)
Whatever you pair them with. These are winners. So what are you waiting for? Make a batch for your next round of burgers this weekend!
And now for the printable potato wedges recipe!
Yield:

4 people
Crisp & Fluffy Seasoned Potato Wedges
Crispy on the outside, light and airy in the middle. These seasoned potato wedges are the perfect partner for your next round of burgers, ribs, or brisket. But be warned, they're addictive!
Ingredients
6 medium Russet potatoes
1/4 cup Olive oil, or cooking spray
1 Tablespoon Seasoned salt
1 Tablespoon Adobo seasoning
Instructions
Wash potatoes and pat dry. Pierce skin of the potatoes in several places with a fork. Place in a large pot and cover with cold water.
Place potatoes over high heat until they come to a rolling boil. Remove from heat, cover and let stand 10 minutes.
Drain potatoes and rinse under cold water.
Cut potatoes into wedges. In a large bowl, drizzle potato wedges with olive oil and toss to coat. Sprinkle with seasoned salt and adobo powder (or seasoning of your choice), toss until well coated, adding more as necessary.
Bake in a 425 degree oven for 20 to 30 minutes, or until potatoes are fork tender.
Notes
You can par-boil the potatoes a day in advance and let them chill in the fridge if you want to save a little time on the day of cooking or take them along to make at a friends house.
Feel free to use whatever seasonings make you happy. Be creative!
Nutrition Information:
Yield:
4
Serving Size:
4 people
Amount Per Serving:
Calories:

375
Total Fat:

14g
Saturated Fat:

2g
Trans Fat:

0g
Unsaturated Fat:

12g
Cholesterol:

0mg
Sodium:

2316mg
Carbohydrates:

56g
Fiber:

6g
Sugar:

3g
Protein:

7g
What I would have done differently:
Nothing, really. This is a very versatile recipe, and it can be changed up depending on your preferences. Don't like seasoned salt? Don't use it. Are you craving sea salt and black pepper baked potatoes? Use sea salt and black pepper, it's that easy! The only limit on flavors here is in your imagination. (And your spice cabinet.)
What's your favorite french fry condiment? Ketchup, fry sauce, gravy, or something else. I'd love to know!
Click To Tweet
Now that you've got the recipe for some amazing homemade potato wedges, you're going to have to decide what to dip them in. I know ketchup is the American standard, but different folks have different strokes (I prefer Mayo or beef Joux on mine.) I know some people love fry sauce, still, others go for Yum Yum sauce or gravy.
What do you dip your fries in? leave a comment below or drop a comment on social media. (Don't worry, we don't judge!)