Submitted for your approval: The shortbread cookie. Up until now it has lived its life in the shadow of other confections. Until now it has been happy to be looked at as a rather vanilla addition to Holiday tables everywhere, but today a wrong turn down a dark alley will transform the shortbread cookie's life forever.
Without ever realizing that something irreversible was about to happen, a chance meeting with two ingredients from the Southwest have sent this common little cookie on a path it never could have imagined. Today it has entered on a one way tip to…
The spicy zone.
OK. Perhaps a bit of a cheesy intro for something as simple as a shortbread cookie, but the thing about a simple recipe such as shortbread is that it doesn't take a whole lot of tinkering to go from really good to "Oh My Goodness."
Don't get me wrong. Shortbread all by itself is wonderful. It fits all my basic requirements for a great recipe. It's simple, unassuming and delicious. 99% of my favorite cookie recipes are based on shortbread. This cookie just hit the top ten, making it completely worthy of both the overly melodramatic introduction and the time and effort that it takes to make them.
Do you have a favorite shortbread-based recipe? If so, why not share? we'd love to hear about it.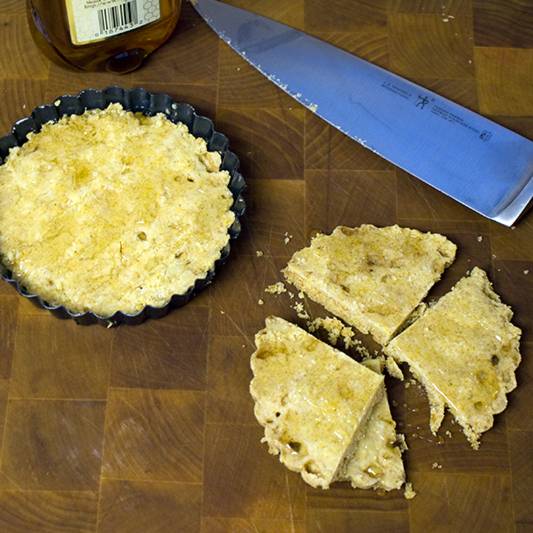 Yield: 20 cookies
Spicy Cornmeal Shortbread Wedges
Prep Time: 10 minutes

Cook Time: 30 minutes

Total Time: 40 minutes
Ingredients
1 cup unbleached all-purpose flour
1/3 cup yellow cornmeal
1/4 cup granulated sugar
1/2 to 1 tsp chipotle chili powder or ancho chili powder
1/8 tsp kosher salt or other course salt
1/2 cup unsalted butter
Honey to taste
Instructions
Preheat oven to 325 degrees.
In a medium bowl, stir together flour, cornmeal, sugar, chipotle powder and salt. Cut in butter with a pastry mixer (Or use a food processor) until mixture resembles fine crumbs and starts to cling. (It will look dry.) Knead dough until smooth and shape into a ball.
Divide dough into 5 portions. Press dough into the bottom of five ungreased 4 1/2 – inch fluted tart pans with removable bottoms.
Bake for 25 to 30 minutes or until edges are lightly browned and centers are set. Cool in pans on a wire rack for 10 minutes, then remove from pans.
While still warm, cut each round into four wedges. Cool completely on wire rack.
Serve drizzled with honey.
Nutrition Information:
Yield:
20
Serving Size:
1
Amount Per Serving: Calories: 84Total Fat: 5gSaturated Fat: 3gTrans Fat: 0gUnsaturated Fat: 2gCholesterol: 12mgSodium: 52mgCarbohydrates: 10gFiber: 0gSugar: 3gProtein: 1g


What I would have done differently had I thought of it at the time:
These little wedges are fabulous. A tad spicy, a bit savory and not too sweet. I can't see a reason to change them up much and if the speed at which my kids demolished them is any indicator, I really shouldn't. They were a certified hit and will remain so for years.
Links to other recipes like this: