I've recently fallen completely in love with seared tuna. Not just because it's healthy, but because the flavor of this fish is really quite nice, even when purchased frozen. (The safest bet when you live nearly 400 miles from the nearest ocean.) cooking time is minimal, the family loves it, and it's versatile without being terribly expensive. What's not to love about it?
This is a second try of a recipe that I originally made with pouched tuna, but the texture of that particular dish was off, even if the flavor was good. I wanted to try a riff on the concept with fresh tuna instead, and I'm incredibly glad that I did, it was worth the second try without a doubt, as this version had far more flavor and a more pleasing texture by far.
If you're looking for a lovely little introduction to spring, you can't go wrong with this one.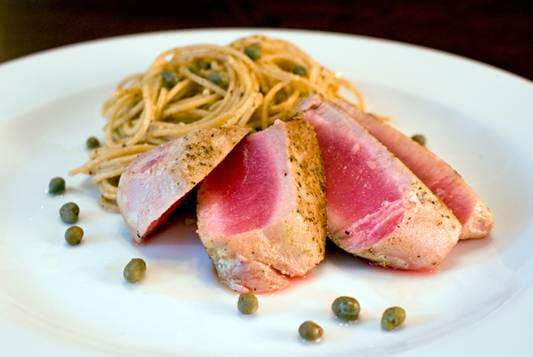 Yield: 4 servings
Seared Ahi Tuna with Mediterranean Style Pasta in Caper Sauce Recipe
Prep Time: 10 minutes

Cook Time: 20 minutes

Total Time: 30 minutes
Ingredients
12 oz. Ahi (Yellowfin) Tuna
4 oz whole wheat spaghetti, linguine or angel hair pasta
3 tbsp extra virgin olive oil
The juice of 2 medium lemons
2 cloves garlic, minced fine
1 tbsp Italian seasoning blend
Salt and pepper to taste
Instructions
Begin cooking pasta in a large pot of boiling, salted water per package instructions.
Meanwhile, heat a large skillet over medium heat. Add olive oil and allow to come to a shimmer. Add garlic and cook, stirring constantly, for 1 minute. Add lemon juice, capers, salt and pepper. Cook for 2 minutes or until slightly reduced, whisking frequently. Add capers and toss to coat. Reduce heat to low and allow to simmer slightly for 3 to 4 minutes.
Heat a medium skillet over medium heat with a blast of nonstick spray or 1 tbsp olive oil. Season tuna on both sides with salt and pepper. Just before oil in skillet begins smoking, add tuna steaks and cook until lightly browned and well seared. (About 1 minute.) Turn tuna gently onto a hot portion of the pan and repeat. Remove from heat immediately and allow to rest at least 1 minute.
Add Italian Seasoning to caper sauce and stir to combine. Drain pasta and toss with caper sauce. Place a portion on serving plate.
Slice tuna and lay out next to pasta. Garnish with a few more capers. Serve Immediately.
Share and Enjoy!
Nutrition Information:
Yield:
4
Serving Size:
1
Amount Per Serving: Calories: 288Total Fat: 11gSaturated Fat: 2gTrans Fat: 0gUnsaturated Fat: 9gCholesterol: 0mgSodium: 115mgCarbohydrates: 43gFiber: 4gSugar: 9gProtein: 6g


What I would have done differently had I thought of it at the time:
I think less in the way of herbs would help here. perhaps changing out the Italian seasoning for some fresh thyme would do a better job. Also, I think the tuna could benefit from a bit of lemon zest seared right into the flesh to add a bit of zing. Otherwise, this was absolutely fabulous!
Links to other recipes like this: