A few weeks ago I was flittering around Pinterest and I stumbled on a pin for sausage balls. If you can believe this, I'd never heard of them. Not once. Ever.
I showed the picture to my wife, who has heard of these little gems. She immediately launched into tales about how her Grandmother used to make sausage cheese balls for her all the time, how much she loved them as a kid, and how much she missed them.
Yeah, I kinda had to make a batch after that.
Actually, I made more than one batch. The first was good… But lacking. It just didn't pack the flavor I wanted, and the sausage cheese balls were dry, with little sausage flavor. So I hit Google, figuring that I'd find a couple of different recipes.
I found hundreds. Literally hundreds! These things are like gravy. It seems every family has their own recipe. But in diversity there are options, so I had room to figure out my own method.
So I went with what I know and came up with the following recipe for sausage cheese balls. This was a complete hit with my family, and I hope it will be with yours as well.
Let's make some Sausage Cheese Balls. It's Easy!
First off, gather your ingredients. You're going to need a pound of sausage, a pound of strongly flavored cheese, Some baking mix, a bit of milk and an egg.
(Note: It's a good idea to let the sausage and cheese sit out for about 20 minutes before you get started. It'll make things a lot easier to mix.)
Next, shred that cheese. And no, you shouldn't use store-bought shredded cheese. Pull out your grater and get at it.
Once you've got all that cheese grated and you've shaken out your arm muscles from the workout, it's time to put all of this together. Plop everything except your choice of dipping sauces into a bowl…
Time for another forearm workout. Mix everything until it's combined and looks something like this.
The last thing you want is for your sausage cheese balls to stick to the baking sheet, so line it with some parchment paper or give it a good spray with cooking oil.
Roll up your meat mixture. (Batter… Sausage cheese ball base… Sausage dough… What do you call this?!?) Into about 1-inch balls and arrange them on a baking sheet.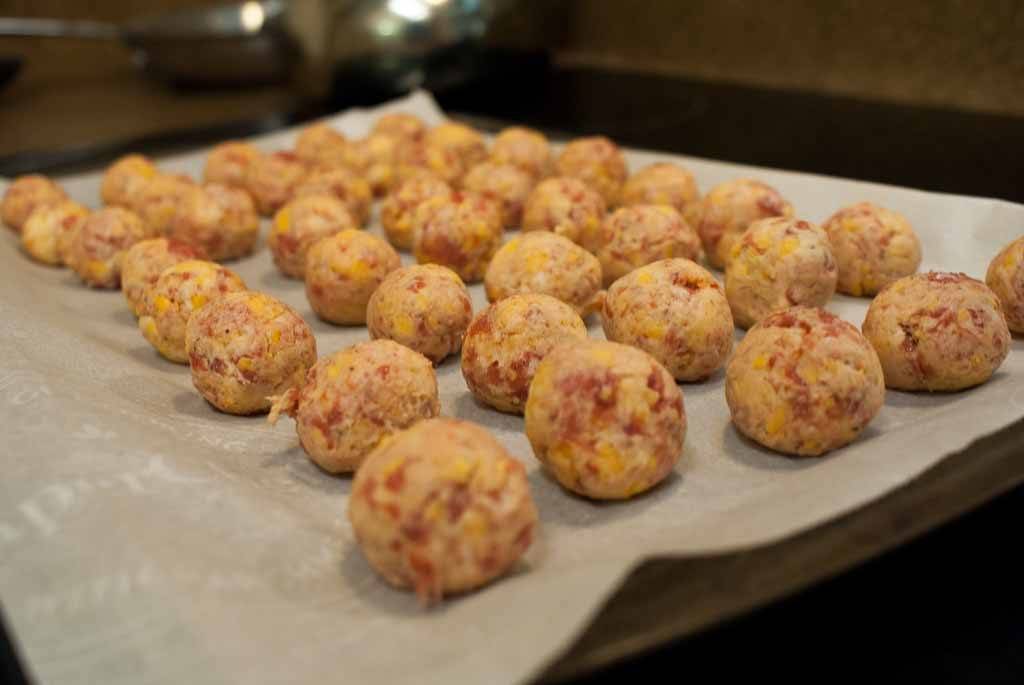 Once you've filled it up (and it may take a few batches), pop that bad boy in the oven until everything is golden.
Boom! You're done. Now it's just a matter of what to serve them with. Traditional recipes call for BBQ sauce, but I think gravy works well, too.
But for us, the big hit was Tonkatsu sauce, a Japanese condiment, with a little bit of shredded cabbage. (I know. I know. We're a bit off tradition here, but trust me, this is freaking awesome!)
But seriously, no matter what you dip your sausage cheese balls in, they're going to be amazing. And quite honestly, they're damned good all by themselves.
But if you must dip, try Korean BBQ sauce, Tonkatsu, Worcestershire sauce, or a Southern style ketchup-based BBQ sauce. It works. Oh, yes. It does.
Now, a few things that might help you on your way…
And now the printable recipe for Sausage Cheese Balls
Yield:

60 to 75 Sausage Cheese Balls
Sausage Cheese Balls
If you need an appetizer that's fit for a king, but will feed a crowd, and all with minimal effort, you'll love this recipe for sausage cheese balls.
Ingredients
1 pound pork breakfast sausage
3 cups baking mix, such as Jiffy or BisQuick
16 ounces (1 pound) extra sharp cheddar cheese, grated
1 egg
2/3 cup milk
Barbecue sauce, Korean BBQ sauce, Tonkatsu sauce or Pepper gravy for dipping (If desired).
Instructions
Heat oven to 350 degrees. line a large baking sheet with parchment paper or lightly grease with non-stick cooking spray.
Mix all ingredients except sauces and roll into approximately 1-inch balls. Arrange on baking sheet and bake at 350 degrees for 20 to 25 minutes. Immediately remove from baking sheet and place on a cooling rack or ret on paper towels.
Serve warm or at room temperature with sauce of choice.
Nutrition Information:
Yield:
12
Serving Size:
1
Amount Per Serving:
Calories:

546
Total Fat:

34g
Saturated Fat:

13g
Trans Fat:

0g
Unsaturated Fat:

18g
Cholesterol:

109mg
Sodium:

1366mg
Carbohydrates:

35g
Fiber:

2g
Sugar:

8g
Protein:

25g
What I would have done differently
Oh, the options here.
As far as I can tell, the original recipe is from Betty Crocker, In that recipe Parmesan cheese and parsley is added. But I've seen recipes that call for cream cheese, bacon, spices, you name it.
Go crazy guys. Make this recipe your own. I think you'll find that sausage cheese balls are a hit with just about everyone, and that because you're free to change them up, they have the versatility to fit any occasion.