Frittata… It sounds so alien, so elegant, so scary and difficult! But if you think of it as what it really is, you'll quickly learn to embrace the wonder that is a frittata. you'll find yourself eating them far too often. You may make your family sick of them in a hurry, but you'll never look back.
While the word Frittata may conjure some air of elegance and difficulty, it's really just an Italian version of the omelet. The basic ingredients are eggs, milk and perhaps a little cheese, and while I've seen some versions that looked very difficult to produce, for the most part the frittata is far easier to construct than a french omelet will ever be. If possible, they taste better, too.
The only tool you really need for a perfect frittata is an oven-safe pan or dish that you can get screaming hot with nothing in it but a bit of oil. The real secret is to start with a hot pan and a hot oven. The rest of the work is done by the liquid and the eggs. Basically all you as the cook have to do is stir a few ingredients and then peek at the oven every once-in-a-while. In about 20 minutes, you're done. (Note: larger frittata's have longer cooking times. That's where the jiggle-test comes in as described in the recipe.)
The frittata is the perfect vehicle for any leftovers you might have on hand. it gladly accepts meat, pasta, cheese, sausage, cooked greens of any type, vegetables or just about anything else you feel like tossing at it. One of my personal favorites is simply made with broccoli and some shredded cheddar and occasionally some leftover ham. The fact that they are good and good for you is a bonus, especially considering the versatility of the dish.
Make them for dinner, make them for brunch, eat them for breakfast, my goodness they're fun. I would eat them in a train. I would eat them in a plane. I think I'll make up one in green. Or do you think that would cause a scene? *ahem!* OK, enough with that.
Enjoy the recipe, folks.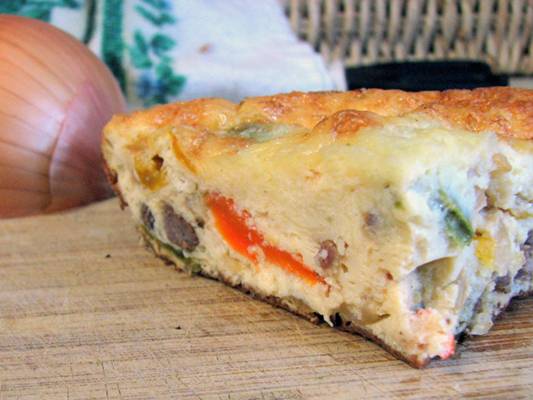 Yield: 6 servings
Sausage and Cheese Frittata Recipe
Prep Time: 10 minutes

Cook Time: 20 minutes

Rest Time: 5 minutes

Total Time: 35 minutes
Ingredients
4 eggs, beaten
1/3 lb. breakfast sausage, cooked and crumbled
1/2 of 1 small onion, chopped
1/4 cup mixed bell peppers, chopped
1 clove garlic, minced
1/2 cup shredded pepper jack cheese
3 tbsp. heavy cream
1 tbsp olive oil, for cooking.
Instructions
Preheat oven to 400 degrees.
Cook sausage using desired method and set aside. Cook onions and peppers in a small oven-safe pan over medium heat until onions are translucent. Add garlic and cook for about one minute or until fragrant. Spoon out over sausage.
Carefully wipe pan clean with a paper towel and add a tiny bit of olive oil. Return pan to heat.
In a large bowl, add eggs and heavy cream. Whip until well combined. Add remaining ingredients and mix well. Add to pan and allow to cook until bubbling. Transfer pan to oven and bake for 15 to 20 minutes, or until frittata has puffed up and the center no longer jiggles when shaken.
Let stand 5 minutes before serving.
Share and Enjoy!
Nutrition Information:
Yield:
6
Serving Size:
1
Amount Per Serving: Calories: 219Total Fat: 18gSaturated Fat: 7gTrans Fat: 0gUnsaturated Fat: 10gCholesterol: 163mgSodium: 314mgCarbohydrates: 2gFiber: 0gSugar: 1gProtein: 12g


What I would have done differently had I thought of it at the time:
Who knows. I never really make frittata the same way twice. It was good. Very good. Next time will depend on what I have on hand.
Links to other recipes like this: