Updated: I just found that a friend is going through some family difficulties. She mentioned her need for comfort foods, specifically Rice Crispy Treats. For me, this is the ultimate comfort food, so I've updated the photos and am sending this out as a dedication. I hope all of you will share your favorite comfort foods in the comments. Enjoy!
This dish is most commonly known as Country Captain's Chicken, but in my house it was always called Captain's Chicken Curry. Since this is my mother's recipe, I'll use her name for it here.
As I mentioned in an earlier post, I have not managed to get around to sharing some of my all-time favorite chicken recipes. I really don't know why it's taken me so long to do so. Maybe it's that to me these really aren't anything special in terms of skill or flavor, but rather the things that I grew up begging my mother to make. At some point these things become something "normal", and in being such a part of my life, it seems strange that every other person in the world doesn't already know of this recipe. This is an oversight I refuse to allow to continue, mostly because it is completely foolish, but also because I have to believe that if I love this dish, someone else will, so not sharing it with those who have never tried it would be a tragedy.
I don't remember my mother making this often in my teen years, but as a child it was something that I would ask for when the choice was given. My mother, who knew full well that this was the only way she could get her then 7-year-old son to eat tomatoes in any sort of solid form, was usually very happy to oblige me. It didn't hurt that my father loved it as much as I did either.
Seriously. Have you ever seen chicken this succulent and tender? It falls off the bone like this every time you make it.
So please, enjoy this foray into my childhood. This dish carries fond memories of chill autumn evenings, wonderful aromas and the laughter of a family who was quite happy to simply enjoy each other's company. I never recall my mom serving this to guests, it was something we enjoyed as a family, so I'm thrilled to have all of you join me as I share this dish with friends for the first time in my memory. I hope you love it as much as I do.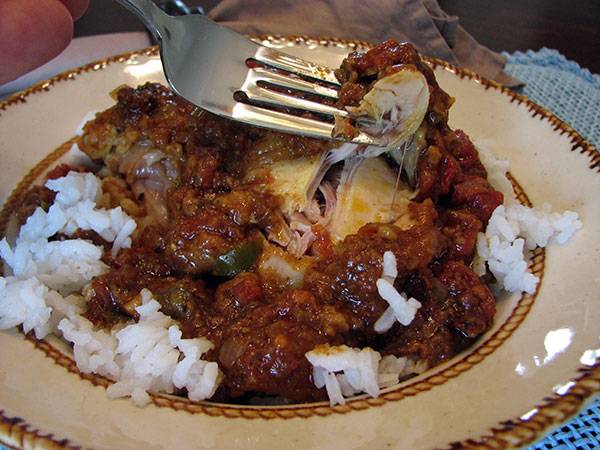 Yield: 8 servings
Captain's Chicken Curry Recipe
Prep Time: 10 minutes

Cook Time: 1 hour

Total Time: 1 hour 10 minutes
Ingredients
3-4 lbs bone-in and skin on chicken pieces. (You may cut down a whole chicken, I used thighs)
1/2 cup all-purpose flour (See notes for Gluten Free options)
1 tsp. salt
1/4 tsp. black pepper
1/2 small onion, chopped
1/4 cup vegetable stock
2 Tbsp. curry powder
1 Tbsp. dried parsley
1/2 cup chopped green bell pepper
1 medium clove garlic, minced
1 1/2 tsp dried thyme
1 (20 ounce) can whole tomatoes, crushed in hand
Approximately 2/3 cup vegetable oil for browning chicken and an additional 2 Tbsp for making curry
1/2 cup raisins or golden raisins if desired.
3-5 cups cooked rice
Instructions
Heat oil in a large skillet over medium heat.
Mix flour salt and pepper together in a large zip top bag. Drop in chicken one piece at a time and shake to coat. Shake off excess flour and place chicken skin side down in skillet.
Brown chicken well on both sides. Add more oil if necessary. Turn heat to low. Add onion, curry powder, parsley, thyme, bell pepper and garlic. Stir frequently until onions are just translucent. Add vegetable stock, tomatoes and juices from tomatoes. Stir, cover and simmer for 30 to 45 minutes or until chicken is cooked through and falling apart.
If desired, sprinkle in raisins, cover and cook for an additional 3 to 5 minutes.
Serve over rice.
Enjoy!
Notes
For a Gluten Free version of this dish, substitute corn starch or gluten free all purpose flour when coating the chicken. either will brown nicely and help to thicken the curry.
Nutrition Information:
Yield:
8
Serving Size:
1
Amount Per Serving: Calories: 2024Total Fat: 83gSaturated Fat: 20gTrans Fat: 1gUnsaturated Fat: 57gCholesterol: 805mgSodium: 943mgCarbohydrates: 115gFiber: 4gSugar: 18gProtein: 192g


What I would have done differently had I thought of it at the time:
I actually changed my mother's recipe a bit. Hers called for onion soup mix, but I didn't think that sounded quite right, so I added onions instead. Other than that, I wouldn't change much about this dish. Both my wife and I made short work of it, and it will be on the menu for this fall when the weather turns cool.
Links to other recipes like this: