Before someone slams me for this, please note that I said "Pulled Pork Barbecue", and not "Barbecued Pulled Pork" It has sauce, that's as close to real BBQ as this recipe gets.
Mmmmm, Barbecued Pulled Pork Sammiches. Just typing the words gets me all teary-eyed and makes my heart palpitate a little. And to think, it all came about because of a terrible kitchen mishap!
Sometimes even the most horrific kitchen disasters can be recovered from. At least I like to tell myself that they can, and in this case at least, it worked.
The other night I decided to try using our tabletop oven to cook up a pork blade roast. The idea was that the little oven would use less power, since the roast nearly filled it to capacity and I wouldn't have to heat a large volume of air. It's also a convection unit, and should have cooked the roast in less time than our regular ol' apartment oven.
Yeah, whatever! After three hours (a full hour longer than it would have taken in our regular oven), the roast still wasn't done. In fact, it wasn't even close. Apparently the oven manufacturer and I differ on the meaning of 350°.
I set the timer for another hour and laid on the couch to watch some TV…
And fell fast asleep.
My wife tried to wake me up, but to be quite honest, I'd had a few beers while I waited for the bloody roast to finish, and the combination of a pretty stressful day with Mr. Seat of his Diaper and a few Shiner Bock's on an empty stomach, I was history.
I was apparently just awake enough to tell her to leave the roast right where it was. Being the wonderful person she is, she listened to me and didn't disturb the still undercooked roast…
And I found it right there in the oven when I got up at 5:00 AM.
Usually I'd call it good right there and would've tossed the poor thing out. In it's current state it definitely wasn't fit for human consumption. I can just imagine the parties all the little bacterial interlopers were having in that tabletop oven. (Can you say botulisa-palooza?!?) UnFortunately, I'm a stubborn bugger, and I wasn't about to let that be-autiful roast go to waste.
Bowing to our federal government's recommendations would mean getting the internal temp on that roast to a little over 160°F, but that still made me a bit nervous. I decided I'd like to get 'er all the way up to about 200, and the only way to do that and have anything left worth eating was to do it very, very slowly, so slowly it was. And after 7 more hours with the little oven set to 210 degrees, I figured we were ready.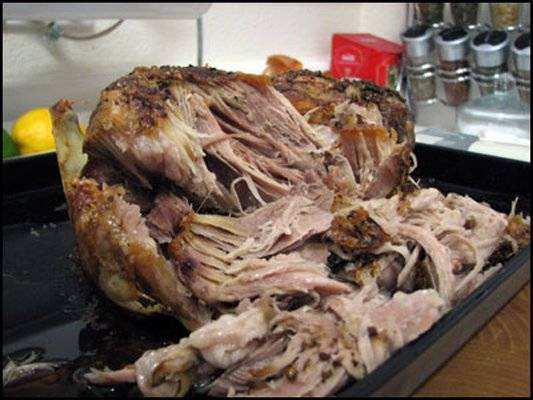 It's a thing of beauty, innit?
Now cooking the roast for that amount of time guaranteed that it wouldn't function sliced. It was going to come apart if I breathed hard at it, so in the meantime, I poked around the 'net and found a good looking recipe for homemade BBQ sauce with dreams of pulled pork sammiches dancing in my head like some mid-spring Christmas present. What I came across isn't perfect, but it's going to get run through it's paces a few more times until it is.
For now, just let me say it's darned good, but not what I'd call the ultimate in BBQ sauces.
I'll add the recipe like I knew what I was doing when I started, because I've made pork this way on purpose before, this just wasn't one of those times. (At least you'll know what to do if you end up with a partially cooked roast on your hands!)
Yield: 8 Servings
Pulled Pork "Barbecue" with Apple BBQ Sauce Recipe
Cook Time: 7 hours

Total Time: 7 hours
Ingredients
Roast:
1 3-5 lb bone in pork blade roast
Salt and pepper to taste
Apple BBQ Sauce:
3 large onions, chopped
1 tbsp. Extra virgin olive oil
1 qt ketchup
2/3 cup lemon juice
1/2 cup apple cider vinegar
approx 5oz Worcestershire sauce (or Worcester sauce, if you're from over the pond)
1/2 tsp salt
1 tbsp Louisiana hot sauce
1 tbsp spicy brown mustard
1/2 cup brown sugar, packed
Pepper to taste
Instructions
Roast:
Preheat oven to 220°F
Place roast in shallow roasting pan or on sheet pan in center rack of oven. Allow to cook for at least 6 hours, or until meat falls off bone.
Remove from oven and allow to cool. Shred meat with fork, discarding excess fat and bones.
Apple BBQ Sauce:
In skillet, sauté chopped onions in olive oil until tender. Remove from skillet and place in a large saucepan or dutch oven. Add remaining ingredients, simmer over medium low heat for about 1 hour, stirring often. Be careful not to allow the sauce to stick or burn.
Put it together:
Add pork meat to sauce and stir well to combine. Allow to simmer for another 10 minutes or so, or until the pork is heated through.
Serve on steak rolls, kaiser rolls, or if you've got neither, hot-dog or hamburger buns will work in a pinch.
Nutrition Information:
Yield:
8
Serving Size:
1
Amount Per Serving: Calories: 2160Total Fat: 122gSaturated Fat: 43gTrans Fat: 1gUnsaturated Fat: 66gCholesterol: 761mgSodium: 944mgCarbohydrates: 22gFiber: 1gSugar: 16gProtein: 228g


What I would have done differently had I thought of it at the time:
All kindsa stuff!
Honestly, the sauce was a bit spicy for my tastes. I will probably omit the hot sauce next time, and use normal mustard. The apple cider vinegar is a bit potent as well, and I'll probably switch that out for apple juice, and up the sugar to about 3/4 cup… but we'll see when I get there.
I'd never really had pulled pork sammiches like these until I met my wife, who not only introduced me, but got me hooked on them. I can't say I'm sorry about that, though.
Give it a try, and enjoy!