This shop has been compensated by Collective Bias, Inc. and its advertiser. All opinions are mine alone. #MakeGameTimeSaucy #CollectiveBias
Getting ready for game day means more than just having snacks. It means putting out food that will impress everyone around the TV even if the game isn't going your way. (Unfortunate, but it happens, Y'all.)
This time around I wanted to make something that not only represents my current home town of San Antonio, but that is as bold and saucy as Texas itself. The perfect choice, Carnitas.
But carnitas, which is usually served as a main dish with tortillas isn't the best choice for a rowdy game day environment. We do a lot of hand-waving and gesturing while we cheer our teams on, so finger food works best in our case.
So what's the best option here? Put those carnitas on a stick!
And to make them even better, you gotta go with the green sauce. In this case, the bold kick of Pace® Salsa Verde. And to make it even less of a hassle, I tossed them in a pressure cooker so they'd be done in about an hour instead of three or four.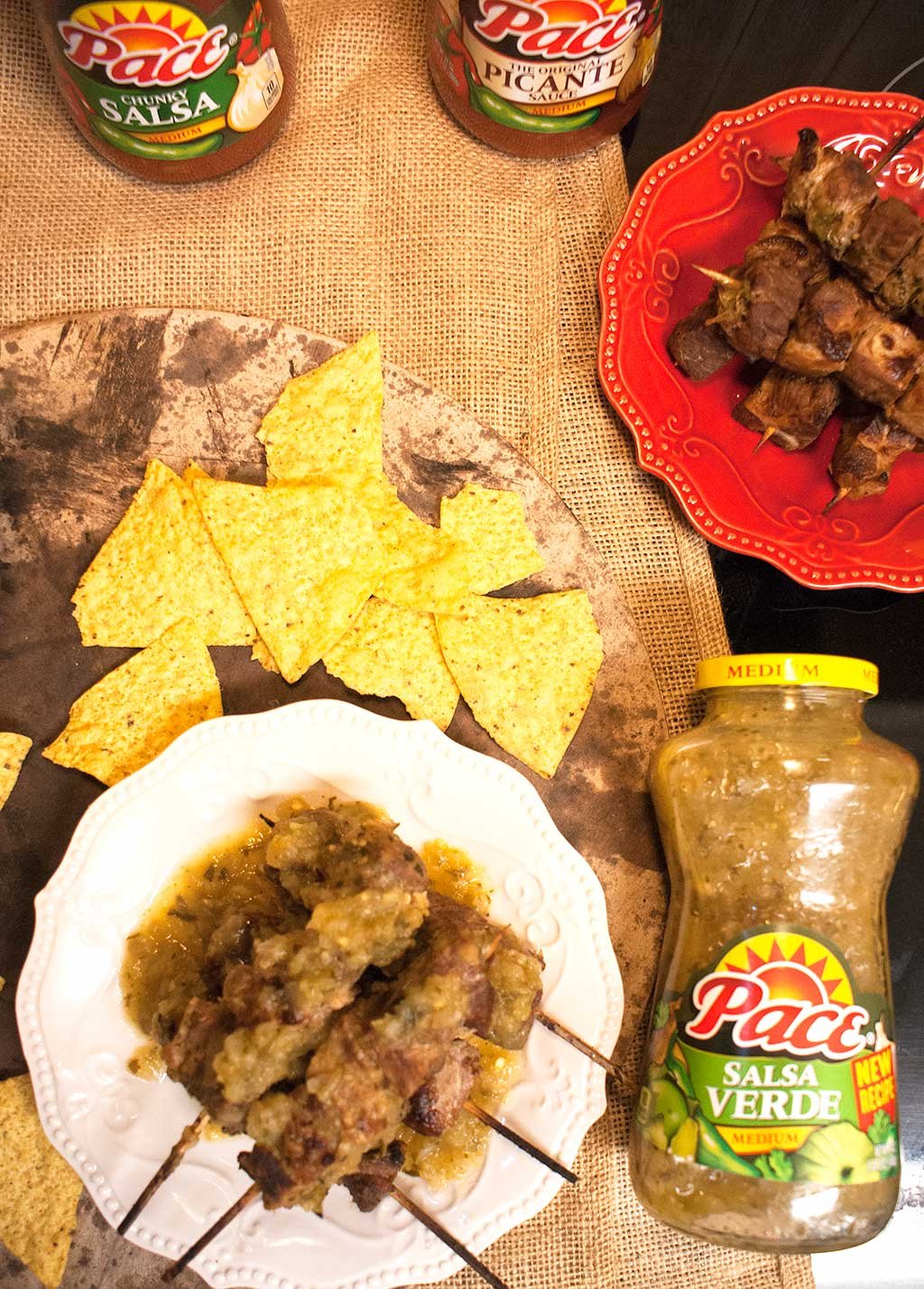 Ready to shop for delicious Pace® products? Hover over the photo to click through to Walmart.com and purchase them!
And they are amazing, Y'all. Seriously top notch.
First things first, you gotta procure the flavor component. In this case, that's 100% Pace® Salsa Verde, so head down to your local Walmart and snag some 24-ounce jars. (Use the link and get a coupon, WoHoo!) (Ibotta® offer is valid on any ONE (1) 15 oz. or larger Pace® Salsa or Pace® Picante Sauce.)
You can find Pace® Salsa Verde in the International foods aisle. But it sells out quick, so don't dawdle!
Next, grab a hunk of pork shoulder meat.
Whack that bad boy into just about 2-inch cubes.
Get the cubes onto some skewers and lay them in your pressure cooker. No salt. No pepper. Nothing, just get them in there.
Then get your Pace® Salsa Verde ready. (Try not to swoon when you open the jar. Seriously, just try not to.)
Now, add at least 2 cups of your Pace® Salsa Verde.
Make sure you use enough to cover all of your skewers. They should look about like this…
Pop the lid on your cooker and set it for 40 minutes on high pressure.
Once that's done and you've vented it, carefully transfer your carnitas to a baking sheet and broil until the outside is crisp. It only takes a minute.
Then… Just put those bad boys on a serving tray and pour over a little more Pace® Salsa Verde, Just for a little more of the Southwestern flavor Pace® is famous for, and these carnitas crave
Then… Eat!
Yield: 12 to 20 skewers
Pressure Pot Carnitas with Salsa Verde
Prep Time: 15 minutes

Cook Time: 50 minutes

Total Time: 1 hour 5 minutes

The power of pressure cooking meets the long, slow-cooked flavor of traditional pork carnitas slathered in bold, flavor packed salsa verde.
Ingredients
2 - 24-ounce jars  Pace® Salsa Verde
2 pounds pork shoulder cut in 2-inch cubes
Instructions
Cut pork shoulder into approximately 2-inch cubes. Thread onto short skewers.
arrange skewers in your pressure cooker and add Salsa Verde until all of the skewers are covered well.
Set pressure cooker to high heat/meat setting and time for 40 minutes. allow to cycle and then vent, being careful of the steam.
Carefully transfer skewers to a baking dish using tongs. Broil on high, turning once, until the outside of the meat is crisped. (About 2 minutes per side.)
Arrange on serving platter and serve with more Salsa Verde for dipping.
Nutrition Information:
Yield:
12
Serving Size:
1
Amount Per Serving: Calories: 264Total Fat: 17gSaturated Fat: 6gTrans Fat: 0gUnsaturated Fat: 9gCholesterol: 68mgSodium: 732mgCarbohydrates: 7gFiber: 2gSugar: 4gProtein: 19g
What I would have done differently:
Abso-freaking-lutely nothing.
No joke, guys. These Carnitas are the best I've ever made, and probably the best I've ever had. Pressure cooking the meat before crisping it up makes for melt-in-your mouth tender pork, but even then, Carnitas can be kind of bland on their own. The Pace® Salsa Verde not only brought the flavor levels to near explosive (Not surprising for a company that's been constantly putting out for 70 years), but it helps keep the carnitas from drying out.
So go. Now. Grab yourself some Pace® Salsa Verde and a few other flavors to round out your next game day event.
Check out an awesome Ibotta® deal on Pace® products at Walmart! Earn $0.50 cash back with Ibotta® when you purchase a jar of Pace®! (Offer is valid on any ONE (1) 15 oz. or larger Pace® Salsa or Pace® Picante Sauce.)
Be sure to check out more great recipe inspiration using Pace® Salsas. And remember to #MakeGameTimeSaucy folks.