Today we've got the perfect quick and easy recipe for your game-day snacking or barbecue, because nobody wants to spend hours making a dip. Let's face it, those chips need one. This is the one they need. And hey, we've made bean and cheese dips before, but you can never have enough variations on a bean dip in your arsenal.
This dip can be served as shown, or modified in as many ways as there are toppings to add. Want it spicier, add some cayenne, chipotle or Ancho Chili. Want more of a crunch, ad diced onions, jalapenos or green chiles. Want a tang, add some sliced black olives, green olives, cilantro or lime zest. It's completely up to you. You have the free reign to make this dish your own. You should make it your own. It is about you and your guests, after all.
I said simple, right? It is. Simply heat beans, add salsa, layer cheese, the beans, toppings and more cheese and toss in the oven for about five minutes. Simple! (But I've added a step-by-step pictorial guide below if you want to see how it goes together.)
Now, go get your dip on! You'll thank us for it.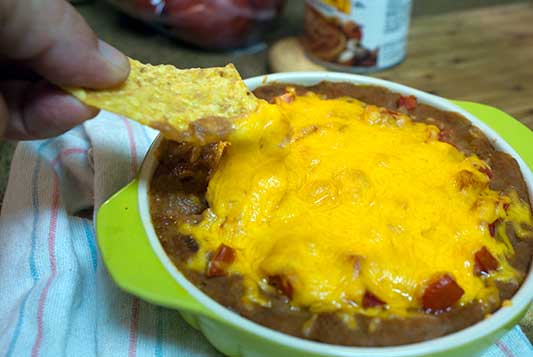 Yield: 8 servings
Cheesy Bean and Salsa Dip
Prep Time: 5 minutes

Cook Time: 20 minutes

Total Time: 25 minutes
Ingredients
1 can refried beans
1/2 cup chunky salsa
1/2 roma tomato, diced
3/4 cup grated cheddar cheese
Instructions
Heat oven to 400 degrees.
Cook refried beans in a medium saucepan over medium-low heat until hot and bubbly. Add salsa and mix well to combine.
Place 1/2 of the cheese in the bottom of a heat proof bowl or casserole. Pour the bean mixture over the cheese. Top with tomato and remaining cheese. Bake until cheese is melted and bubbly. Serve hot.
Share and enjoy.
Nutrition Information:
Yield:
8
Serving Size:
1
Amount Per Serving: Calories: 98Total Fat: 5gSaturated Fat: 2gTrans Fat: 0gUnsaturated Fat: 2gCholesterol: 10mgSodium: 389mgCarbohydrates: 9gFiber: 2gSugar: 1gProtein: 5g


What I would have done differently had I thought of it at the time:
Actually, the variations here are pretty much endless. Top with onions, black olives, cilantro, pico de gallo or whatever other toppings make you happy and sound good with chips. It's your call.
Links to other recipes like this: