This is definitely a case of cooking by the seat of my pants. I was thinking about flavor combinations the other day while snacking on leftover pork roast with caramelized apples when before I knew it, I was making pork & apple empanadas.
I don't know of too many flavors that go together like pork and apple (trust me, I've used this combination a lot, like in my Apple Bourbon Glazed Pork.), and that's what gave me the seedling of an idea that grew into a profound need to make this dish.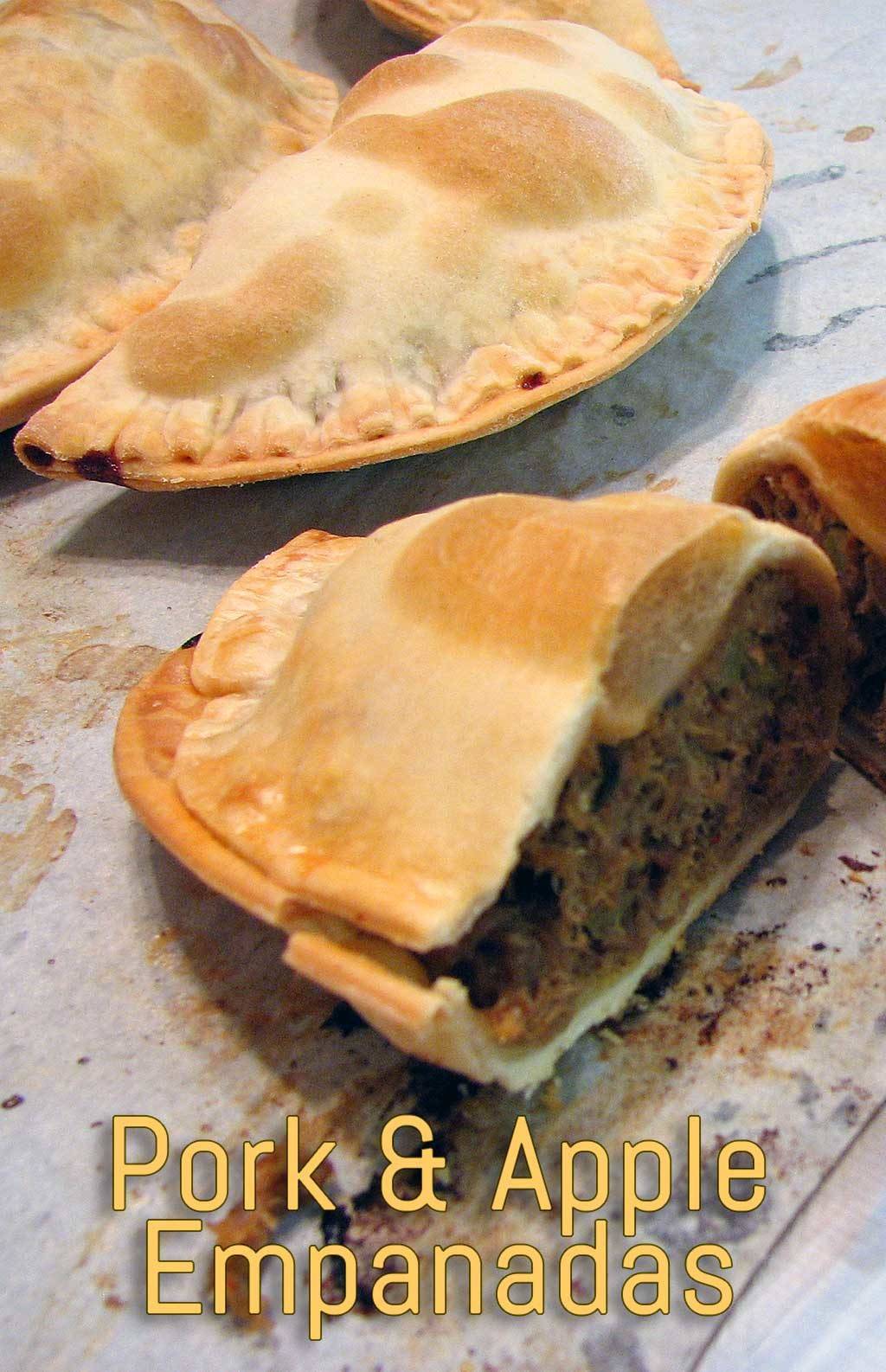 Unfortunately, as far as I know I'm the first one to try these combinations as an empanada. I scoured the web and all my favorite food blogs looking for something similar or even remotely similar, but there was nothing that I could find as a jumping off point. I was on my own, which in my case is always the best way to be in a situation like this.
I knew the combination of flavors would work. The trick was in how much I wanted to bring the traditional flavors of cumin and chilies in with the apple.
Did I want to add some cinnamon to elevate the apple flavor? Why yes. Yes I did. Cilantro? Probably should… But in what amounts? It would be very easy to take this particular combination way to far, and in the process take a great flavor pairing and ruin it completely.
Luckily, I guessed right. The apple and cinnamon pair wonderfully with the more traditional pork filling. It actually came out tasting a little like I'd used Chinese Five-Spice powder in preparation, but I didn't. They were moist, succulent and savory in ways I have to revisit again. And Again. And again. And… Well, you get the point.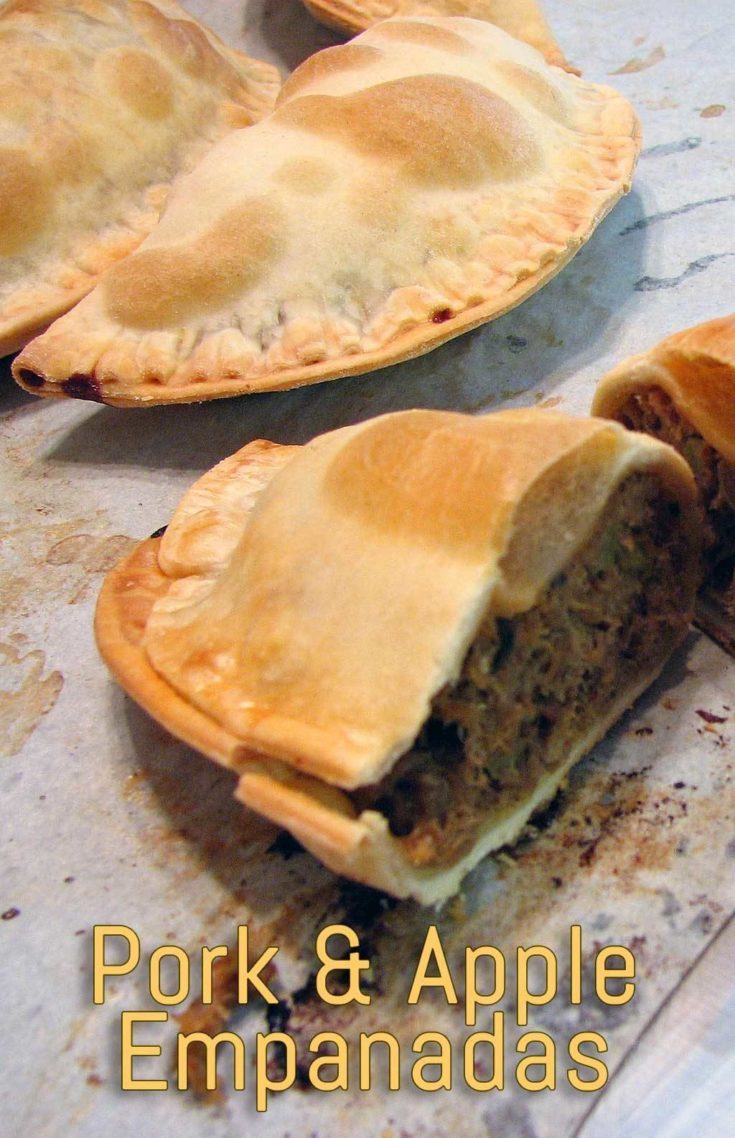 Yield: 10 Empanadas
Pork and Apple Empanadas
Prep Time: 10 minutes

Cook Time: 1 hour 30 minutes

Total Time: 1 hour 40 minutes

Pork & Apple Empanadas, A surprising twist on a classic empanada recipe.
Ingredients
1 pound leftover pork roast, shredded. (You may of course, just slow cook 1 lb of pork wrapped in foil in a 250 degree oven for about 2 hours. Same thing!)
2 teaspoons butter.
2 granny smith apples, chopped finely.
Approximately 1/2 cup chicken stock.
1 Tablespoon cinnamon
1-1/2 teaspoons light chili powder.
2 teaspoons. cumin.
1Tablespoon. Onion powder.
1 Tablespoon Garlic Powder.
2 Tablespoons. dried cilantro leaves.
Salt and pepper to taste.
1 package (10-count) empanada rounds, defrosted.
Flour, for rolling.
1 egg.
2 Tablespoons cold water.
Instructions
Preheat oven to 275 degrees.
Place 1/2 of the apples and 2 Tablespoons butter in a 3 qt saucepan over medium heat. Cook, stirring frequently until the apples are fragrant and relatively soft. Add pork, cinnamon, chili powder, cilantro, onion powder, garlic powder and chicken stock.
Stir to combine and allow to simmer stirring constantly until heated through and pork has completely fallen apart. Taste for seasoning, add salt, pepper and remaining apples. Remove from heat.
Crack egg into a bowl and add 2 Tablespoons cold water. Whisk together well. Set aside.
Line a baking sheet with parchment paper. Lightly flour a work surface. Remove one empanada round from package and place on floured surface. Dust lightly with flour and roll gently with rolling pin. place 1-2 Tablespoons of the pork filling in the center of empanada round. Moisten edges of round and fold over, pressing edges together tightly, then crimping with a fork to ensure a good seal. Move to baking sheet and continue with the rest of the rounds.
(TIP: keep empanada rounds and completed empanadas covered with a slightly damp towel while you are working to prevent them from drying out.)
When all rounds are assembled, brush each lightly with egg wash and place in center rack of oven for 25 to 30 minutes, or until dough is golden. Remove from oven and cool on baking sheet for 8 to 10 minutes before serving.
Enjoy!
Nutrition Information:
Yield:
10
Serving Size:
1
Amount Per Serving: Calories: 218Total Fat: 11gSaturated Fat: 4gTrans Fat: 0gUnsaturated Fat: 6gCholesterol: 62mgSodium: 108mgCarbohydrates: 15gFiber: 2gSugar: 2gProtein: 13g


What I would have done differently had I thought of it at the time:
I think next time I'll slice some onions and caramelize both them and the first batch of apples for a deeper, richer flavor and a bit more moisture in the filling. Otherwise, these were a really big hit. Give 'em a shot!
Show a little love, people!
As always, I love you guys. You're the reason I've been fortunate enough to do this for over 10 years. I don't know where I'd be without you. Really. I love sharing new recipes and tips with you and I hope you found this useful, or funny, or both.
If you did, please take a second to share this recipe on your various social media platforms. Maybe grab one of the items we highlight above the recipes. If you do, we make a few pennies here and there, and we appreciate it.
Maybe drop a comment and leave a rating on the recipe. We love to hear from you.
Remember, this is a conversation. We'll never know what you want to see if you don't tell us, right?
Until Next time,
Food is love. Share and enjoy.