It's summer and it's hot. In my part of the country this means weeks of 100-plus degree weather. It's the perfect time for ice cream… And to play with the brand-spanking-new ice cream maker attachment
that my wife bought me for my birthday. The timing couldn't be better. So I decided to whip up a batch of peanut butter ice cream.
And then I made it better! Check out our recipe for Peanut butter brittle ice cream. It'll blow you away!
I searched the bloggosphere for a few days trying to decide what I wanted to make first. I really couldn't decide if I wanted to make ice cream, sorbet or sherbet and it wasn't easy narrowing down the choices. There are a ton of great ice cream recipes out there.
Did I want to make this coffee ice cream from Elise at Simply Recipes or should I make David Lebovitz's Salted Butter Caramel Ice Cream? Was I more in the mood for something lighter like the Very Berry Sherbet from comfy belly or this amazing sounding lime sorbet from Eating Cleveland? This was going to be no easy decision, but a decision had to be made.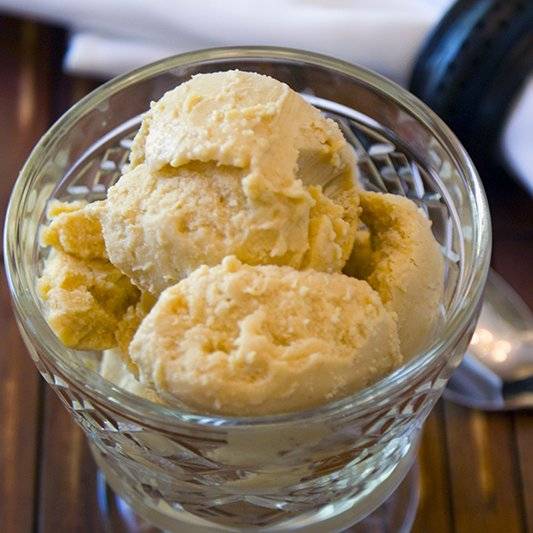 One thing that has kept me from diving headlong into making even basic vanilla ice cream is the custard base. It's time-consuming and can be difficult. Custard bases also require a lot of attention, which can be difficult in a house full of rowdy kids and a dog who is usually underfoot.
This fear has been lessened by the discovery of a no-cook custard base from Kitchen Mage, but I still wanted to start off with something a little less involved and that's when I came across the recipe for peanut butter ice cream you see here. Cream, yes! Custard, No. Perfection.
The recipe was a breeze to make, works well and ends up tasting somewhat like peanut butter sugar cookie dough. The peanut flavor is pretty intense, even using bargain brand peanut butter. If you are making ice cream for the first time, this recipe might just be what you're looking for.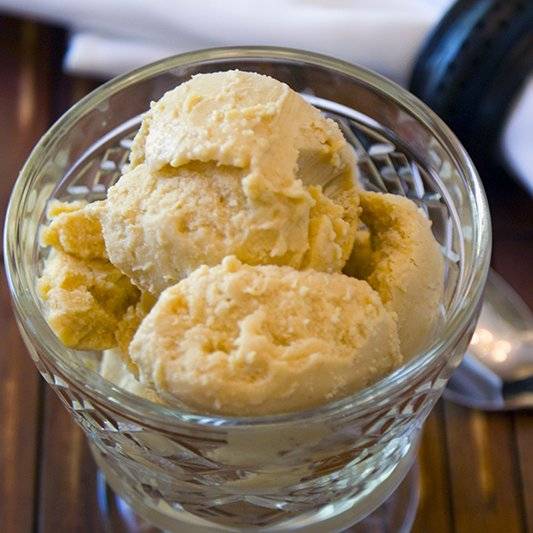 Yield: 6 People
Peanut Butter Ice Cream Recipe
Prep Time: 20 minutes

Freeze Time: 2 hours

Total Time: 2 hours 20 minutes

Ultra-creamy, beautifully silky. Our recipe for egg free peanut butter ice cream is sure to please any peanut butter lover in your family.
Ingredients
1 cup creamy peanut butter
2/3 cup granulated sugar
1 cup whole milk
2 cups heavy cream
1-1/2 teaspoons vanilla extract
Instructions
Combine the creamy peanut butter and sugar in a mixing bowl or the bowl of a stand mixer using the whisk attachment, beat until smooth.
Add the milk and mix on low speed (3 on my mixer) for about 2 minutes until the mixture is smooth and the sugar has been dissolved.
Stir in the heavy cream and vanilla with a mixing spoon, whisk or the whisk attachment on your mixer. Cover with plastic wrap and chill in the refrigerator for 2 hours.
When ready, pour the ice cream base into your frozen ice cream maker bowl.
Mix until thickened, about 15-20 minutes. If you are adding in candies or peanuts, add them in the last 5 minutes of mixing. Pour into a freezer safe container and freeze for at least 2 hours.
Share and Enjoy!
Nutrition Information:
Yield:
6
Serving Size:
6 People
Amount Per Serving: Calories: 638Total Fat: 51gSaturated Fat: 23gTrans Fat: 1gUnsaturated Fat: 23gCholesterol: 94mgSodium: 244mgCarbohydrates: 37gFiber: 2gSugar: 30gProtein: 13g

What I would have done differently had I thought of it at the time:
This is a very heavy ice cream and needs to be eaten in very small doses. While I'm proud of it as a first attempt, I think it would be much better as the filling for an ice cream sandwich than as a stand-alone dessert, at least until I find a way to lighten it up a little. I'll be looking for a new recipe for this dish, but this one is definitely worth sharing, especially for people with egg allergies.
As a final note, this particular dish was quite a bit more difficult to shoot than many others I've posted here. "Why?" You ask? Well, I'll tell you.
Most of the time my kids are saints about letting me get a shot just right before they get to dive into the food. I'm not used to playing interference for a shoot, but this was different. There was peanut butter ice cream at stake here and the kids were pretty impatient about dad getting the table cleared so that they could dig in.
It may not seem like I had much trouble getting the shot, but just out of range of the camera I was dealing with this:
In fact, I have one or two shots in the slush pile that include tiny three-year-old fingers reaching for the dish. Cute, but not the best showcase for the peanut butter ice cream, especially when carefully placed props are getting smudged or moved out of position. It wasn't fun at the time, but it's funny now that it's over.
Next I'm making lime sherbet, and I have another idea for after that one, but what should I make next? What's your favorite homemade ice cream? Suggestions are most definitely welcome. I'm not even good and started with getting my ice cream maker broken in.
And if you own a kitchen aid mixer but haven't yet run out and bought the ice cream maker attachment
, go get one right this minute. It's worth it, really.