Peanut butter cookies may not be a part of every family's holiday assortment, but they always have been in mine. For as long as I can remember, Christmas time meant the prerequisite sugar cookies, my Aunt Thelma's tea cookies, chocolate chip cookies, my mother's famous wrecked fudge and my mother's famous peanut butter cookies.
This is not my mother's recipe. It was passed down to my wife by her grandmother, and while they are not exactly the same as the cookies my mother used to make, they are delicious nonetheless. (I'll post my Mom's version as soon as I can wrestle it out of my sister.)
These little gems are definitely one of the best recipes for a peanut butter cookie that I've ever had, and I haven't been shying away from the plat of them, either. As a matter of fact, I'm a bit worried that my current trend of losing pounds is about to end, at least for a while. I don't really think I mind though. These cookies are well worth an extra pound or two. I hope you'll agree.
Are peanut butter cookies on your holiday must have list? If not, what cookies or confections are always on your Holiday table? I really would love to know.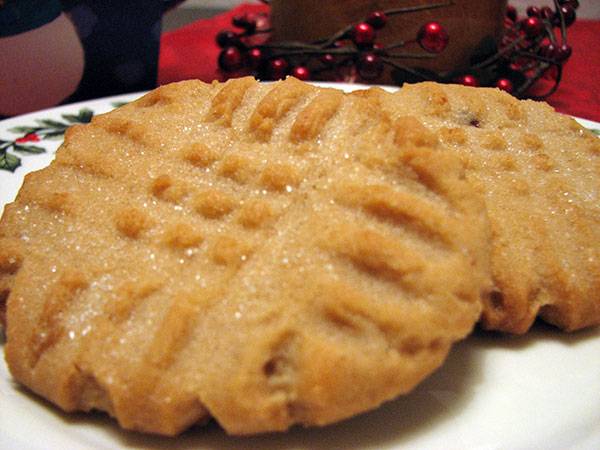 Yield: 36 cookies
Mamie's Peanut Butter Cookie Recipe
Prep Time: 10 minutes

Cook Time: 12 minutes

Total Time: 22 minutes
Ingredients
1 cup butter, softened
1 cup peanut butter (1 1/4 cup if using chunky)
1 cup sugar
1 cup brown sugar
2 eggs
2 1/2 cups flour
1/4 tsp. baking powder
1 tsp. salt
1 tsp. vanilla extract
2 tsp. baking soda
Instructions
Mix butter, peanut butter, sugar, brown sugar, vanilla and eggs together thoroughly in a stand mixer or large mixing bowl.
Sift together flour, baking powder, salt and baking soda in a separate bowl and mix into peanut butter mixture in three stages, with mixer on low speed.
Chill dough for one hour.
Preheat oven to 375°F.
Form dough into walnut sized balls and arrange on cookie sheet with at least 2 inches between balls. Flatten dough balls with a fork dredged in sugar. (Press down twice, once in one direction, then once more, rotating the fork 90 degrees. This will create the traditional checkerboard pattern on the tops of the cookies.)
Bake for 10-12 minutes. Let sit on cookie sheet for 2 minutes, then transfer to a wire rack to cool completely.
Nutrition Information:
Yield:
36
Serving Size:
3 cookies
Amount Per Serving: Calories: 492Total Fat: 9gSaturated Fat: 4gTrans Fat: 0gUnsaturated Fat: 4gCholesterol: 24mgSodium: 218mgCarbohydrates: 19gFiber: 1gSugar: 11gProtein: 3g


What I would have done differently had I thought of it at the time:
Like many holiday standards, this is a family recipe that has been passed down from grandmother to granddaughter and will never be modified. Call me sentimental, I really don't mind. *wink*.
Links to other recipes like this: