My wife has a passion for peanut butter ice cream. Most notably, for my homemade peanut butter ice cream. She absolutely adores the stuff, and my kids love it too. Needless to say, they're constantly asking me to make it again, especially when it's hot out.
The thing is, we live in South Texas. It's hot out a lot. I mean, really, a lot. Like from April to September. So even though I love this insanely decadent treat as much s they do, I thought it was time to make a slightly different version.
The inspiration for that change came from both the original peanut butter ice cream recipe, and also from one of my favorite after work snacks, peanut bars
.
For those of you who aren't familiar with peanut bars, they're basically just peanut brittle. so if you happen to have some homemade peanut brittle lying around (or some of the store bought stuff), that would be a perfect substitute. Where you get your peanut and sugar crunch factor from isn't the important part. It's just that you have it.
does it really make enough of a difference to write a whole new recipe based on just one addition? Yes. The crunch from the peanut brittle elevates an extremely rich and somewhat heavy ice cream to a whole new level.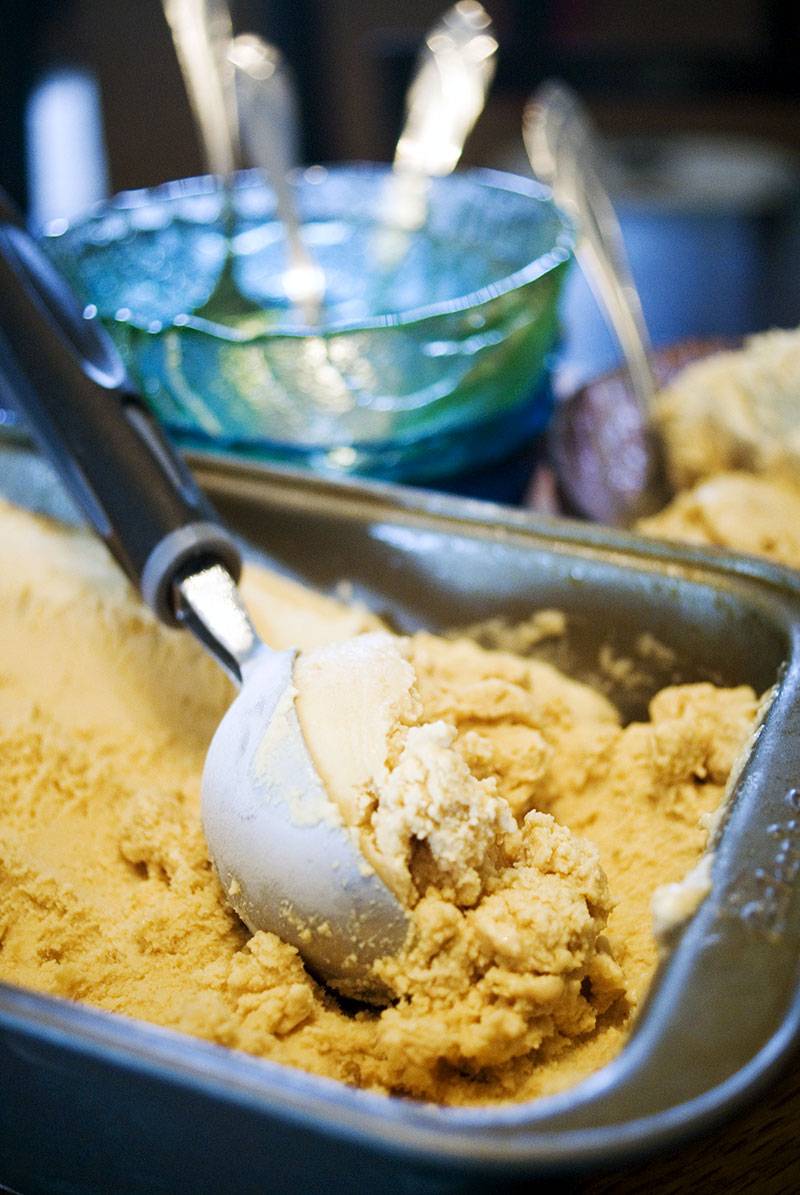 The original ice cream recipe comes out tasting a bit like peanut butter cookie dough. It's sweet. cloying and a bit one-note in comparison to this version. The crunch of the brittle mixed with the depth of the cream make a perfect compliment to one another. It completely killed the version I made with chocolate shavings in both flavor and texture, and hey, if you can beat chocolate, you've got a winner.
Think it looks good? Wait 'till you try it! go on, give it a shot. here's the recipe:
Yield: 6 people
Peanut Butter Brittle Ice Cream
Prep Time: 10 minutes

Cook Time: 20 minutes

Freeze Time: 2 hours

Total Time: 2 hours 30 minutes

Ultra-creamy, beautifully silky, and loaded with little chunks of peanut brittle. Our recipe for egg free peanut butter brittle ice cream is sure to please any peanut butter lover in your family.
Ingredients
1 cup creamy peanut butter
2/3 cup granulated sugar
1 cup whole milk
2 cups heavy cream
1-1/2 teaspoons vanilla extract
2 2.2 ounce peanut bars or peanut brittle, crushed
Instructions
Combine the creamy peanut butter and sugar in a mixing bowl or the bowl of a stand mixer. Beat until smooth, using a whisk attachment.
Add the milk and mix on low speed (3 on my mixer) for about 2 minutes until the mixture is smooth and the sugar has been dissolved.
Stir in the heavy cream and vanilla with a mixing spoon, whisk or the whisk attachment on your mixer. Cover with plastic wrap and chill in the refrigerator for 2 hours.
When ready, pour the ice cream base into your frozen ice cream maker bowl.
Mix until thickened, about 15-20 minutes. Fold peanut brittle pieces into the ice cream in the last 3 minutes. Scoop into a freezer safe container and freeze for at least 2 hours.
Share and Enjoy!
Nutrition Information:
Yield:
6
Serving Size:
6 people
Amount Per Serving: Calories: 758Total Fat: 57gSaturated Fat: 24gTrans Fat: 1gUnsaturated Fat: 27gCholesterol: 94mgSodium: 311mgCarbohydrates: 51gFiber: 3gSugar: 40gProtein: 16g

As an afterthought: This recipe is perfect for a family of four, so if you're planning on serving more guests, you'll want to either make several batches or you can double the recipe and use a classic 4 quart ice cream maker
. (Go the electric route here, though!) It's just too good to be had as a single scoop, and your guests will thank you for seconds!
Either way, it goes fast, so have your ice cream maker ready for another round as quickly as possible.