About a month ago, the good people over at POM wonderful sent me a package of their 100% pure pomegranate juice to try out. Since it got to the house I've been tying to figure out a way to do something a bit original with it, and I think I hit the nail on the head with this one. The pomegranate reduction was most definitely the star of the show here and I urge all of you to go grab the ingredients for this and give it a shot. You'll be glad you did, I promise!
The fennel and apple salad was a "by the seat of my pants" creation, but no less worthy than the reduction. It could serve well as a side salad for any meal and has a wonderful flavor, both with and without the pomegranate reduction. both components paired perfectly with the chicken, but would go equally well with pork or duck. I can't wait to try a few more combinations!
And Please don't let the complicated name on this dish scare you away from trying it. There really isn't anything complicated about it. In reality it is a combination of three very simple recipes. (Or if you would rather think of it as a complete recipe, it's a mildly complicated dish with three simple steps.) The reduction can be made up to two weeks in advance if you think you would have difficulty making it on the same evening, so prep can be spread out over time.
Have fun with it!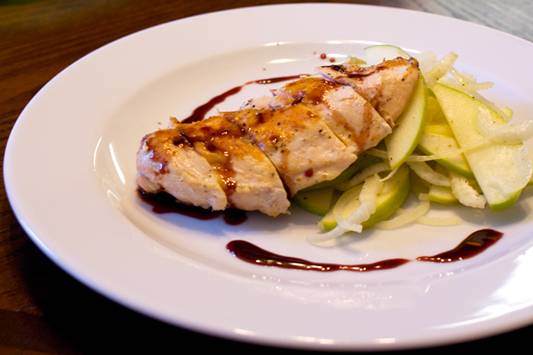 Yield: 2 servings
Pan Roasted Chicken with Pomegranate Reduction and Fennel Apple Salad Recipe
Prep Time: 10 minutes

Cook Time: 40 minutes

Total Time: 50 minutes
Ingredients
Pomegranate Reduction:
8 oz. pomegranate Juice
6 oz. white wine
1 1/2 tbsp. sugar
1/8 tsp. ground cloves
1/2 tsp. fennel seeds
Salt and pepper to taste
Pan Roasted Chicken:
2 boneless, skinless chicken breasts, approximately 8 oz. each
2 tbsp extra virgin olive oil
Salt and pepper to taste
Fennel Apple Salad:
1 medium fennel bulb, sliced
1 medium green apple, sliced fine or julienned
1/2 of 1 medium onion, cut in quarters and sliced fine
3 tbsp. extra virgin olive oil
1 tbsp. red wine vinegar
Salt and pepper to taste
Instructions
Pomegranate Reduction:
Place all ingredients in a 2 quart saucepan. Bring to a slow boil, stir to combine all ingredients, reduce heat and simmer until mixture has reduced by two thirds volume. Strain through a fine mesh sieve to remove fennel seeds. Store in a squeeze bottle or other airtight container until ready to serve.
If stored in a squeeze bottle, reheat by placing bottle in a pot full of warm water for a few minutes or microwave on medium for about 30 seconds.
Makes approximately 1/4 cup.
Pan Roasted Chicken:
Preheat oven to 350 degrees.
Season both sides of chicken liberally with salt and pepper. Heat a large oven proof skillet over medium flame. Add olive oil and swirl to coat pan. Place chicken carefully in skillet and sear on both sides (approximately 3 minutes per side.) Place skillet in preheated oven and cook for 15 – 20 minutes or until juices run clear.
Remove from heat and rest, covered loosely in aluminum foil for at least 10 minutes.
Fennel Apple Salad:
Mix olive oil, red wine vinegar, salt and pepper together in a large bowl. Add remaining ingredients and toss well, making sure to coat the apples well. Cover and refrigerate for at least 30 minutes, but no longer than one hour. toss lightly before serving.
Assembling the Dish:
Place approximately 1/2 cup of the salad on a serving plate. Slice a chicken breast into 5 1-inch sections and carefully lay over one side of the salad. Drizzle the chicken with approximately 1 tsp. of the reduction. Drizzle another 2 tsp. of reduction decoratively around the plate. Serve immediately.
Share and enjoy!
Nutrition Information:
Yield:
2
Serving Size:
1
Amount Per Serving: Calories: 748Total Fat: 39gSaturated Fat: 6gTrans Fat: 0gUnsaturated Fat: 31gCholesterol: 96mgSodium: 570mgCarbohydrates: 49gFiber: 5gSugar: 40gProtein: 37g


What I would have done Differently had I thought of it at the time:
I would have julienned the apples instead of slicing them. The sections were a bit large. I also think the salad would look a bit more vibrant with some more color… Maybe a little of the fennel tops, watercress or bok choy leaves?
Otherwise, both my wife and I highly recommend this one. The reduction is now a part of my permanent repertoire and I'll be making several variations on it in the future. Definitely a keeper!
Links to other recipes like this: