Chicken and apple is a pretty common combination and is made all across the country. The pairing is simple and it works well in a variety of situations. Top it off with the fact that chicken leg quarters are cheap and you have a real winner. Like any other very simple combination, the exact amounts of either chicken or apple and the method in which it is prepared are open to interpretation by the cook and really should be played with until it becomes the perfect representation of an individual cook's style. This version is very nearly what I would consider perfect.
I don't remember what inspired me to try this exact combination. More than likely it's a mish-mash of several different recipes I saw while watching Gordon Ramsay's kitchen nightmares, the F Word and the other cooking programs I bounce around the channels to catch, along with the 20 or so food blogs I visit on a daily basis. Whatever planted the original seed of an idea, it was firing up the smoker a few days ago that prompted it to grow to fruition.
I don't like smoking just one thing at a time. smoking anything requires a lot of time and an investment in fuel, so in my mind, it's the perfect excuse to use the smoker to make as much as I possibly can while I've got it fired. That way it doesn't feel like a total extravagance, but rather a chance to have a ready supply of smoked meats, cheeses or anything else that I think should have a nice smoky flavor on hand. Just smoke, then freeze whatever you aren't going to use in the near future. Preperation is key, and this is prep at its easiest.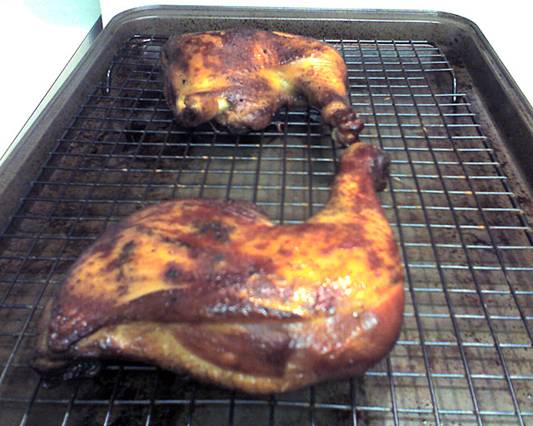 The chicken for this round were smoked for about 3 hours, then finished off in the oven, but a good store bought smoked chicken would work just as well. If you either do not own a smoker or can't buy smoked chicken locally, just add a few drops of liquid smoke to a bit of water, brush over a few pieces of chicken, wrap in foil and bake at 275 degrees until the chicken is done and you've got yourself a fair imitation without the work.
Please note that I do not season skin-on chicken that's bound for the smoker. The seasoning won't do anything for the chicken since the smoked skin is rubbery and rather inedible. I would definitely season a skinless or boneless-skinless cut however, since the seasoning would then have the opportunity to really affect the end product, rather than being peeled of and discarded.
This dish would work perfectly as a starter in a smaller portion if served with croutons or crostini, but it works just as well as a light main course when served simply as shown above. I highly recommend this one to anyone looking for a healthy light meal that won't weigh you down for the rest of the day, and if you're following Weight Watchers, you can enjoy a single portion at just 3 points, so definitely not a bad deal!
Yield: 4 servings
Smoked Chicken and Apple Salad
Prep Time: 10 minutes

Total Time: 10 minutes
Ingredients
Approximately 8 oz. smoked chicken, pulled or cubed (I hand-picked the meat from two smoked leg quarters)
1 medium granny smith apple, cored and sliced thinly
3 scallions, sliced
2-3 roasted red bell pepper segments, chopped
2 tbsp of your favorite Italian style salad dressing
salt and pepper to taste
(optional) a few romaine lettuce tips as both garnish or an addition to the salad.
Instructions
Place all ingredients except romaine in in a large bowl. Toss gently to dress.
Place 2 or 3 romaine tips on a serving plate. Mound 1/4 of the salad on the lettuce, arrange a few apple slices nicely on top.
Serve immediately.
Nutrition Information:
Yield:
4
Serving Size:
1
Amount Per Serving: Calories: 263Total Fat: 14gSaturated Fat: 3gTrans Fat: 0gUnsaturated Fat: 10gCholesterol: 55mgSodium: 206mgCarbohydrates: 19gFiber: 6gSugar: 11gProtein: 17g


What I would have done differently had I thought of it at the time:
In the photo shown above, I use a golden delicious apple, not a Granny Smith as directed in the recipe. The golden delicious, while good, simply wasn't tart enough to compliment as well as it should.
Also, the next time I make this (and there will be many more next times) I'm going to add some walnuts for a bit of added crunch. I'll also use a bit less chicken so that the apples really shine.
Links to other recipes like this: