Namasu is something of a mystical dish. This simple salad of daikon radish and carrots is as simple to make as the similar tsukemono (overnight pickles), but is ready in just about 15 minutes. Namasu has a tangy-sweet flavor and incredible crisp texture that makes it a perfect pair to rich fried foods or hearty soups.
In japan, namasu is traditionally served at the New Year, as red and white are considered to be celebratory colors. But this little gem of a salad, which is actually closer to what most Americans would call a slaw, and that makes it the perfect side dish for intensely flavored grilled meats or rich barbecue sauces. In short, it's a great summer dish.
To top it off, this dish is gluten free and completely vegetarian, so regardless of the crowd you have to please, namasu has got the bases covered. (If your friends happen to be vegan, you'll have to check to see if they avoid sugar, in which case you might opt for some other sweetener.)
But enough yapping. Let's make some Namasu!
Grab yourself a good vegetable chopping knife and lop yourself off 2 two-inch chunks of a daikon radish. Then get a healthy 2-inch chunk of carrot and peel all of them.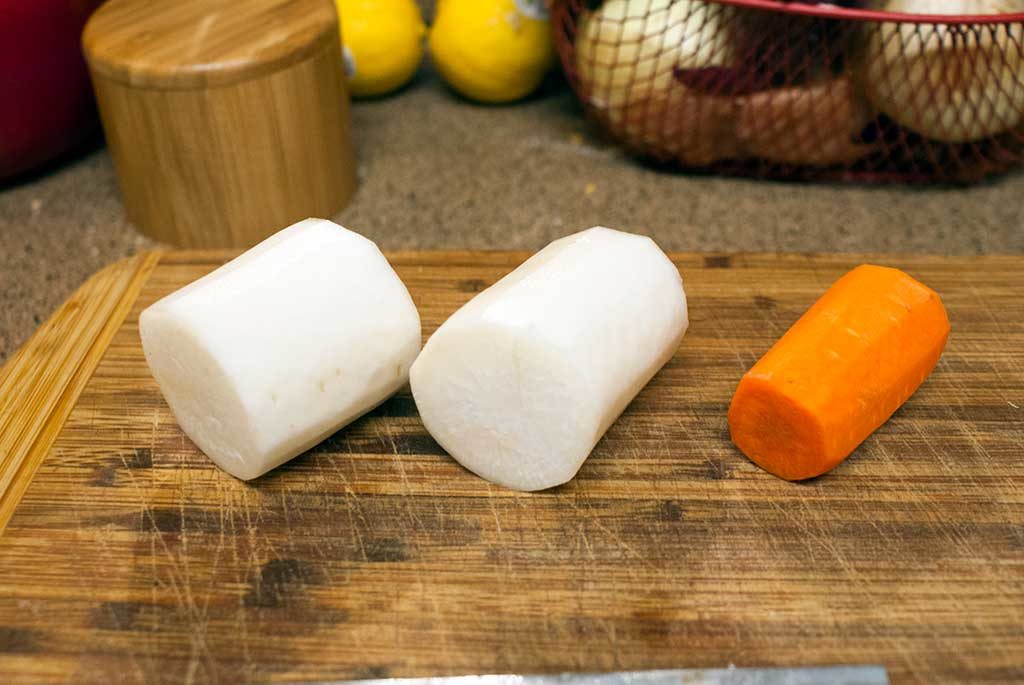 Next, slice all of your veggies into matchsticks by cutting through each lengthwise, then cutting those strips lengthwise.
Toss everything in a bowl with about a Tablespoon of kosher salt and give it all a good mix. Then go check your messages or something. Give this a good 5 to 10 minutes and let the salt do its magic. All done? great. Let's get back to it.
Set your veggies off to the side somewhere and whip up the dressing by mixing some sugar, water, seasoned rice vinegar, and just a bit of salt until everything is dissolved.
Now comes the hardest part of this whole thing…
Grab your bowl of veggies and grab yourself a handful of those veggies. Then squeeze the life right out of them. No. seriously. Squeeze them like water is your enemy and if you don't get it out you'll end up melting. This takes a bit of work, but it's O.K. It's worth it. This is the most important stem on making namasu, and you'll be rewarded for your efforts.
Just look at how much liquid the salt coaxes out of those veggies! But there's still more to do. Keep squeezing until your arms give out. (But seriously, it only takes a minute or two.)
Now that everything is as dry as we can get it, pour on your dressing and give everything a good stir.
Ad there you have it. From here you can either serve your namasu immediately, or you can cover it and toss it in the fridge for up to 2 days. It's up to you.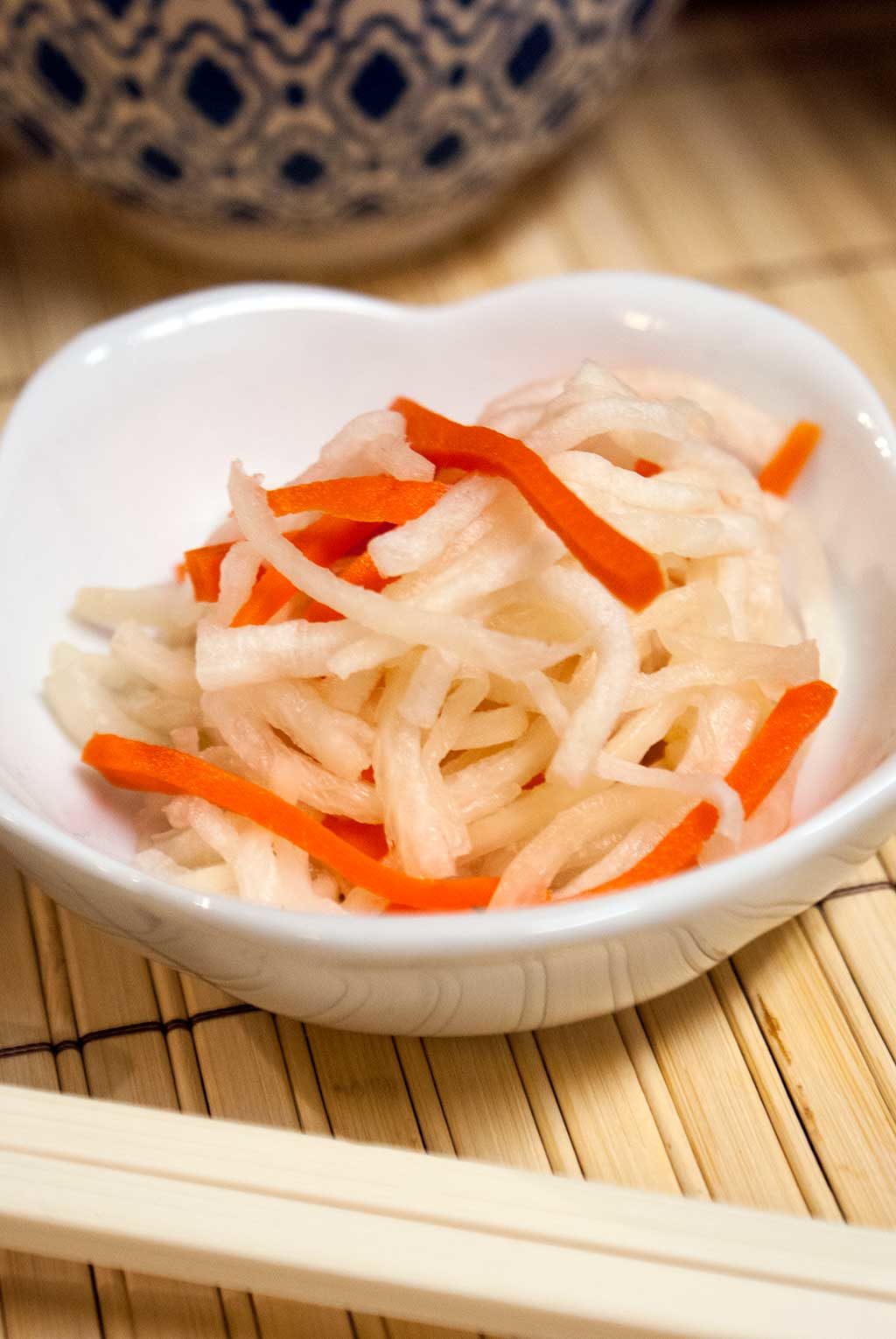 And now for the printable Namasu recipe:
Yield:

8 servings
Namasu (Japanese Daikon and Carrot Salad) - a perfect side for grilling
Namasu is a traditional Japanese salad made with daikon radish and carrots marinated in a sweet and tangy dressing. Traditionally served for New Years, but also a great side dish for summer grilling!
Ingredients
2 (2-inch long) pieces daikon radish, peeled
1 (2-inch long) piece of carrot, peeled (or roughly half as much carrot as daikon)
1 Tablespoon Kosher salt
Dressing:
1 Tablespoon granulated sugar
1 1/2 Tablespoons seasoned rice vinegar
1 Tablespoon water
1/4 teaspoon (or one good pinch) Kosher salt or sea salt
Instructions
Slice the daikon and carrots into long, thin strips lengthwise, then cut those sheets into strips. Place in a bowl with 1 Tablespoon Kosher salt and massage the salt into all of the vegetables. Set aside.
in a separate bowl, mix together sugar, rice vinegar, water, and salt until the sugar is completely dissolved.
Squeeze as much water out of the vegetables as possible using either your hands or a clean, lint free kitchen towel and transfer to a clean bowl. Discard liquid.
Pour dressing over vegetables and mix well to combine.
Serve immediately or cover and let stand in the refrigerator until chilled, if desired.
Notes
Most recipes I've seen for Namasu call for more sugar than I have added here, but I find they come out a bit too sweet, so I've backed the amount off. If desired, you can add another 1/2 Tablespoon sugar to the dressing if you've got a serious sweet tooth.
Nutrition Information:
Yield:
8
Serving Size:
1
Amount Per Serving:
Calories:

16
Total Fat:

0g
Saturated Fat:

0g
Trans Fat:

0g
Unsaturated Fat:

0g
Cholesterol:

0mg
Sodium:

893mg
Carbohydrates:

4g
Fiber:

1g
Sugar:

3g
Protein:

0g
What I would have done differently:
From all the recipes that I've read, namasu is generally sweeter than the recipe I've published here. The first batch I made was overwhelmingly sweet, at least to me, so I cut back on the sweetness. I know now it's because I used seasoned rice vinegar, which already contains sugar. So if you are using natural white vinegar, you'll want to adjust the sweetness levels accordingly.
Now, go share the #Cookoutweek love with some of my fellow food bloggers.
This week, I'm joining forces with over 40 food blogger friends to bring you delicious recipes perfect for every backyard BBQ, picnic, summer party, or cookout.
We also have a fabulous giveaway featuring products from the brands who have made #CookoutWeek possible! You can enter below to win:
This prize pack has an ARV of over $400! You have until July 1 at 11:59 PM to enter by following our sponsors and bloggers on social media:
Stay tuned… remember, throughout the week, all of the participating bloggers will be posting delicious cookout recipes. Here are all the bloggers who are part of #CookoutWeek 2017:
The PinterTest Kitchen • 2 Cookin Mamas • A Day in the Life on the Farm • A Kitchen Hoor's Adventures • Amy's Cooking Adventures • Ashees Cookbook • Baking Sense • Body Rebooted • Bottom Left of the Mitten • Chef Sarah Elizabeth • Cook's Hideout • Cookaholic Wife • Cooking with Sapana • Eat, Drink, Be Healthy! • Fairyburger • Faith, Hope, Love, & Luck Survive Despite a Whiskered Accomplice • Family Around the Table • Fix Me a Little Lunch • For the Love of Food • Full Belly Sisters • Hezzi-D's Books and Cooks • Home Sweet Homestead • Join Us, Pull up a Chair • Kate's Recipe Box • Kelly Lynn's Sweets and Treats • Little House Big Alaska • My Southern Sweet Tooth • Our Good Life • Oven Tales By Syama • Palatable Pastime • Rants From My Crazy Kitchen • Savory Moments • Seduction in the Kitchen • Sidewalk Shoes • That Recipe • The Freshman Cook • The Mad Scientists Kitchen • The Pajama Chef • The Redhead Baker • The Saucy Southerner • The Spiffy Cookie • The Weekday Gourmet • Tramplingrose • Turnips 2 Tangerines • Uncle Jerry's Kitchen
As one of the bonus entries in the giveaway, leave a comment on this blog post… what is your favorite dish to eat at a cookout?