Mentsuyu is a Japanese soup base used most often for soba and udon noodle dishes. (The name literally means noodle sauce) It's name is a little misleading, though. Mentsuyu is a base sauce and like any base, it's used for just about anything in Japanese cooking. With just a few additions here and there. I actually used it as glaze for a chicken earlier today, and it was crazy good.
A note. Mentsuyu is highly concentrated form of noodle broth and you have to dilute it when you're using it for soups. The ratio varies depending on the particular soup in question. For cold soups, it's usually about 1 part mentsuyu to 2 or 3 parts water, this is then called tsuketsuyu. For hot soups, it's 3 to 4 parts water to one part mentsuyu, and is then called kaketsuyu.
I know. It's all a little confusing in the beginning, but you can't learn how to cook great Japanese food without the basic recipes and at least some of the terminology. Don't worry too much about that now though, because the soup base is crazy simple to make.
First, pour some sake in a pot and bring it to a boil. (This isn't really necessary if using cooking sake, but what thee heck, I did it anyway.)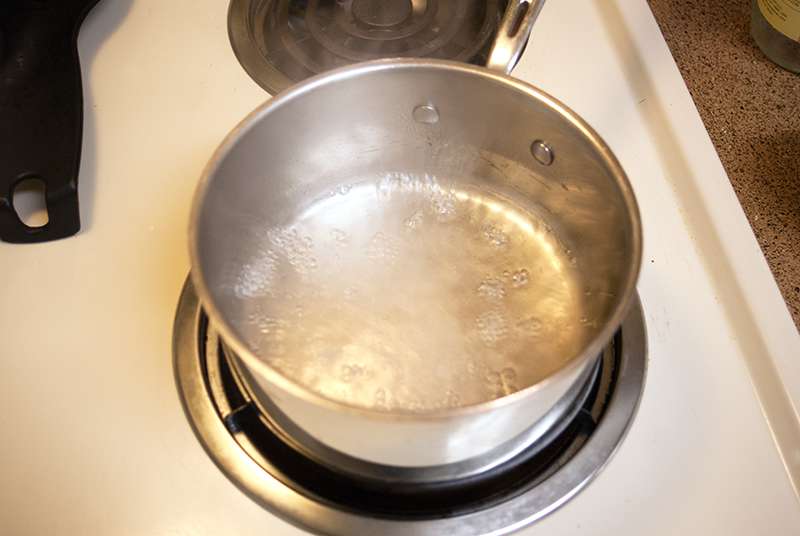 Add in your soy sauce and mirin.
Dump in the bonito flakes and kombu. Then bring it all to a boil.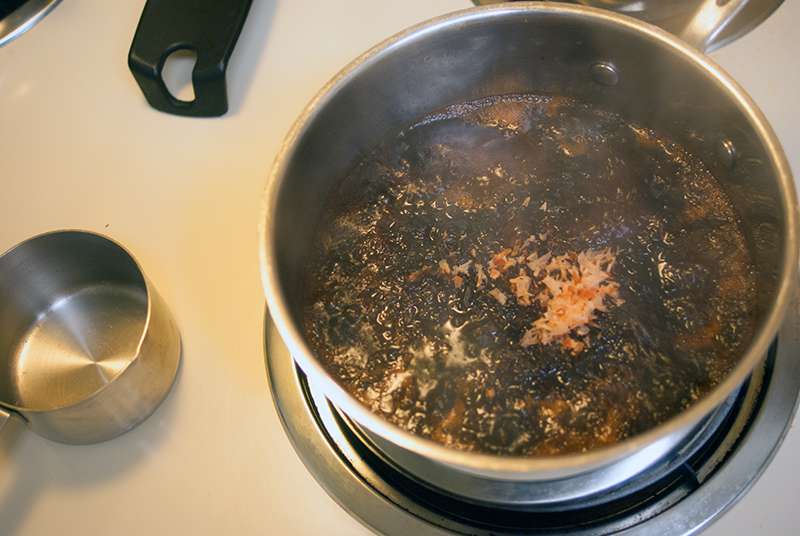 Remove from heat, cover and allow to cool to room temperature. Then strain.
And that's it kiddies. You have a batch of mentsuyu ready to go in your next Japanese inspired recipe. Obviously it's perfect for soups, but it's a great base for salad dressings, glazes, the start of some really amazing sauces and so much more. Once you get used to using it, you'll understand. Believe me.
Yield:

2 cups
Mentsuyu (Japanese Noodle Soup Base)
Mentsuyu is the classic Japanese soup base used for udon and soba noodle dishes. It's also great as a dipping sauce or as a glaze for chicken and fish.
Ingredients
½ cup sake
1 cup mirin
1 cup soy sauce
1 4x4 inch piece of kombu
2 4.4 ounce packets (approx 1 cup) packed Bonito Flakes
Instructions
Add sake to a medium saucepan over medium to medium high heat. Bring to a boil for a few seconds to help evaporate some of the alcohol. (Not necessary if using cooking sake)
Add the mirin and soy sauce and let come to a simmer.
Add kombu and bonito flakes. Let the mentsuyu come to a boil, then reduce heat to low and simmer for about 5 minutes. Remove from heat and allow to cool.
Strain through a fine sieve and store in an airtight container in the refrigerator for up to one month.
Notes
You can find all of the Japanese ingredients found in this recipe at most Asian grocers, but if you don't happen to have one handy, they can also be found on Amazon. These are the brands that I use and trust:

Cooking sake
Mirin
Soy sauce
Kombu
Bonito flakes
Nutrition Information:
Yield:
24
Serving Size:
1
Amount Per Serving:
Calories:

58
Total Fat:

0g
Saturated Fat:

0g
Trans Fat:

0g
Unsaturated Fat:

0g
Cholesterol:

11mg
Sodium:

1116mg
Carbohydrates:

5g
Fiber:

0g
Sugar:

4g
Protein:

6g
What I would have done differently:
Like any common recipe, mentsuyu has as many variations as cooks who make it. I think it's a fair bet to assume that most Japanese homes have their own slightly different recipes. When I was researching this, I found at least 20 different versions. Some depended on the region of Japan that the mentsuyu was made in,
In the south of Japan they like their sauces lighter and tend to use light soy sauce. In the colder northern regions of Japan, they use dark soy sauce for a deeper, richer dashi, or broth.) Some recipes called for bonito but not kombu, some called for kombu, but not bonito. (See what I'm getting at? It's up to the person making it as often as not)
I used a mashup of the most common ingredients and amounts that I found, so feel free to play with this one a little.
Links recipes that use Mentsuyu: