My family spent a lot of time making memories. Most of them revolve around food.
Some of my earliest childhood memories are connected to pot pies. While those were the frozen TV dinner variety, they were something I looked forward to after school on cold, rainy afternoons. Mom always seemed to know they'd make us feel better. They still do.
Those memories of a toasty-warm shabby little house are filled with love. Of laughter around the dining table (and homework *shudder*). They are moments that will linger with me whenever the wind howls and the rain dances off the rooftops. They are moments that can't be bought. They have to be made.
I'm very glad I have them.
My wife and I find ourselves wanting to make moments like these with our family. And for both of us that means holidays, togetherness, and yes, food.
So today, dear friends, I present you my wife's recipe for leftover turkey pot pie. A warm, comforting slice of mealtime perfection.
Let's jump into making some leftover turkey pot pie
First, let me start off by saying that this is not a healthy recipe. This is a simple, quick, off-the-shelf meal that you can make in just a few minutes. It's not complicated, but it is wonderful, and when it comes to comfort food, that's all that matters.
And now that I've said that, let's get into the ingredients:
For about four servings of leftover turkey pot pie, you'll need about 1 pound of leftover turkey, 2 cups of frozen mixed veggies, 2 cans of cream of mushroom soup and one cup of milk (Or you can use some leftover gravy, if you'd prefer.) You'll also need some refrigerated crescent rolls, or puff pastry if you'd like. Either one will work fine for this.
For this particular recipe, we found some cream of poblano soup. It's new at our local market and we thought we'd give it a shot.
(Full disclosure: This is NOT a sponsored mention. This just looked good, so we bought some. I don't know if you can find it outside of Texas, but if you're near an H-E-B, you can run down and grab some.)
First things first:
Preheat your oven to 375 F, or whatever temperature your pastry calls for.
Then pour your soup into a pot over medium heat and stir in a cup of milk.
Stir until smooth and heated through.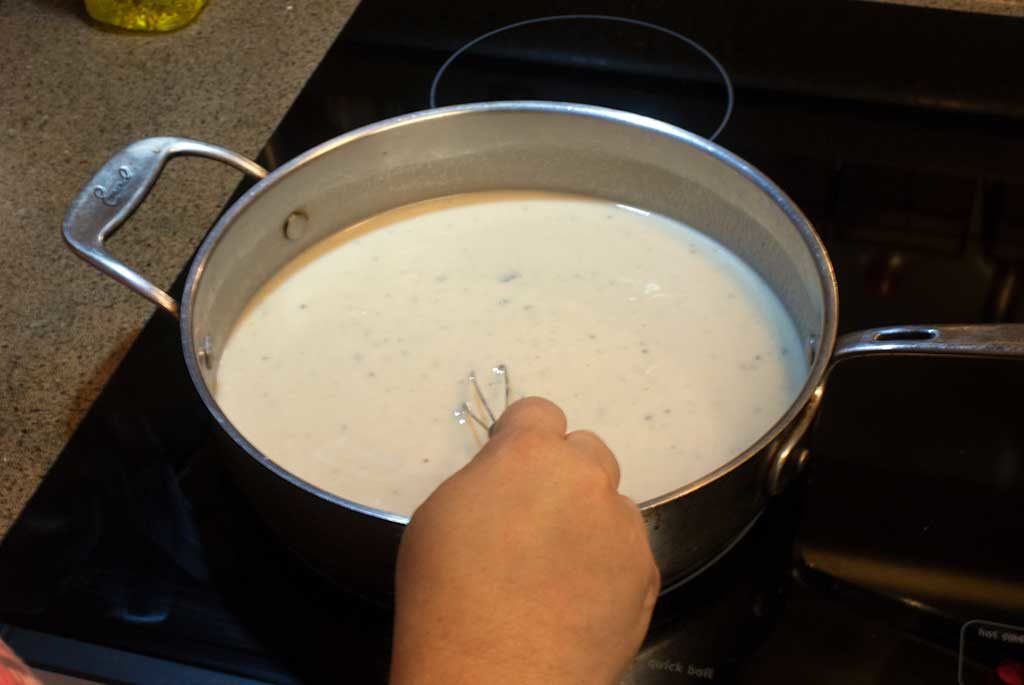 If you'd like, this is the perfect time to add a little seasoning. My wife likes seasoned salt, so she added a little in. this step is optional, so give it a taste and make sure it's to your liking.
Next, add in the turkey and the veggies. Yes, ours are still frozen, and yes, this is completely fine. This is a leftover dinner. It should be good, not complicated.
Cook until slightly bubbly and everything is heated through.
Roll out tour pastry until large enough to cover whatever dish you'll be cooking your leftover turkey pot pie in.
In our case, we used four mini loaf pans, so we shaped the dough into rectangles.
Note the little dish of water in the center of the photo. Use a dab of water to seal any tears in the pastry dough.
Load up whatever dish you'll be using with your pot pie filling. (Careful, it's hot!)
Then just crimp the edges of the dough over the edge of your dish. Press tightly to avoid leaks.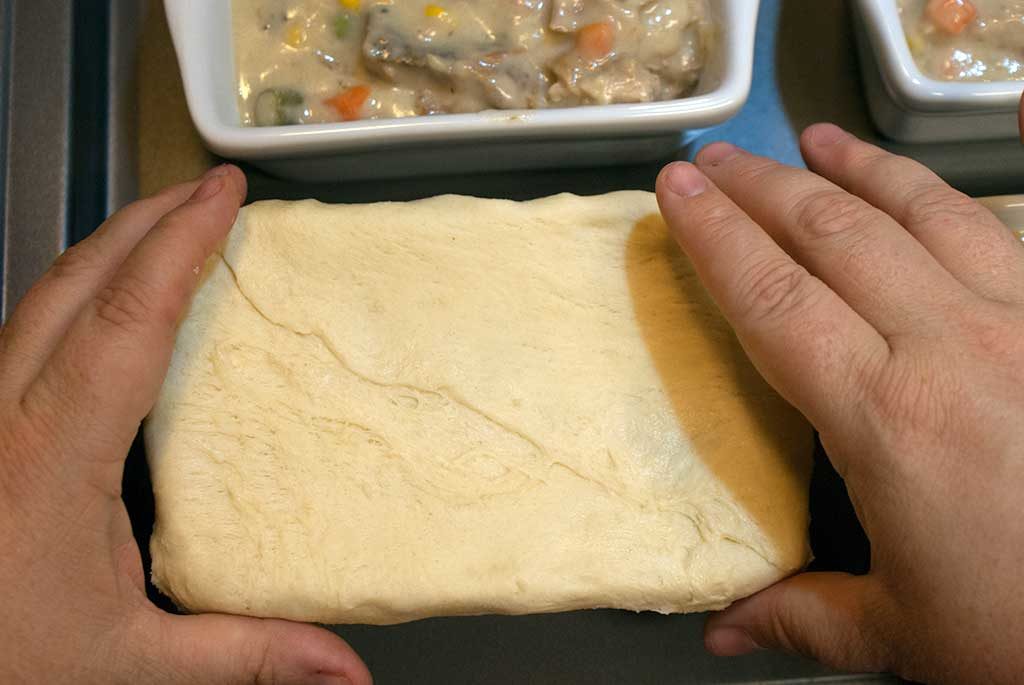 If making individual portions, repeat for each dish.
Poke a few holes through the tops of your pot pies to allow steam to vent. At this point you can brush them with an egg wash if you so desire, but since this is crescent dough, we skipped that step.
Then pop those little beauties into the oven until they're golden brown and delicious.
Gorgeous, aren't they? Just look at all that light, flaky crust.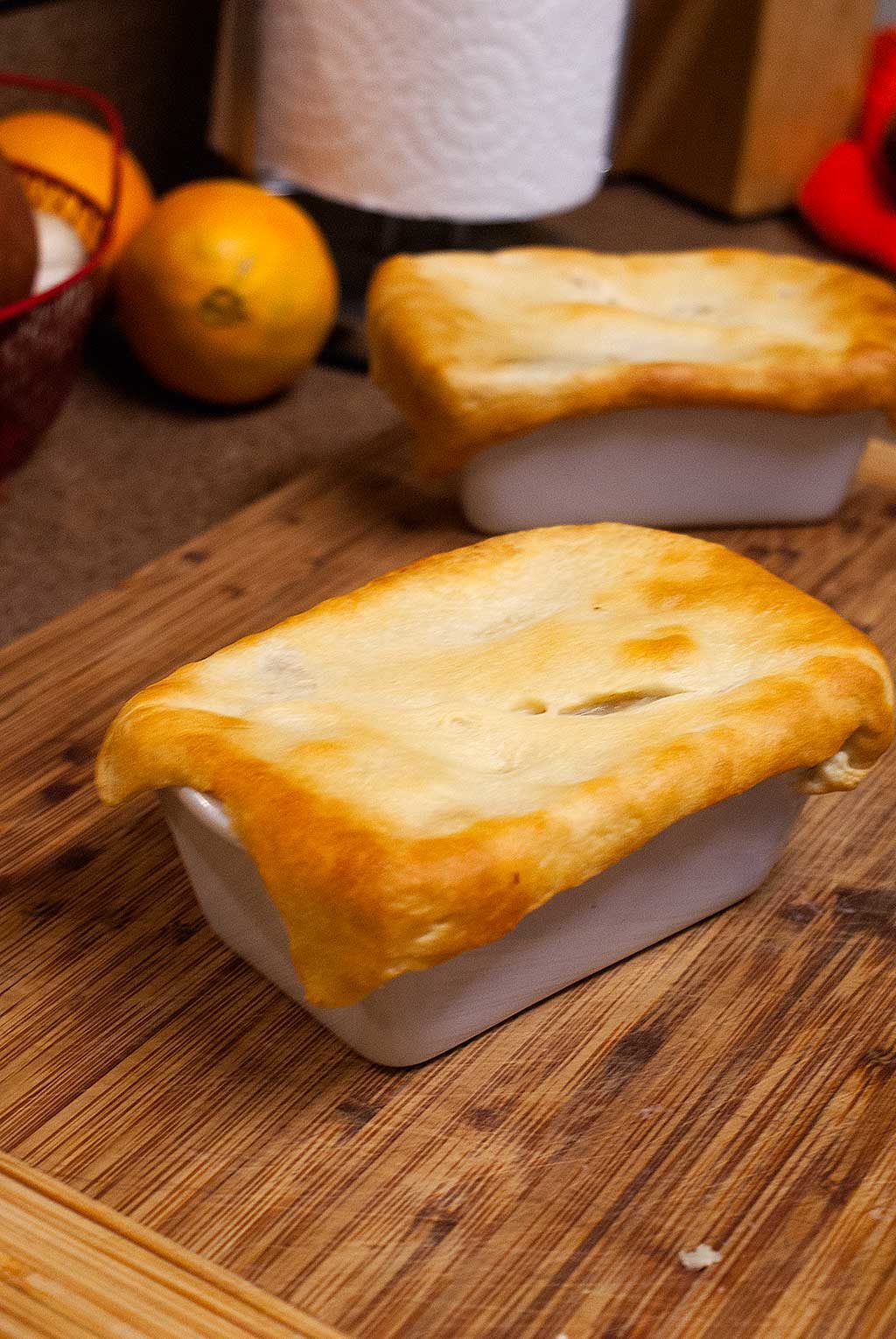 And on the inside? Succulent, juicy chunks of turkey, with a rich, creamy sauce and a ton of veggies.
When I say big meaty chunks, I'm not kidding. Of course you can cut yours smaller if you'd like.
Any way you look at this dish, it embodies comfort food. It's rich and decadent. It's a guilty pleasure to be eaten while wrapped in a blanket, laughing with family or friends. Or just as a soothing meal after a long day at work on a chilly Autumn day.
You can't go wrong with this one, guys.
And Now for the Printable Leftover Turkey Pot Pie Recipe:
Yield:

4 servings
Leftover Turkey Pot Pie
Leftover Turkey Pot Pie. Because leftovers should be warm, comforting, and simple. All you need is about 1/2 hour and a little crescent dough to make a satisfying and warming meal for the whole family.
Ingredients
Approximately 1 pound cooked turkey or chicken, cut in bite-sized pieces.
2 cups frozen mixed vegetables
2 cans condensed cream of mushroom soup (Or your favorite variety)
1 cup milk
Salt and pepper to taste
1 package refrigerated crescent or puff pastry dough
Instructions
Preheat oven according to pastry package directions.
Mix 2 cans condensed soup and 1 cup milk in a large saucepan or skillet over medium heat. Season to taste.
Mix in turkey and vegetables, stirring often, until heated through and slightly bubbly. remove from heat.
Roll out pastry and cut to size for the dish you'll be using. (This varies)
Fill pie tin or baking dish with soup mixture. Cover with crescent dough, pressing the edges down tightly. Poke several holes in the crescent dough to allow steam to escape.
Bake on a baking sheet in center rack of oven until pastry is golden brown and crisp. (Check package instructions for exact times.)
Remove from oven and let stand 5 minutes before serving.
Share and enjoy!
Notes
Don't have any leftover turkey? No problem. Use a pound of cubed rotisserie chicken from the grocery store. It'll be just as good!
Nutrition Information:
Yield:
4
Serving Size:
1
Amount Per Serving:
Calories:

807
Total Fat:

40g
Saturated Fat:

12g
Trans Fat:

0g
Unsaturated Fat:

25g
Cholesterol:

156mg
Sodium:

1805mg
Carbohydrates:

62g
Fiber:

6g
Sugar:

4g
Protein:

48g
What I would have done differently:
There's a lot you can do with this recipe if you want to. Add some potatoes for extra richness, change up the veggies to suit your preferences, heck, you could even make everything from scratch. But I think after the stress of the holidays, having a meal like this that you can just toss together and relax is comfort at its finest.
I hope Y'all enjoyed this recipe!
As always, We love you guys. You're the reason we've been fortunate enough to do this for almost 11 years. I don't know where we'd be without you.
We love sharing new recipes and tips with you and we hope you found this useful, or funny, or both.
If you did, please take a second to share this recipe on your various social media platforms.
Please, drop us a comment and, if you tried this out, leave a rating on the recipe. We love to hear from you.
Until Next time,
Food is love. Share and enjoy.