I Promise that this will be the last of my leftover turkey recipes for this year. By now we're both most likely getting tired of turkey.
(Personally, I'll be buying another while they're still on sale, but it will be getting cut down into component parts and frozen for when the urge strikes later in the spring.)
Leftover turkey stew is a simple method for taking those last little bits of turkey and turning them into something hearty and filling at the same time. It's warm, filling, hearty, and rich, but not all that guilty a pleasure in the end.
Total cook and prep time are less than 40 minutes, perfect for a quick meal after work or a good hot lunch on the weekends. The addition of a ton of potatoes takes the focus off of the turkey and puts it on the vegetables which, in this case is exactly where it belongs.
The best part of this dish though, is like most soups and stews, it's even better the next day. So feel free to make a large batch and toss it in the fridge. Better yet, freeze it, and you've got leftover turkey stew just waiting for you in the freezer on the cold winter nights to come.
Yes, it is just as heat-warming as it looks.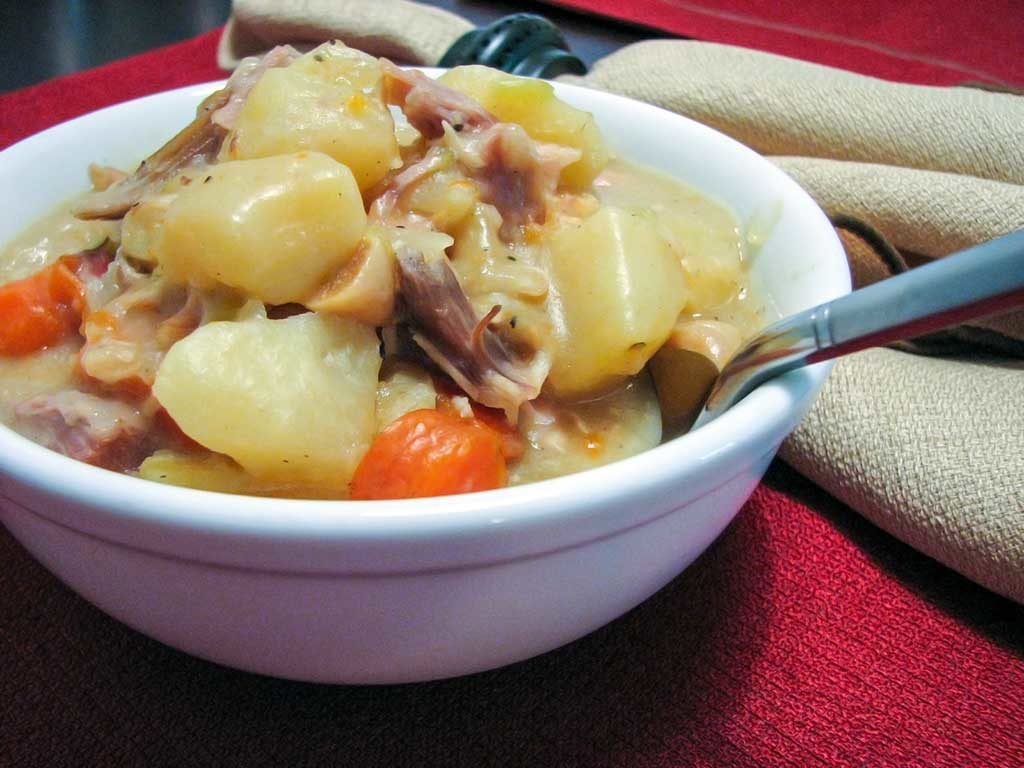 If you make this recipe, be sure to share it in the comments below, or on our Facebook page. We'd love to hear your thoughts on it. do you love or hate it. What other leftover recipes do you always make around the Holidays? We'd love to know!
And now for the printable Leftover Turkey Stew Recipe:
Yield:

8 to 10 servings
Leftover Turkey Stew Recipe
Ingredients
1/2 to 3/4 pounds of leftover turkey, torn into bite sized pieces.
2 carrots, cut in 1/2-inch pieces.
3 celery stalks, cut in 1/2-inch pieces
1 onion, chopped.
3 cloves garlic, minced.
4 potatoes, cubed in bite-sized pieces.
32 ounces chicken or turkey stock.
1 teaspoon dried sage.
1 teaspoon curry powder.
2 Tablespoons extra virgin olive oil.
Salt and pepper to taste.
Instructions
Heat olive oil in a soup pan over medium heat. Add garlic and cook for approximately 1 minute or until just browned. Add onions and cook until just translucent. Add celery, carrots potatoes and stock. Bring to a boil, reduce heat to low and simmer, covered for approximately 15 minutes, or until potatoes are nearly frork tender. Add sage and curry powder, stir to combine, cover and cook an additional 5 to 10 minutes.
Add turkey, stir to combine and cook just until turkey is heated through. Season to taste, remove from heat and serve immediately.
Share and Enjoy!
Nutrition Information:
Yield:
10
Serving Size:
1
Amount Per Serving:
Calories:

312
Total Fat:

17g
Saturated Fat:

5g
Trans Fat:

0g
Unsaturated Fat:

11g
Cholesterol:

123mg
Sodium:

180mg
Carbohydrates:

4g
Fiber:

1g
Sugar:

1g
Protein:

33g
What I would have done differently:
Nothing, really. At this point it's hard for me to think turkey at all. Perhaps I'll revisit this later in the year and see what I can come up with…
As for plating, I just tossed this in a bowl and ate it, but for a more festive approach, top with some fresh chopped parsley or celery leaves. Serve with a nice crusty bread or clover leaf dinner rolls.