One of the ways I cope with my wife being in Turkey for her grueling 15 month tour of duty is to try my hand at Turkish recipes from time-to-time. It helps the family feel somehow connected to her through food, knowing that she can probably purchase many of these recipes in the shops right off base.
It doesn't hurt that most of the recipes I've tried are fabulous. The flavor combinations sometimes seem odd, but the end result are dishes with flavors that can best be described as both ethereal and haunting. Turkish food so far has been a wonderful and enlightening journey for my family, one I'm glad we've taken together.
This particular dish is my favorite so far. This is no mean feat considering how much I and my family adored both the Havuçlu Haydari and Nane Limon that I've written about previously. This dish just somehow surpasses them.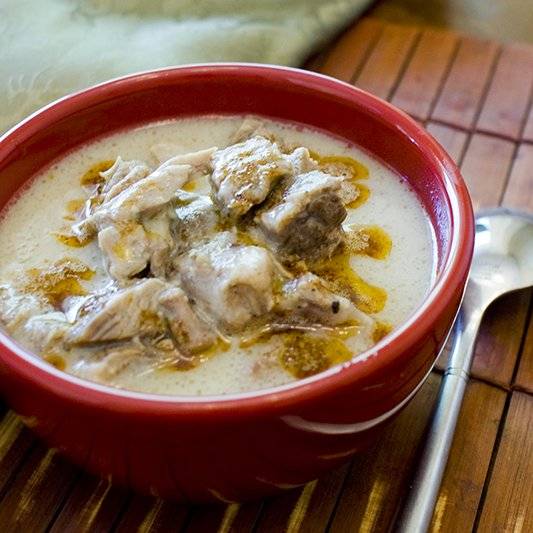 Tasting this was like discovering the soul of Turkish cooking. The flavors are simple, but surpassingly complex on the palate. This is the kind of perfection that Anthony Bourdain says can only come from peasant food. In this case, I agree. (Do you hear that, Ruhlman?)
The over the top part of Turkish soups is the use of a very thin custard in their making. This adds a mouth feel unlike anything I have previously eaten. It is both creamy and sumptuous, yet light enough for an extremely hot summer day. In fact, I find that I lack the words to properly describe it. You'll have to try it to see why, but I assure you it will be worth it.
Do you have a favorite lamb dish? A favorite dish from another cuisine? We'd love to hear about them. Drop a comment and share.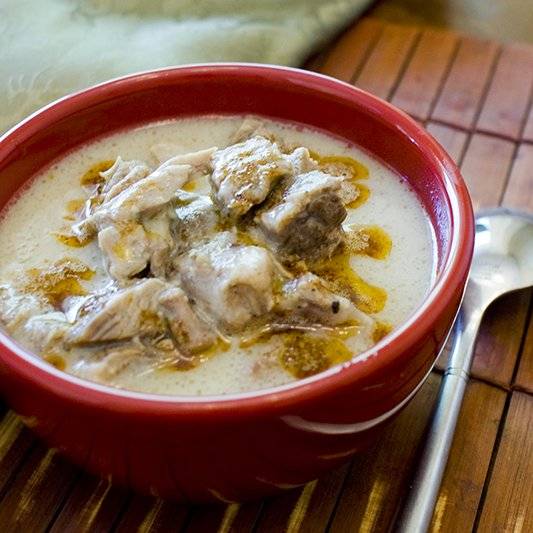 Yield: 8 servings
Lamb and Yogurt Soup - Finding the soul of Turkish cooking
Prep Time: 10 minutes

Cook Time: 2 hours

Total Time: 2 hours 10 minutes
Ingredients
1 1/4 pound lamb, on the bone (I used shoulder chops, but neck bones, shank, etc would work)
2 carrots, rough chopped
3 potatoes, rough chopped
1 cinnamon stick
3 Tbsp Greek yogurt
3 Tbsp all purpose flour
1 egg yolk
the juice of 1/2 lemon
Salt and pepper to taste
Instructions
Place lamb, carrots, potatoes and cinnamon stick in a large, lidded pan. Pour in 8 cups water and bring to a boil over high heat. Skim any scum that forms on surface and reduce heat to low.
Cover and simmer for 1-1/2 to 2 hours or until the lamb is nearly falling off the bone.
Remove lamb with a slotted spoon and place on a cutting board. remove meat from the bone and chop into small pieces.
Strain the stock, discarding the carrots, potatoes and cinnamon stick. Season with salt and pepper and place back in the pan over medium heat until just boiling.
in a deep bowl, whisk together the yogurt and flour. Add the egg yolk and lemon juice and whisk until thoroughly combined. ladle in approximately 1 cup of the hot stock, whisking constantly so that the egg does not curdle.
Reduce heat to low and pour in the yogurt mixture, stirring constantly until well combined.
Return the lamb to the pan and allow to heat through. (about 5 minutes)
Melt the butter in a small saucepan and stir in the kirmizi biber, paprika or chili flakes.
Ladle soup into bowls and drizzle the pepper butter over the top.
Serve immediately.
Share and Enjoy!
Nutrition Information:
Yield:
8
Serving Size:
1
Amount Per Serving: Calories: 311Total Fat: 16gSaturated Fat: 6gTrans Fat: 0gUnsaturated Fat: 8gCholesterol: 92mgSodium: 122mgCarbohydrates: 22gFiber: 2gSugar: 5gProtein: 20g


What I would have done differently had I thought of it at the time:
I wish I'd had a cinnamon stick so I would know if the flavors were the way they should have been
Links to other recipes like this: