This recipe is inspired completely by my wife, who told me about something similar she had in Turkey shortly after her return there. It's nothing more than Squeezed lemon, a bit of mint and sugar with boiling water added but like so many simple dishes the final product is something that is somehow ethereal and infinitely sublime.
Perhaps it's that this simple drink looks as magical as it tastes. The mint leaves and lemon pulp swirling slowly in the glass are equally as enticing as the combination of sweet, sour and savory that greets your tongue when you take a sip. sure, it could be made with perfectly strained lemon juice, but why in the world would you do that? It would take something away from the experience in my opinion.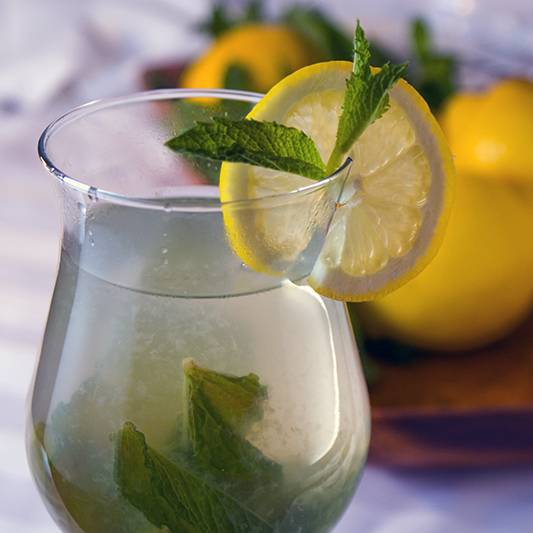 I have no idea what the Turkish name for this drink is, nor does my wife (Nor can she find the restaurant she had it in again.). I've searched all over trying to find it, but haven't been able to, so if anyone knows the proper name for this drink, please let me know.
Thanks to Oz for letting me know that this drink is called "Nane-Limon" or simply "Mint Lemon". I'm glad to have the proper name of the drink, but whatever you want to call it, it is extraordinary!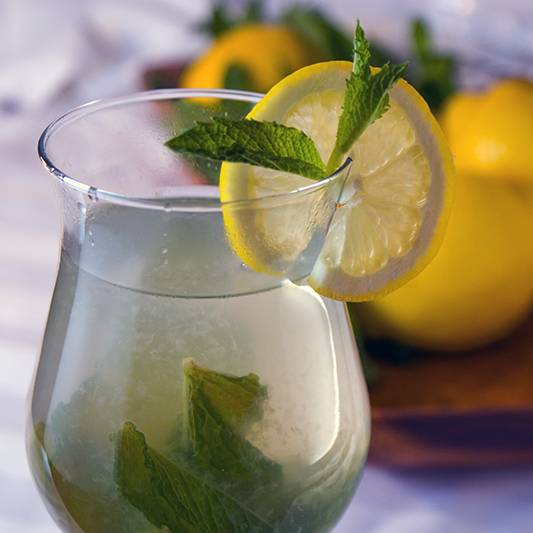 Yield: 1 cup
Lemon Mint Tea (Nane Limon), a Turkish delight
Prep Time: 5 minutes

Total Time: 5 minutes
Ingredients
6 ounces boiling water
1 lemon
4-5 fresh mint leaves
sugar to taste
Lemon slices and mint sprigs as garnish, if desired
Instructions
Squeeze lemon into a heat proof glass or cup. top off with boiling water. Add mint leaves and sugar. Stir gently until sugar is dissolved. Garnish if desired.
Share and Enjoy!
Nutrition Information:
Yield:
1
Serving Size:
1
Amount Per Serving: Calories: 98Total Fat: 1gSaturated Fat: 0gTrans Fat: 0gUnsaturated Fat: 0gCholesterol: 0mgSodium: 28mgCarbohydrates: 27gFiber: 9gSugar: 10gProtein: 4g


What I would have done differently had I thought of it at the time:
After I showed my wife the photos, she told me that when she was served this drink, the shop owner wrapped a lemon wedge in mint leaves and dropped it in the cup. I think this works just as well though, don't you?
Links to other recipes like this: