I couldn't exactly throw up a recipe on Independence Day without that dish being grilled, now could I? So here you have it, my prerequisite grilled Fourth of July dish and my entry for the fourth Frugal Fridays Food Event, Korean-Style Short Ribs.
Korean style ribs are also called flanken style ribs, and are cut in thin strips across the bone rather than along the bone as in your "Standard American" beef rib. I've been itchin' to cook something with these ribs since the first time I saw them, but it wasn't until this week that I finally grabbed a package and gave it a go. Let me tell you folks, I'm extremely glad that I did!
The Marinade recipe is adapted from one I found on epicurious, with modifications to suit my tastes and the amount of ribs I was using. (Their recipe called for 5 pounds of ribs and I was feeding 2 people, so I halved everything.)
If you're wondering why there are only four ribs in this photo, it has nothing to do with portioning. The carnage at the scene of the grill was something any horror film director would have been proud of. The ribs never stood a chance. I almost feel sorry for them, or I would have if I hadn't fallen fairly quickly into a food induced coma.
I can't recommend this marinade highly enough. The ribs were moist, packed with flavor and succulent beyond belief. The slight char (seen above) that was caused by a hot-spot flare up on the grill only served to make the few ribs that got singed even better than they were before… I swear, I HAVE to make these again… Often.
Now, as for how this qualifies as Frugal Fridays material.. A quick breakdown goes like this …
Most ingredients were left over portions from other FF meals. Total cost… $0.00 for this round. The ribs totalled in at $4.50. The rice we had on the side, maybe 40 cents, including the green onions. So in reality, I could have fed close to eight people for just a dollar or two more and one more inexpensive side dish, all for well under $10.00.
Now go make these ribs… Right now… Yes, YOU! Go. You'll thank me for it.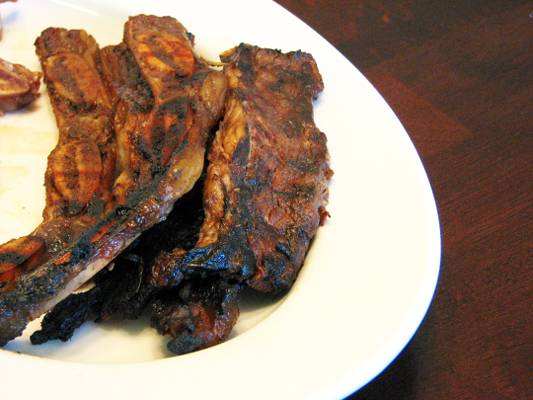 Yield: 4 servings
Korean-Style Short Ribs Recipe
Prep Time: 10 minutes

Cook Time: 6 minutes

Total Time: 16 minutes
Ingredients
1/2 cup soy sauce
1/4 cup mirin (a sweet Japanese Rice Wine) or Sherry
1/4 cup dark brown sugar (measure packed)
1/8 cup unseasoned rice vinegar
1/8 cup roasted sesame oil
Approximately 7 cloves of garlic, minced
3 good sized green onions, chopped
2.5 pounds Korean-style short ribs (also sold as flanken-style ribs)
Instructions
Toss everything except ribs in a bowl and whisk to combine (or just toss it all in a food processor and puse a few times, it's faster). Pour into a large resealable storage bag. Ad ribs. Toss to combine. Refrigerate overnight, turning bag occasionally.
Drain ribs and discard marinade. Toss on a good hot grill for about 3 minutes per side. Remove hands from vicinity, as anyone standing close by is likely to eat anything that's anywhere near the ribs themselves.
Share and enjoy!
Nutrition Information:
Yield:
4
Serving Size:
1
Amount Per Serving: Calories: 978Total Fat: 68gSaturated Fat: 29gTrans Fat: 4gUnsaturated Fat: 38gCholesterol: 284mgSodium: 2056mgCarbohydrates: 17gFiber: 2gSugar: 12gProtein: 75g


What I would have done differently had I thought of it at the time:
I would have made this sooner…
Links to other recipes like this: