Slow cooked, rich, sumptuous and packed with flavor. Braised short ribs are well worth the time and effort to make them. If you've had a dish like this before, you know what I'm talking about. If you haven't, shame on you! Rush down to the store right this minute with a printed copy of this recipe and get cooking!
You'll be glad you did, I assure you.
Go ahead, I'll wait…
…
Are you back with the ingredients? Good, I'll continue.
Meals like this can be cooked on the stove, but I prefer the oven method, mostly because I don't have to worry about charring the bottom of the dish. The oven gives more control over the process, but this is also a great slow cooker dish. Just sear your ribs first, then deglaze that pan with onions and wine, add everything to the slow cooker and set it to low, forget it for 8 hours and viola! Perfect braised numminess each and every time.
Any way you cook these, just do.
You won't regret it. This might not be the best picture I ever took of a finished dish, but the ribs themselves are completely out of this world.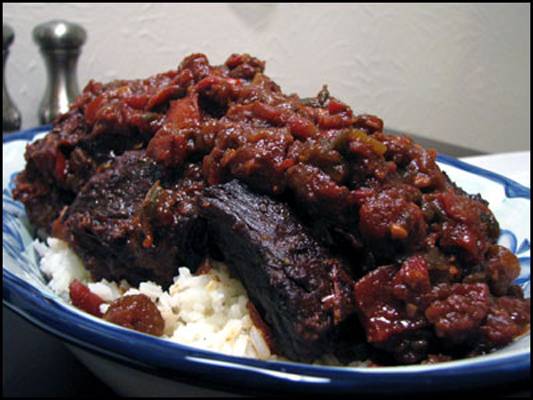 Yield: 4 servings
Braised Beef Short Ribs Recipe
Prep Time: 10 minutes

Cook Time: 4 hours

Total Time: 4 hours 10 minutes
Ingredients
2 lbs boneless short ribs
1 onion, chopped
4 stalks celery, chopped
4 carrots, chopped
1 1/2 cup chopped bell peppers (I used frozen assorted, just for the sweetness of the reds and yellows)
1 14oz. can beef broth
1 13.5 oz. can diced tomatoes
3 cloves garlic, chopped
1 cup zinfandel or other dry red wine
2 tbsp. Worcestershire sauce
2 tbsp. red wine vinegar
2 tbsp dried ground rosemary
1 tbsp. chili flakes
1 tbsp. thyme
Instructions
Pat ribs dry and season with salt and pepper. In a dutch oven or heavy bottomed oven safe stock pot, heat oil over medium-high heat until hot, but not smoking. Brown ribs in batches transferring to plate or large bowl.
Add onions to pot, and cook over medium heat, stirring frequently, until golden. Add Garlic and cook for another minute. Add wine, tomatoes, broth, Worcestershire sauce, rosemary and salt. Bring to a boil. Add ribs, including any juices that accumulated in bowl or on plate and simmer, covered for 30 minutes.
Add Carrots, celery, and remaining spices, stirring and pushing down to make sure they are covered in liquid. Place in a preheated 325 degree oven for 3 1/2 to 4 hours or until meat is tender. Remove meat and veggies from pot with a slotted spoon. Reduce braising liquid, if necessary. Return meat and vegetables to liquid and simmer until heated through.
Nutrition Information:
Yield:
4
Serving Size:
1
Amount Per Serving: Calories: 867Total Fat: 52gSaturated Fat: 23gTrans Fat: 3gUnsaturated Fat: 29gCholesterol: 227mgSodium: 796mgCarbohydrates: 22gFiber: 6gSugar: 9gProtein: 62g


Plating:
I think that this is too rich to be served on its own, and I prefer it served family style over rice in a large serving bowl in the center of the table. If you like an extremely rich stew on its own, feel free. Sprinkle with parsley if desired and enjoy!
What I would have done differently had I thought of it at the time:
I think I would have skipped the celery and gone with pearl onions, which is the classic method. Otherwise I absolutely loved this dish, and so did Mrs. seat of her Pants. It's hot,hearty and warming. The perfect thing for a cool Autumn night.
Links to other recipes like this: