As promised, my smoker was up and running well before sunrise this morning. As I write this, 2.8 pounds of beef brisket and 3.4 pounds of Boston Butt Pork roast are transforming from "just meat" to barbecue.
(Sorry Biggles, I know Meathenge labs doesn't consider any cut of animal to be "just meat")
The first step in any real Texas Barbecue is the dry rub. I know that Northerners sometimes prefer a wet method and that's just fine with me, but around here that ain't barbecue, and we're doing this Texas style, which means using a dry barbecue rub. Don't let it put you off, it's really simple to do.
This is a new rub for me. It was adapted from Jim Goode's Beef Rub because to be honest if I'm going to try a new barbecue rub, I'm going to base it on the rub used by Houston's #1 Pit man. The modifications made were due either to my inability to read at 4:45 am or the lack of a specific spice in my pantry.
So here we go kiddies! Step One for honest-to-Texas barbecue…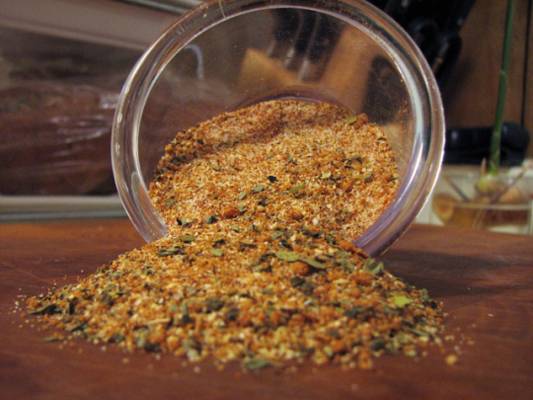 Yield: 1 cup
Jerry's Texas Barbecue Rub Recipe
Prep Time: 5 minutes

Total Time: 5 minutes
Ingredients
1/4 cup fine sea salt.
1 1/2 tbsp. brown sugar
2 tbsp. Hungarian Paprika
2 tbsp. garlic powder
2 tbsp. onion powder
1 1/2 tsp. died basil
1 tsp. crushed dried bay leaves
3/4 tsp. ground coriander
3/4 tsp. ground savory
3/4 tsp. dried thyme
1 1/2 tsp. ground black pepper
1/8 tsp ground cumin
Instructions
Mix all ingredients together well. Store in an airtight container until used. (Makes approximately 1 cup rub)
Nutrition Information:
Yield:
50
Serving Size:
1
Amount Per Serving: Calories: 5Total Fat: 0gSaturated Fat: 0gTrans Fat: 0gUnsaturated Fat: 0gCholesterol: 0mgSodium: 567mgCarbohydrates: 1gFiber: 0gSugar: 0gProtein: 0g
What I would have done differently…
It's still too early to say, really. I'll let you know after I've tried it.
Nothing. Absolutely nothing. This is a seriously good barbecue rub!