What is a cowboy cookie? Where did it get its name? I have no idea, but if you ask me, this is just about the best cookie you'll ever get yer grubby lil' paws on, and I can't exactly send you warm holiday wishes from the great state of Texas without sharing the recipe for these incredible cookies. Honestly, they're so good that you'll want to tie on the feed bag for more than one or two.
O.K., enough with the western slang already! You're in Texas, we get the point!

These are not the official Laura Bush Governor's Mansion Cowboy Cookies, but rather a recipe received from an Airman (of unknown rate and rank) stationed in Minot, North Dakota, and to be honest, I like this version better than the First Lady's, simply because it's not as sweet. Having said that I have to tell you that they are still very sweet, chocolaty and nutty, with just a hint of coconut flavor hovering somewhere in the background. The oatmeal gives these cookies a very satisfying texture, and if you try hard enough you can convince yourself that there might just be something healthy about them. (Oatmeal lowers cholesterol, right? Right!!!)
And in the spirit of the Holidays and in respect to Texas herself, I just had to make one monster of a cookie. This is something we did as kids, when there wasn't enough dough left to make a full sheet of cookies. Mom would make two really big ones, just to keep the natives in line.
Yup, it's the same plate! did you used to make a couple of monster cookies at the end of a batch? do you still give in to the temptation at times? You should!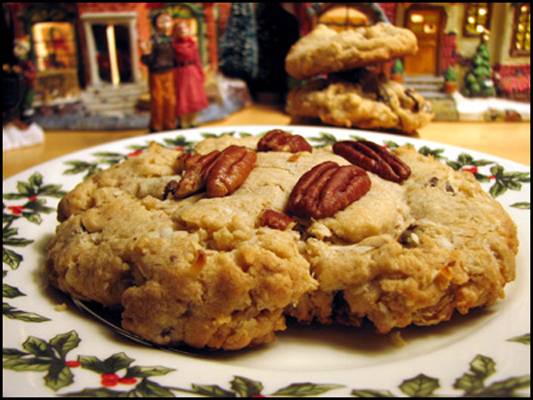 Yield: 32 cookies
Cowboy Cookie Recipe
Prep Time: 5 minutes

Cook Time: 10 minutes

Total Time: 15 minutes
Ingredients
1 cup shortening
1 cup granulated sugar
1 cup brown sugar
2 eggs
1 tsp. vanilla extract
2 cups all-purpose flour
1 tsp. baking soda
1/2 tsp baking powder
1 pinch salt
2 cups old fashioned oatmeal
1/2 cup chopped pecans
1 6 oz. package chocolate chips
1/2 cup shredded coconut
Instructions
Cream shortening, granulated sugar and brown sugar with a hand mixer or electric stand mixer. Add eggs and vanilla, beat until well blended. Mix in flour, baking soda salt and baking powder.
Add remaining ingredients and mix to combine. (If using a stand mixer, you may want to switch to a dough hook at this point.)
Spoon cookie mixture onto greased cookie sheet. Bake for 8 to 10 minutes, or until bottom edge of cookie is golden.
Transfer to a wire rack to cool.
Nutrition Information:
Yield:
16
Serving Size:
1
Amount Per Serving: Calories: 381Total Fat: 20gSaturated Fat: 8gTrans Fat: 0gUnsaturated Fat: 11gCholesterol: 30mgSodium: 125mgCarbohydrates: 48gFiber: 2gSugar: 31gProtein: 4g



What I would have done differently had I thought of it at the time:
According to my wife, these are perfect. Who am I to argue with that? besides, I made 'em all by my lil' self, and they are perfect, even if I do say so myself!
Links to other recipes like this: