O.K. I know I'm late with this one, but I swear it's for a good reason, which I'll get to at the end of the intro…
This round of the 12 Days of Cookies takes us back to 1977. The radio and 8 tracks all over the country were playing Barracuda by Heart and Back in the Saddle by Aerosmith. The top draw in theaters was Close Encounters, Disney's The Rescuers and a movie that broke all the rules without breaking any at all, a little number called Star Wars. We all crowded around the Television at night to watch such wondrous entertainment as Laverne and Shirly, Happy Days and M*A*S*H. Gourmet Magazine proclaims the Irish Coffee Crunchie it's top pick cookie from all the recipes printed that year, they have good reason to do so.
These little bites are absolutely fabulous. They are über crunchy, slightly sweet and have just the slightest hint of the whiskey that went into their making. They're sure to satisfy both young and old, but I think an adult palate will appreciate them more.
(Yes I said young and old. With a total of 4 tsp. whiskey used in the recipe and 1/2 of that baked, you aren't looking at enough in the way of content in 18 cookies to bother with. Worry about the sugar, not alcohol.)
Will I make them again. Oh, yes! Often.
Now, as for why this post is a day out of sync… Last night as I was waiting for the icing to dry I got word from my wife. We've got orders. She's going on a 15 month tour in Turkey by August of next year. The kiddo and I will be heading for California for at least the time she's gone. (Hopefully we'll have a follow-on there so that we only have to do the move once, but we'll see.) It's bittersweet news, but it's definitely time for us to leave this place, so even with the imminent separation, we're both very happy.
I promise that I'll get caught up this weekend.
Now go make these cookies… And don't nip on the Jameson until you're done with the bakin'!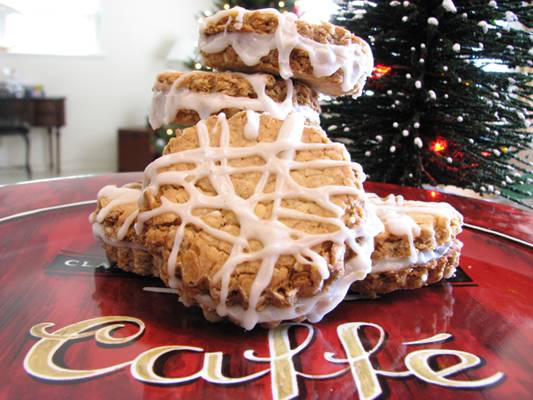 Yield: 24 cookies
Irish Coffee Crunchies Cookie Recipe
Prep Time: 10 minutes

Cook Time: 15 minutes

Decorating Time: 1 hour

Total Time: 1 hour 25 minutes
Ingredients
1/2 cup unsalted butter (1 stick), softened
1/4 cup sugar
4 tsp. Irish whiskey
4 tsp. strong coffee
2 tsp. heavy cream
2 cups quick-cooking oats
1 cup all purpose flour
1 tsp baking soda
1 1/2 cups confectioners' sugar
3-5 tbsp. boiling water
Instructions
Preheat oven to 350 degrees.
Cream butter and sugar in a large bowl or the bowl of a stand mixer until light and fluffy. Beat in 2 tsp. Irish whiskey, 2 tsp. strong coffee and 1 tsp. heavy cream. Add oats, flour and baking powder. Combine mixture by hand until it forms a dough.
Roll out dough on a floured surface to 1/8 inch thick. Cut rounds with a 2 1/2 inch round cookie or biscuit cutter. Bake rounds on a buttered cookie sheet, on a cookie sheet lined with buttered parchment paper or on a silicone mat for 15 minutes or until lightly browned. Transfer to a cooling rack and allow to cool completely.
In a small bowl, combine 2 tsp. Irish whiskey, 2 tsp. strong coffee and 1 tsp. heavy cream. Add 1 1/2 cups confectioners' sugar to a large bowl and add whiskey mixture and 3 tbsp. boiling water. Stir to combine. If mixture is too thick, add more water 1 tsp. at a time unil a spreadable consistancy is achieved.
Spread icing on 1 cookie round. Top with another round. repeat for all cookie rounds. Place rounds on a cooling rack and drizzle with icing. (a spoon or a honey drizzler work great for this). Allow to sit several hours to allow icing to harden.
Share and Enjoy!
Nutrition Information:
Yield:
12
Serving Size:
1
Amount Per Serving: Calories: 232Total Fat: 9gSaturated Fat: 5gTrans Fat: 0gUnsaturated Fat: 3gCholesterol: 21mgSodium: 108mgCarbohydrates: 35gFiber: 2gSugar: 18gProtein: 3g


What I would have done differently had I thought of it at the time:
Yeah. Ummm. Nothing! These things are fabulous!
My co-conspirators: