Have you been looking for a simple dessert that can be whipped up with next to no effort at all? One that everyone will think you slaved over, even if you only have a few minutes to throw it together? If so, we've got the perfect dessert for you. Individual blueberry pies that you can make in just a few minutes.
This dish came about when my wife randomly stated that she would like some blueberries. She rarely asks for anything specific and even less often asks for something sweet, so I wandered into the kitchen and scoped the pantry.
Yep, we had canned blueberries. No problem.
Now I'm not saying that these little guys are quite as wonderful as a fresh blueberry pie (Recipe coming soon!), but in a pinch, they're worth the time and (lack of) effort. I had no complaints from anyone at the table that night and all four of these little morsels was devoured in haste.
Cooked by the seat of my pants, Family approved. I hope that your family likes them as much as mine did.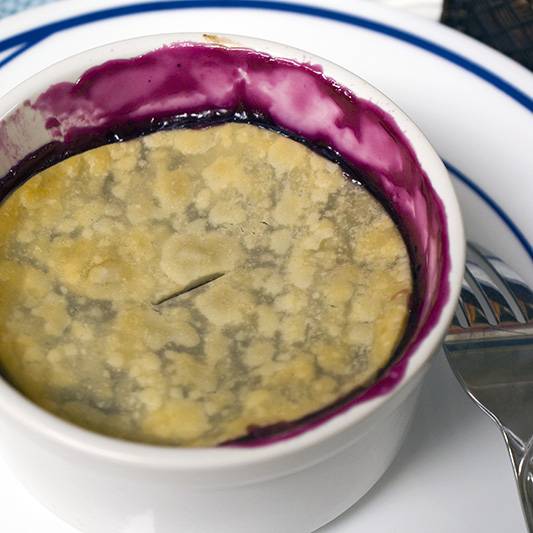 Do you have any go-to shortcut desserts? If so, we'd love to hear about hem, so let us know!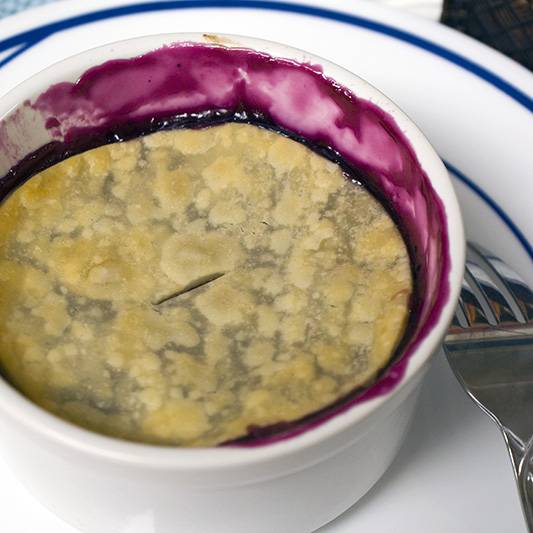 Yield: 4 mini pies
Individual Blueberry Pies - A quick and easy dessert on a whim
Prep Time: 5 minutes

Cook Time: 35 minutes

Total Time: 40 minutes
Ingredients
2 14.5 ounce cans blueberries
6 tablespoons sugar (more or less according to your preference)
3 tablespoons cornstarch
4 tablespoons lemon juice
1 tablespoon unsalted butter
1 pie crust (refrigerated is fine)
Instructions
Preheat oven to 400 degrees F. Drain the berries and reserve the syrup from one can. Stir the blueberry syrup into the combined mixture of the cornstarch and half of the sugar.
Cook over medium heat, stirring constantly until thickened. Gently stir in remaining sugar, blueberries and lemon juice. Let stand for 5 minutes
Fill 4 ramekins 2/3 full of blueberry filling mixture. Top with a round of pie crust cut to the size of the ramekin. (about a 3-inch ring in my case). Cut a small "X" in the crust to allow steam to escape.
Bake for 30 minutes or until filling is bubbly and crust is golden brown.
Nutrition Information:
Yield:
4
Serving Size:
1
Amount Per Serving: Calories: 386Total Fat: 14gSaturated Fat: 5gTrans Fat: 0gUnsaturated Fat: 8gCholesterol: 8mgSodium: 186mgCarbohydrates: 64gFiber: 4gSugar: 32gProtein: 3g


What I would have done differently had I thought of it at the time:
Well, fresh blueberries would top the list, but I'm thinking that a little orange juice would be nice here as well. I'll have to try that next time 'round.
Links to other recipes like this: