If you're going to take the time to make homemade hamburger buns, there's no point in stuffing them with some ridiculous store bought patty. You've got to throw some big flavors in to make it worth the effort.For this round chicken marinated in Greek vinaigrette sounded like a plan, but what would I top that with? Just throwing some lettuce at it would never do.
A quick look around gave me an idea. In the crisper was some baby spinach that was definitely looking neglected and droopy and there were mushrooms on the counter from last nights dinner. Perfect, chicken topped with sautéed spinach and mushrooms should make for a huge smile when she walked in for lunch. (One of the advantages of living on base. I see my wife at least once through her workday!)
I grilled the chicken in this instance, but this could just as easily be made in a pan or grill pan. I'm not a fan of clam shell grills, but if you are, go with the Foreman, I suppose. It'll be ready in a snap. As for the potatoes on the side… Well, I'm saving those for tomorrow, just because I love them so much that I think they deserve their own post…
Don't you?
Now back to the sammich!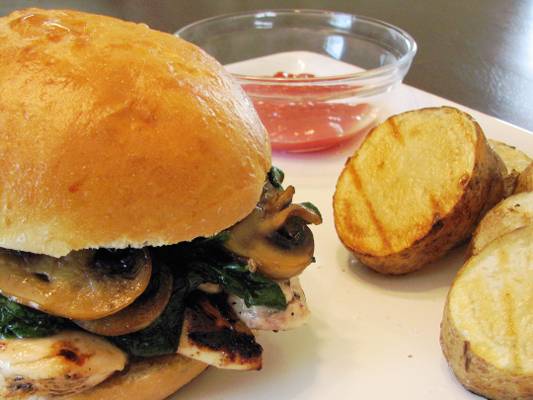 Yield: 6 servings
Grilled Mediterranean Chicken Sandwich Recipe
Prep Time: 10 minutes

Cook Time: 20 minutes

Total Time: 30 minutes
Ingredients
1 hamburger roll (homemade if possible)
3 chicken breast tenderloins
1/4 store-bought Greek Vinaigrette
4-6 button mushrooms, sliced
Approximately 3 handfuls baby spinach leaves
1 clove garlic, sliced fine or minced
4 tbsp olive oil
salt and pepper to taste
Instructions
Place chicken tenderloins in a zip top bag and cover with Greek vinaigrette. Allow to marinate in the refrigerator for approximately 2 hours, but no more than 3 hours. (The vinaigrette is acidic and will denature (or cook) the chicken)
Remove chicken from marinade and discard any leftover dressing. Cook over hot coals, a gas grill or in a grill pan for approximately 3 minutes per side or until chicken is cooked through and juices run clear. Remove from heat and cover loosely with foil for about 5 minutes. (To keep warm, rest in a 180 degree oven.)
Heat olive oil in a skillet or saute pan over medium heat until shimmering. Add the mushrooms, stirring occasionally until well browned and the mushrooms have reduced in size by about half. Add spinach, stirring frequently until all leaves are deep green and wilted. Add garlic and stir through. Remove from heat.
Place chicken on lower half of bun, alternating the pointed ends. Spoon mushroom and spinach mixture over the chicken. top with other half of bun.
Serve and enjoy!
Nutrition Information:
Yield:
6
Serving Size:
1
Amount Per Serving: Calories: 161Total Fat: 11gSaturated Fat: 2gTrans Fat: 0gUnsaturated Fat: 9gCholesterol: 19mgSodium: 173mgCarbohydrates: 6gFiber: 1gSugar: 2gProtein: 9g


What I would have done differently had I thought of it at the time:
I would have added a bit of feta, but I was out. A little lemon juice might have been a nice touch, though.
Links to other recipes like this: